The GOP and the vote: Return to Jim Crow
By Rev. Jesse Jackson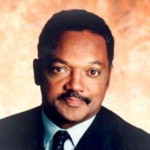 Aug. 6 marks the 47th anniversary of the signing of the Voting Rights Act of 1965 by President Lyndon B. Johnson. Passed by large majorities of both Democrats and Republicans, the act reflected the overwhelming consensus in America that had been finally forged on Alabama's Edmund Pettus Bridge during the civil rights march from Selma to Montgomery.
In the end, only one Republican senator voted no: Strom Thurmond of my birth state of South Carolina, founder of the Dixiecrats Party.
Think of that: In 1965, only one Republican senator voted against this great expansion of voting rights for the disenfranchised and dispossessed.
But today a different GOP wages war on our right to vote. The modern Republican Party is largely a creation of that same Strom Thurmond, who helped Richard Nixon defeat Hubert Humphrey in 1968 with his famous "Southern Strategy," which helped turn southern Democratic Wallace voters into Republican Nixon voters, and later into Reagan voters and Bush voters.
The foundation of the modern Republican Party is no longer rooted in Lincoln, who signed the Emancipation Proclamation; its roots lie in the racism of Thurmond, who did everything he could to block African Americans from gaining expanded voting rights.
Now the party that he warped is doing everything it can to abandon one of our nation's proudest legacies, the legacy of the Rev. Martin Luther King Jr. and Fannie Lou Hamer and LBJ: the expansion of voting rights to all our people.
Instead of automatic voter registration, Republican legislators in states such as Florida are making it harder for even groups like the League of Women Voters to register voters. Instead of emulating the successes of same-day voting and early voting, GOP legislators in states such as Maine and Ohio have fought to roll back these successful reforms.
Instead of making it easier for working people to vote by instituting voting holidays, conservative legislators in states such as Pennsylvania and Texas have enacted voter ID laws to depress and restrict turnout of poor people, students and minority voters.
The situation has grown so bad that in his speech to the NAACP national convention, U.S. Attorney General Eric Holder recently compared the Texas restrictions to the reviled "poll taxes" of the Jim Crow era.
Mitt Romney spoke to that same NAACP convention. Here's what he said about the wave of restrictive voting laws promoted by GOP legislators across the country:
---
Monday morning I woke up — not with Georgia — but with Selma on my mind. Selma bears witness to the bloody and murderous struggle to end discrimination in voting on the basis of race.

---

Eighteen American multinationals — companies such as Nike, Microsoft and Apple — have used tax havens abroad to avoid what Citizens for Tax Justice estimates as $92 billion in federal taxes.

---

The holiday is upon us. The streets and stores are gaily decorated; music is in the air. There's a scurry for cards and presents; an expectation of families gathering.

---

Pope Francis is displaying an extraordinary style and passion that demands our attention. He addresses the needs of the poor, embraces outcasts, and loves those on themargins of society.

---

Only a couple of weeks ago, as the nation celebrated the 50th anniversary of the March on Washington, and Dr. Martin Luther King Jr.'s powerful "I Have a Dream" speech, I was reminded of the Rev. King's last birthday, in January 1968.

---
Connect With IBW
The War On Drugs Is A War On Us
Symposium
Boycott Florida Campaign
Join Newsletter
Martin Luther King/Malcolm X Community Revitalization Initiative
Pan African Unity Dialogue
Black Family Summit
Research Consortium
Haiti Support Project