Events
April 6, 2016
State of the Black World Forum with Dr. Marc Lamont Hill, Rev. Dennis Dillon and Dr. Ron Daniels, Saturday, April 16th @ 2pm. 1061 Atlantic Ave., Brooklyn, NY 11238. Call 718-429-1415 for more information.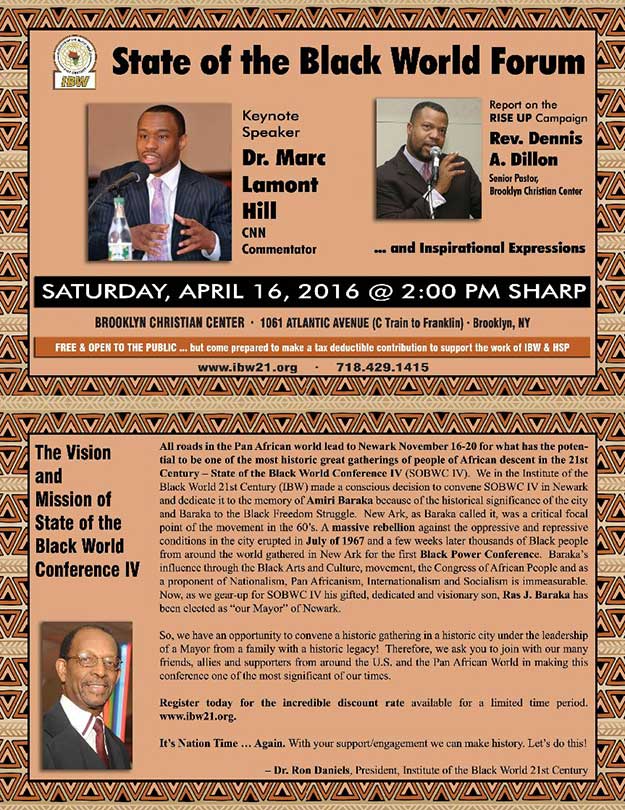 ---
April 5, 2016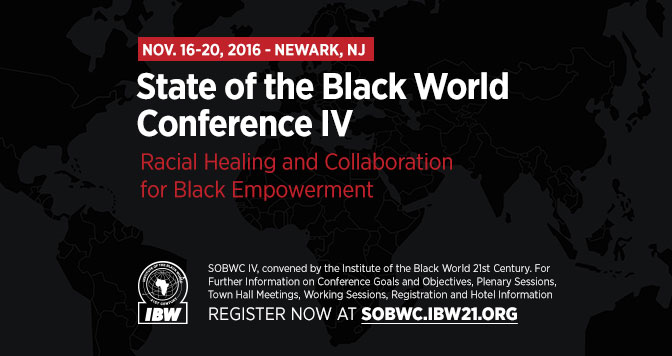 Click here for conference information and registration >>
---
March 4, 2014
---
February 8, 2014
By Bob Egelko
A federal court gave California two more years Monday to reduce the population of its overcrowded prisons, yielding to pressure from state officials who said they could meet an impending deadline only by shipping thousands of inmates to other states.
The three-judge court had initially set a June 2013 deadline for the state to lower the inmate population to 37.5 percent above its designed capacity in order to reduce overcrowding that had undermined prison health care.
The court extended the deadline several times. The latest deadline was Feb. 24, but on Monday, the court said it was reluctantly granting Gov. Jerry Brown's request for another two years. The main reason, the court said, was a warning from state officials that they would respond to an order for immediate compliance by transferring more inmates to prisons in other states, joining 8,900 California prisoners already locked up out of state.
That would result in "thousands of prisoners being incarcerated hundreds or thousands of miles from the support of their families" and would consume "hundreds of millions of dollars that could be spent on long-lasting prison reform," the court said.
Monday's order gives the state until Feb. 28, 2016, to reduce the prison population, which now totals 117,500. The court had previously required a reduction to 110,000, but state officials said they have increased the system's capacity by opening a new prison hospital in Stockton, and now can comply by lowering the population to 112,100.
Court's concessions
The court barred further transfers of inmates out of state, but agreed that to meet the new deadline, the state could move some inmates to a private prison in California, and to county jails with available space. The court also accepted several measures proposed by Brown and state lawmakers to reduce the inmate population. They include:
— Increasing good-behavior credits, which shorten sentences, for prisoners in minimum security and for those sentenced for nonviolent "second strike" felonies after a previous serious felony conviction.
— Expanding parole consideration for medically incapacitated prisoners, granting parole eligibility for those 60 and older who have spent at least 25 years in prison, and speeding up parole for those who have already been found suitable for release.
— Appointing a compliance officer who could order the immediate release of inmates if the state failed to meet interim population goals set by the court during the next two years.
The court ruled in 2009 that overcrowding, in prisons that had been packed to nearly twice their intended capacity, was the main cause of shoddy health care that violated the constitutional ban on cruel and unusual punishment. The U.S. Supreme Court upheld the population-reduction orders in 2011.
Brown and the Legislature responded by enacting prison realignment, which sentenced lower-level felons to county jails and has reduced the state prison population by about 25,000. The governor has resisted subsequent orders to lower the population further by reducing sentences, arguing that the public would be at risk.
Rehab programs
The governor and legislators said an additional two-year extension would allow time for expanded treatment and rehabilitation programs that would further reduce the prison population, while the state expanded and improved inmate health care. But lawyers for inmates who sued the state over medical care in 2001 opposed the extension and expressed disappointment with Monday's order.
"Prisoners are living under terrible, overcrowded conditions which cause them to suffer and die," said attorney Donald Specter of the nonprofit Prison Law Office. He said the court should have kept the deadline intact even if it meant transferring more inmates out of state.
Brown praised the order. "The state now has the time and resources necessary to help inmates become productive members of society and make our communities safer," the governor said in a statement.
Bob Egelko is a San Francisco Chronicle staff writer. E-mail: begelko@sfchronicle.com
---
October 29, 2013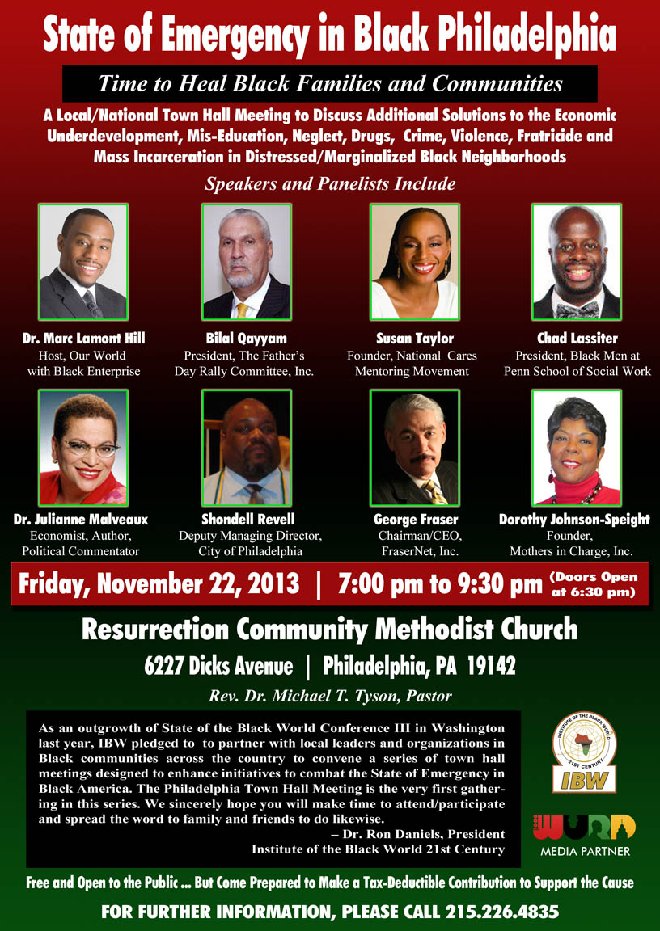 IBW Town Hall Meeting to Address State of Emergency in Black Philadelphia
Conveners Seek to Engage Black Professional Organizations
Press Release
Eager to play a more active role in combating the multiple crises plaguing many inner-city neighborhoods, a committee comprised of representatives of African-centered Black professional organizations is convening a Town Hall Meeting, Friday, November 22, 7:00 – 9:30 P.M. at Resurrection Community Methodist Church, 6200 Dicks Avenue in Southwest Philadelphia. The theme for the Town Hall Meeting is – State of the Emergency in Black Philadelphia: Time to Heal Black Families and Communities.
Working in conjunction with the New York-based Institute of the Black World 21st Century (IBW), the Philadelphia Chapters of the National Association of Black Social Workers, Association of Black Psychologists, Black Psychiatrists of America, International Association of Black Professional Firefighters, National Association of Blacks in Criminal Justice and Black Administrators in Child Welfare will engage a discussion of additional solutions to the economic underdevelopment, mis-education, neglect, drugs, crime, violence, fratricide and mass incarceration in distressed/marginalized Black neighborhoods. The organizations are affiliated with IBW's Black Family Summit which is convened by Leonard Dunston, President Emeritus, National Association of Black Social Workers.
The Town Hall Meeting will be an opportunity to garner support for a Philadelphia-wide conference on these issues to be convened in March of 2014. A similar conference was held in 2012 but organizers hope to broaden the base by encouraging many more organizations to participate in the planning and implementation. The ultimate goal is to achieve greater cooperation, collaboration and coordination among organizations and agencies engaged in solving the crises afflicting Black neighborhoods.
A stellar panel of local and national speakers has been assembled to share experiences and to offer recommendations to address the crises: Susan L. Taylor, former Editorial Editor, Essence Magazine and Founder, National Cares Mentoring Movement; Dr. Marc Lamont Hill, Host, Our World with Black Enterprise; Dr. Julianne Malveaux, President Emeritus, Bennett College for Women; George Fraser, Chairman/CEO, FraserNet, Inc.; Bilal Qayyum, Presient, The Father's Day Rally Committee, Inc.; Chad Lassiter, President, Black Men at Penn School of Social Work; Dorothy Johnson-Speight, Founder, Mothers in Charge, Inc.; and, Shondell Revell, Deputy Managing Director, City of Philadelphia will share the stage at the Town Hall Meeting. The Rev. Dr. Michael T. Tyson, Pastor of Resurrection Community Methodist Church will serve as Host. Several Black elected officials and community leaders have been invited.
Commenting on the importance of the Town Hall Meeting, Rev. Dr. Tyson remarked: "We think a Town Hall Meeting of this caliber with so many bright minds can be a blessing to the entire City as well as the Southwest Philadelphia community where our Church is located. Hopefully, more people will be encouraged to become actively involved in working together to find solutions to problems."
Lois Hayman-El, President of the Philadelphia Alliance of Black Social Workers, believes the Town Hall Meeting will be an excellent vehicle to enlist the support of community based organizations, leaders and concerned people to organize a productive Conference in March. "We are determined to build stronger bonds of unity and collaboration between Black professional organizations and community based groups on the front lines of the struggle to combat violence and fratricide in our neighborhoods", said Hayman-El.
Bilal Quayyam, who has long worked on these issues, said: "I welcome the opportunity to work more closely with organizations and agencies that can bring additional human and material resources to aid in healing our communities. There is enough work to go around for everybody."
Under the leadership of veteran social and political activist Dr. Ron Daniels, IBW plans to work with leaders in communities across the country to sponsor Town Hall Meetings to address what the organization calls a "State of Emergency in America's Dark Ghettos." The Philadelphia gathering is the first in this series. WURD 900 AM will broadcast the Town Hall Meeting live.
Contact:
Don Rojas
Email: donjbrojas@gmail.com; Tel—410-844-1031
IBW's Philadelphia Town Hall Meeting to be Broadcast live on WURD

Dr. Ron Daniels on the Nick Taliaferro Show on WURD Radio in Philadelphia
---
June 4, 2013
---
May 20, 2013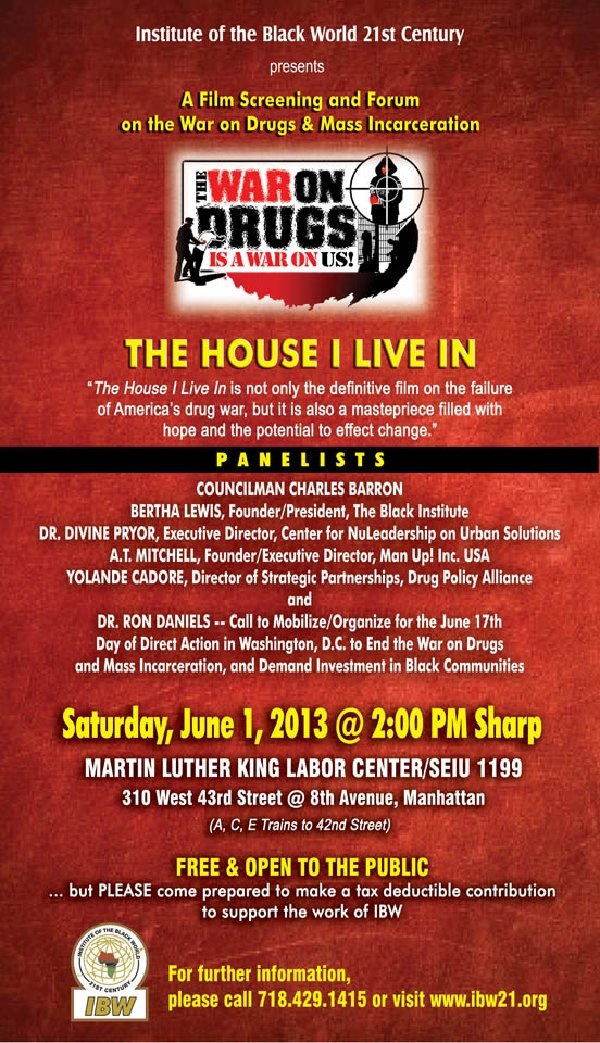 ---
February 16, 2013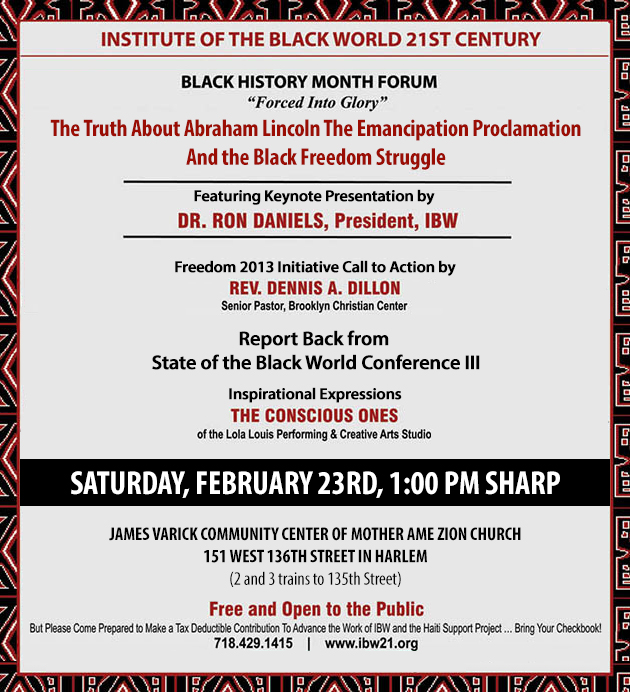 ---
June 6, 2012
Click to View Full Event Flyer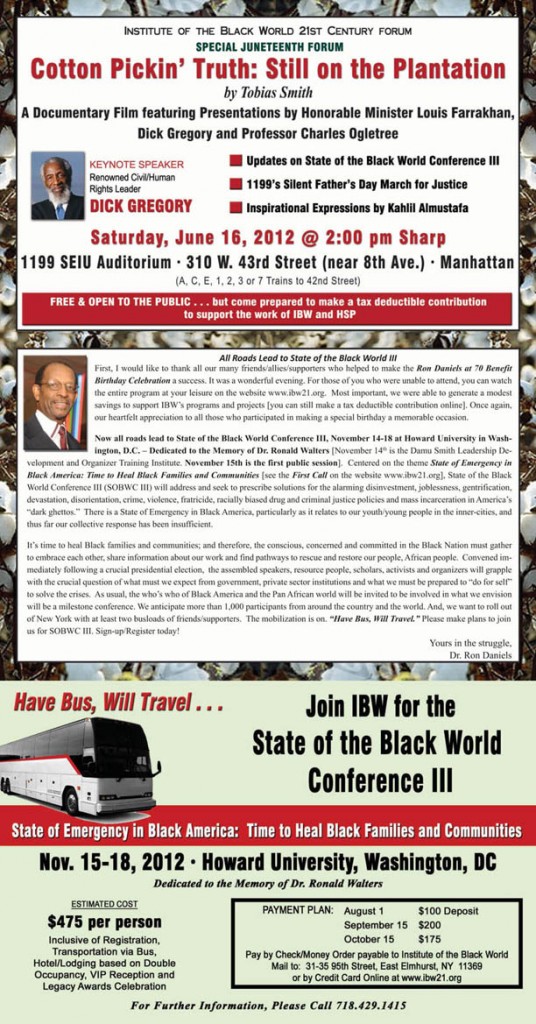 ---
May 1, 2012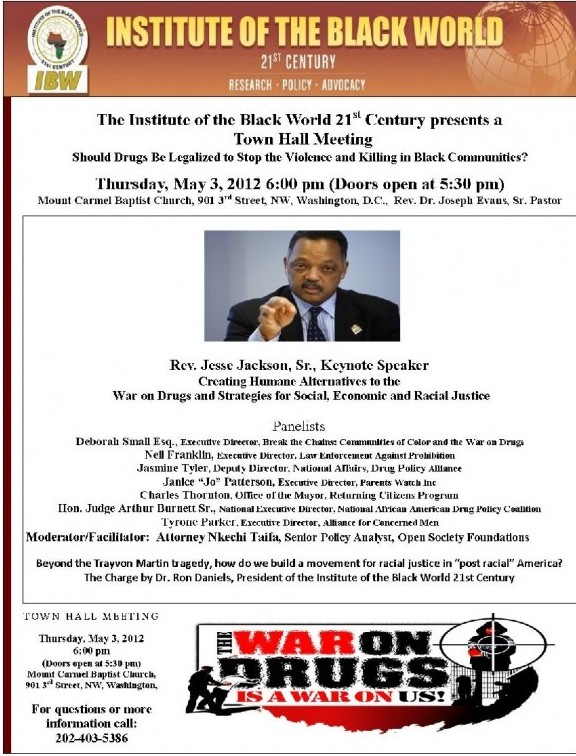 ---
Press Release
---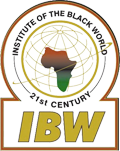 IBW Intensifies Attack on "War on Drugs" Series of Town Hall Meetings to Discuss Alternatives to Racially-Biased Strategy Group Calls for Dialogue on Legalization of Drugs to Stop Violence in Black Communities 
Press Release
Dr. Ron Daniels, President of the New York based Institute of the Black World 21st Century (IBW), announced today that the organization is intensifying its efforts to end what he describes as a "racially- biased" War on Drugs by holding Town Hall Meetings in Washington, D.C., Pittsburgh, PA and Baltimore, MD in the next few weeks.  President Richard M. Nixon launched the War on Drugs 41 years ago to halt the trafficking of illegal drugs in the U.S. But, Dr. Daniels and many drug policy reform advocates believe it has had a destructive impact on Black communities across the nation. Dr. Daniels states, "Black communities have been the primary target for selective policing practices that have resulted in the mass incarceration of millions of Black people. Families have been disrupted and communities devastated by a racist strategy. A major goal of the Town Hall Meetings is to increase public awareness of what our young brothers and sisters call a 'War on Us'."  IBW is among a growing number of organizations demanding that drug abuse and addiction be treated as a health crisis rather than criminal justice matter. IBW has also called for a National Dialogue on whether drugs should be legalized to stop the violence and killing associated with the illicit trafficking in Black communities. The background/history and impact of the War on Drugs on Black communities will be addressed by Keynote Presenters at each of the Town Hall Meetings. 
Rev. Jesse L. Jackson, President/Founder, Rainbow/PUSH Coalition, will serve as Keynote Presenter at the first session in Washington, D.C., Thursday, May 3, 6:00 PM at the Mount Carmel Baptist Church. George Curry, noted journalist, former Editor of Emerge Magazine and Executive Director, National Newspaper Publishers Association, will Keynote the session in  Pittsburgh, Friday, May 11, 6:00 PM at the Obama School; Warren Ballentine, Esq.,  nationally syndicated Radio Talk Show Host, will speak at the Baltimore session, Friday, May 18, 6:00 PM at Sojourner-Douglass College.   IBW has assembled a team of policy experts who will address issues related to the War on Drugs and offer safe, just and humane alternatives:  Deborah Small Esq., Executive Director, Break the Chains: Communities of Color and the War on Drugs; Neill Franklin, Executive Director, Law Enforcement Against Prohibition; Jasmine Tyler, Deputy Director, National Affairs, Drug Policy Alliance. Local criminal Justice/drug policy reform advocates will round out the Panels in each city. Atty. Nkechi Taifa, Senior Policy Analyst, Open Society Foundations, will moderate/facilitate the panel discussions. Dr. Daniels indicates that a major goal of the Town Hall Meeting is to encourage policy advocates and concerned citizens to work more closely together to end the War on Drugs and racially biased criminal justice policies. To that end, IBW will propose the formation of criminal justice /drug policy reform collaboratives in each locale to more effectively advance local/state agendas for positive change.
For further information or to arrange interviews call: 917.686.0854.
---
National / International Reparations Summit
Connect With IBW
Symposium
Martin Luther King/Malcolm X Community Revitalization Initiative
Pan African Unity Dialogue
Research Consortium
Haiti Support Project