Events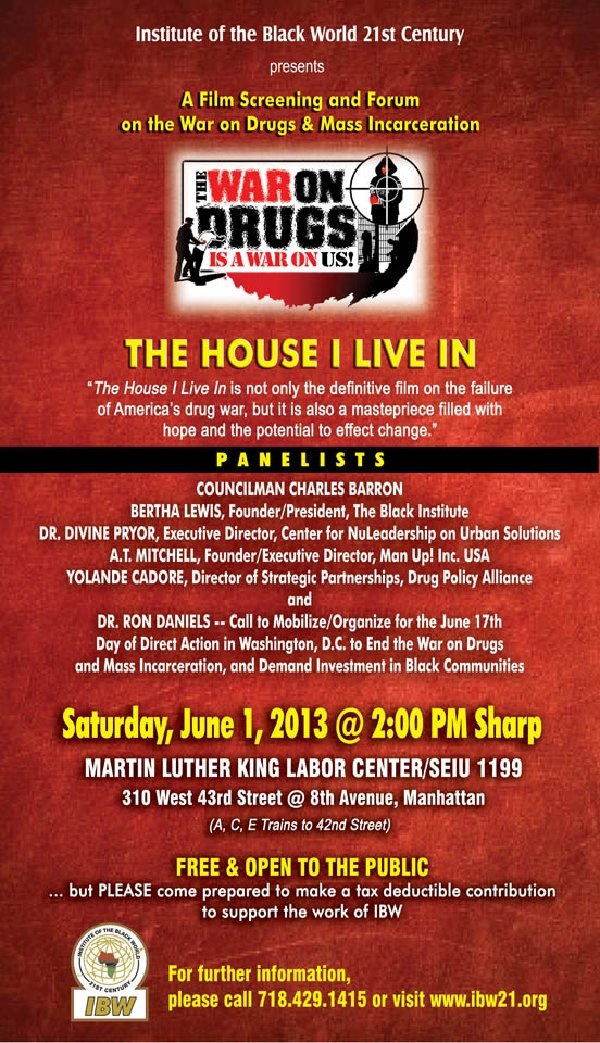 ---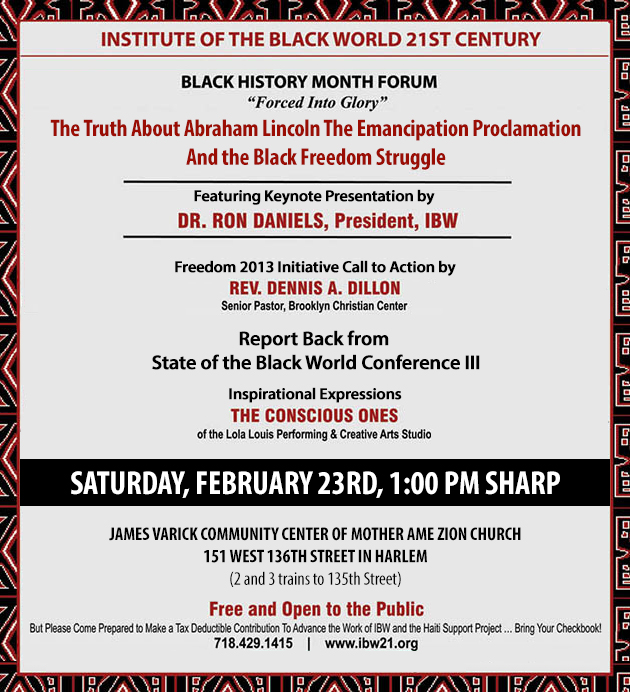 ---
Click to View Full Event Flyer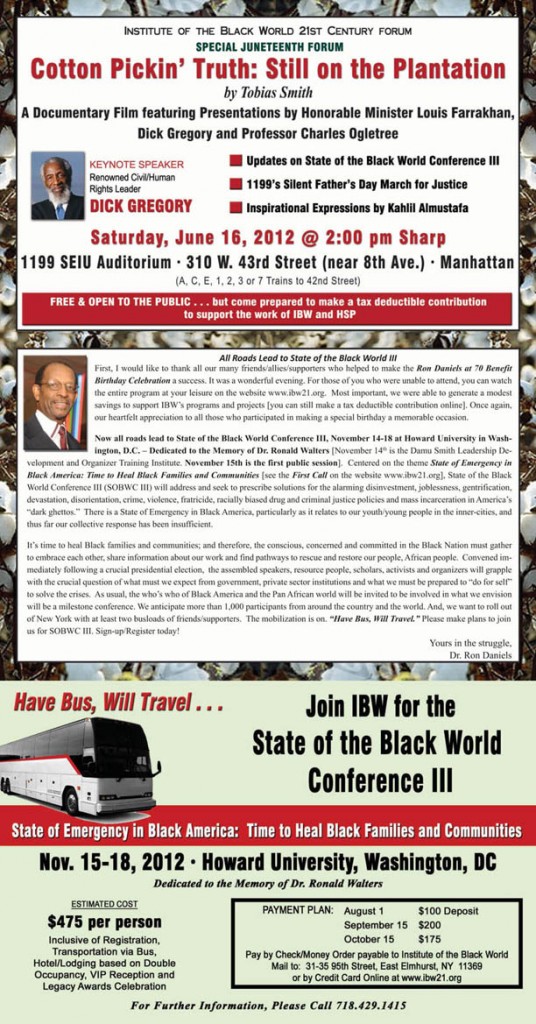 ---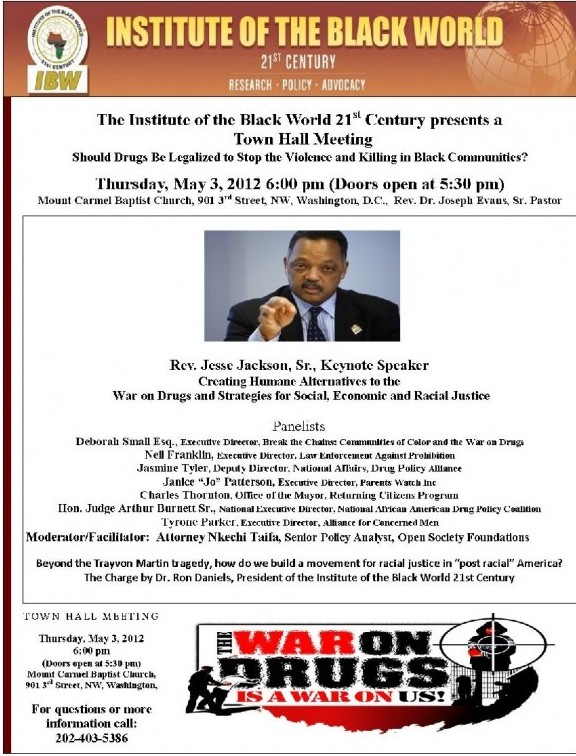 ---
Press Release
---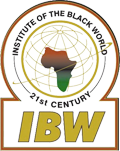 IBW Intensifies Attack on "War on Drugs" Series of Town Hall Meetings to Discuss Alternatives to Racially-Biased Strategy Group Calls for Dialogue on Legalization of Drugs to Stop Violence in Black Communities 
Press Release
Dr. Ron Daniels, President of the New York based Institute of the Black World 21st Century (IBW), announced today that the organization is intensifying its efforts to end what he describes as a "racially- biased" War on Drugs by holding Town Hall Meetings in Washington, D.C., Pittsburgh, PA and Baltimore, MD in the next few weeks.  President Richard M. Nixon launched the War on Drugs 41 years ago to halt the trafficking of illegal drugs in the U.S. But, Dr. Daniels and many drug policy reform advocates believe it has had a destructive impact on Black communities across the nation. Dr. Daniels states, "Black communities have been the primary target for selective policing practices that have resulted in the mass incarceration of millions of Black people. Families have been disrupted and communities devastated by a racist strategy. A major goal of the Town Hall Meetings is to increase public awareness of what our young brothers and sisters call a 'War on Us'."  IBW is among a growing number of organizations demanding that drug abuse and addiction be treated as a health crisis rather than criminal justice matter. IBW has also called for a National Dialogue on whether drugs should be legalized to stop the violence and killing associated with the illicit trafficking in Black communities. The background/history and impact of the War on Drugs on Black communities will be addressed by Keynote Presenters at each of the Town Hall Meetings. 
Rev. Jesse L. Jackson, President/Founder, Rainbow/PUSH Coalition, will serve as Keynote Presenter at the first session in Washington, D.C., Thursday, May 3, 6:00 PM at the Mount Carmel Baptist Church. George Curry, noted journalist, former Editor of Emerge Magazine and Executive Director, National Newspaper Publishers Association, will Keynote the session in  Pittsburgh, Friday, May 11, 6:00 PM at the Obama School; Warren Ballentine, Esq.,  nationally syndicated Radio Talk Show Host, will speak at the Baltimore session, Friday, May 18, 6:00 PM at Sojourner-Douglass College.   IBW has assembled a team of policy experts who will address issues related to the War on Drugs and offer safe, just and humane alternatives:  Deborah Small Esq., Executive Director, Break the Chains: Communities of Color and the War on Drugs; Neill Franklin, Executive Director, Law Enforcement Against Prohibition; Jasmine Tyler, Deputy Director, National Affairs, Drug Policy Alliance. Local criminal Justice/drug policy reform advocates will round out the Panels in each city. Atty. Nkechi Taifa, Senior Policy Analyst, Open Society Foundations, will moderate/facilitate the panel discussions. Dr. Daniels indicates that a major goal of the Town Hall Meeting is to encourage policy advocates and concerned citizens to work more closely together to end the War on Drugs and racially biased criminal justice policies. To that end, IBW will propose the formation of criminal justice /drug policy reform collaboratives in each locale to more effectively advance local/state agendas for positive change.
For further information or to arrange interviews call: 917.686.0854.
---
The Institute of the Black World 21st Century Presents:

 It's Nation Time

A National Symposium

Commemorating the 40th Anniversary

The 1972 National Black Political Convention in Gary, Indiana

Friday, March 23, 

12:00 Noon – 3:00 PM

Room 2237 Rayburn House Office Building, 

Capitol Hill, Washington, D.C.

 

Featuring a Screening of  It's Nation Time, the Official Documentary Film 

of the Gary Convention and Panel Discussion on the Impact of the Gary Convention and Its Relevance to Black Politics Today

 

And Tribute to Congressman Donald Payne

 IBW Legacy Award to Honorable Richard G. Hatcher

Honorary H

ost

……………..

Convener

…………….

Special Invited Gues

t

…

Moderator

Verna Avery Brown  

WPFW, Pacifica, Network, Washington, D.C.

"The 1972 National Black Political Convention was one of the most significant gatherings of African Americans in the history of this country. Some 10,000 Black people from all walks of life converged on Gary, Indiana to adopt a National Black Political Agenda and establish a process to hold candidates accountability to Black interests at the local, state and national level.  A new generation of activists, organizers and elected officials need to study the Gary Convention to assess its relevance and meaning for Black politics and the interests and aspirations of Black people today. This is the subject of the March 23rd National Symposium." – Dr. Ron Daniels, President, Institute of the Black World 21st Century

For Further Information

Email: info@ibw21.org  or  Call: 888.774.2921

To Register/Access Web Cast/Live Stream: visit www.ibw21.org

 
---
To Register & Access The Livestream To This Event, Please Fill Out the Form Below:
---
The Institute of the Black World 21st Century
BLACK HISTORY MONTH FORUM
State of Emergency in Black America
Time to Heal Our Families & Communities
SATURDAY, FEBRUARY 4, 2012
2:00 pm
THE NATIONAL BLACK THEATER
2033 National Black Theater Way (5th Ave.@ 125th St.)· Harlem, New York
---
FREE & OPEN TO THE PUBLIC … but come prepared to make a tax deductible contribution to support the work of IBW & HSP
---
Message from the President
In December of 2001, more than 2,500 people of African descent from the U.S., Africa, the Caribbean, Canada and Great Britain gathered in Atlanta for the first State of the Black World Conference. It was in Atlanta that the idea of creating a Black institute was born. April 27, 2002, on the occasion of my 60th birthday, an enthusiastic group of participants returned to Atlanta to formally launch the Institute of the Black World 21st Century as an African-centered, progressive, action-oriented think tank. The task of building IBW has not been easy. But, with the strong support of brothers and sisters in the greater New York area and around the nation, this Initiative has gradually gained traction. IBW became renowned for convening informative and inspirational forums at the historic House of the Lord Church and other venues. In addition, the New York Ujima Support Committee h.as sponsored cultural-political events like the Freedom Ride to Atlanta, Selma and Montgomery to commemorate the 40th Anniversary of the Voting Rights Act; a bus tour to the Blacks In Wax Museum in Baltimore; the play Wade In the Water, a dramatic presentation of the impact of Hurricane Katrina on New Orleans; and, major delegations to Haiti to support the world 's First Black Republic. IBW has also initiated the Pan African Unity Dialogue to build bonds of unity between Continental Africans, Caribbean Americans, Afro-Latinos and African Americans. With your support, the greater New York area emerged as a formidable base for IBW.
At the national level, an extensive network of supporters has enabled IBW to emerge as a trusted ve!licle promoting projects and initiatives which exemplify the values of collaboration, cooperation, operation unity and joint work: The Black Family Summit, Shirley Chisholm Presidential Accountability Commission, Damu Smith Leadership Development and Organizer Training Institute, Research Consortium and Haiti Support Project [visit the website www.ibw21.org for a description of these Initiatives]. In June of last year, IBW also joined the movement to reform the "criminal punishment" system in the U.S. by launching a campaign to end the "War on Drugs." Current plans are to sponsor Town Hall Meetings in Pittsburgh, Baltimore and Washington, D.C. IBW is on the move!
Despite our progress over the past ten years, there is much work to be done to elevate IBW to the status of a more visible, viable and permanent engine for global Black Empowerment. That's why we envision 2012, the 10th anniversary of IBW, as the year for Operation Break-Through- a concerted drive to mobilize human and material support to enhance IBW's programmatic initiatives and solidify relationships with leaders, organizations and agencies in Black America and the Pan African World. In addition to local forums in New York, we plan to host events commemorating the 40th anniversary of the historic National Black Convention in Gary and the first African Liberation Day in Washington, D.C. All of the motion/movement in 2012 will lead into State of the Black World Conference Ill, November 16-20, in Washington, D.C. We hope to organize at least 200 people from New York to attend what we believe will be one of the most productive gatherings of people of African descent in the 21st Century. Our appeal to you is to lock arms with IBW in 2012 and help us make Operation Break-Through a total success! We look forward to seeing you February 4th at the National Black Theater.
- Dr. Ron Daniels, President, IBW
---
Click Image Below to View Full Flyer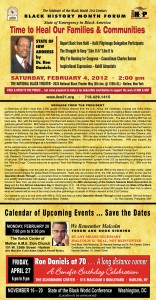 ---
---
CLICK HERE to View Images from Previous Pilgrimage
CLICK HERE TO RESERVE YOUR SPACE

PRESS RELEASE
Haiti Support Project Announces Annual Pilgrimage to Haiti
(New York, July 20. 2011) Dr. Ron Daniels, President of the Institute of the Black World 21st Century and Founder of the Haiti Support Project (HSP), announced today that the Haiti Support Project will lead its Fifth Annual Pilgrimage to Haiti, January 17-21, 2012, to visit the Citadel and other significant historical sites. The Delegation will also assess the progress of the recovery/reconstruction after the catastrophic earthquake. The Pilgrimage is part of HSP´s Model City Initiative which is designed to transform the lovely town of Milot, in the northern region of the country near Cap Haitien, into a Mecca for cultural-historical tourism as the foundation for people based economic development. HSP supports community-based education, health, economic development and business investment projects as part of the Model City Initiative.
Current plans are for the Delegation to also visit the Peasant Movement of Papay (the largest peasant organization in Haiti) and the Oasis Institute Camp which is the first stage of an ambitious effort to build a permanent academy to house from 700-1,000 children orphaned by the earthquake. In addition, the delegation will meet with officials of the U.S. Embassy, the Government of Haiti and leaders of civil society to assess the progress of the recovery and reconstruction since the catastrophic earthquake — with the objective of advocating for improvements upon returning to the U.S.
This year more than ever, HSP is placing a high priority on individuals who have a capacity to mobilize human and material resources to impact the recovery/reconstruction process in Haiti, including humanitarian assistance of a developmental nature and business investment. Accordingly, Dr. Daniels is inviting outstanding faith, political, labor and business leaders, agricultural specialists, policy analysts and journalists concerned about the future of Haiti to be part of the Pilgrimage. The estimated cost per participant is $1,600 – $1,800 inclusive of airfare, lodging based on single occupancy (double occupancy approximately $300 less), air and ground transport in Haiti, tour of the Citadel and facilitation fee, depending on the point of departure. A deposit will be due October 1st with final payment December 1st.
Interested parties are urged to Pre-Register online at www.ibw21.org. Full details on cost, itinerary and schedule will follow. For further information contact HSP at info@ibw21.org
---
This event happens today, May 7th, at 2:00 PM.
You will receive an email linking to this page as a reminder to join us!
If you have not already signed up for our newsletter, please fill your information below:
---

---
Haiti Oasis Institute
The War On Drugs Is A War On Us
Join Newsletter
Black Family Summit
Damu Smith Leadership Development and Organizer Training Institute
Research Consortium
Shirley Chisolm Presidential Accountability Commission
Haiti Support Project