Hands off Ambassador Susan Rice
---


The Institute of the Black World 21st Century and its allies are outraged at the persistent assault directed at U.N. Ambassador Susan Rice over preliminary statements she made from talking points provided by U.S. intelligence agencies, regarding the fatal assault on the U.S. Embassy compound in Benghazi, Libya — which resulted in the death of Ambassador Christopher Stevens and three Embassy staff. Despite President Obama's pledge to conduct a thorough investigation of this matter, there has been a steady pre and post election partisan drumbeat insinuating that Ambassador Rice lied to the American people about the nature of the attack on the Embassy. Honorable sirs, you have not only impugned the character of Secretary Rice, but boldly and boastfully threatened to block her confirmation should she be nominated for the office of Secretary of State by the President. Equally outrageous, you have called for a Joint House/Senate "select committee" to investigate the Benghazi tragedy, invoking "Watergate" and the "Iran Contra" scandal, not so subtly suggesting a cover-up of impeachable proportions.
Our response to this preposterous assault is clear: Hypocrites have no moral or political authority to stand in judgment of Ambassador Susan Rice! We find it utterly incredulous that the Honorable Senators who uncritically supported the war against Iraq, based on inexplicably flawed intelligence or outright deception, could even perk their lips to criticize Ambassador Rice. Who could ever forget President Bush emphatically asserting that the reason for the war was the danger posed to the region, America and the world by Saddam Hussein's stockpile of weapons of mass destruction? Who could ever forget Cheney and Rice parroting this fallacious proposition and that embarrassing performance by an ill informed Colin Powell before the Security Council of the United Nations?
No weapons of mass destruction were ever found, but a war was launched on false pretenses which cost 4,486 American lives, thousands more wounded, more than 100,000 Iraqis killed and nearly $1 trillion of resources wasted which could have been used to rebuild America and reduce the debt and deficit! Honorable sirs, we can't recall you or any of the "Gang of 97" calling for an investigation of President Bush or officials of his administration to hold them accountable for prosecuting a war based on faulty intelligence or false pretences. How then can you have the gall to assault Ambassador Rice for relying on an assessment of a tragic situation which was revised as more definitive information became available? The answer is that you are hypocrites who are hell bent on continuing the kind of obstructionism carried out by Republicans during President Obama's first term. Secretary Rice is simply a convenient target for the kind of machinations the electorate rejected on November 6th.
We say hands off Ambassador Susan Rice! We demand that you and the "Gang of 97" cease the intolerable treatment being heaped upon her. And, we call on a people of goodwill, a "Rainbow" of constituencies across the country to join this effort to halt the assault on the character and integrity of Ambassador Susan Rice.
---

---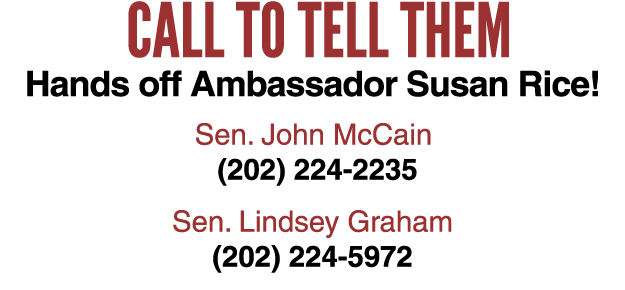 ---

Connect With IBW
Subscribe/Sign-Up
Symposium
Martin Luther King/Malcolm X Community Revitalization Initiative
Pan African Unity Dialogue
Research Consortium
Haiti Support Project