Initiatives / Projects / Programs
February 17, 2017
By Dr. Julianne Malveaux
February 17, 2017
When he addressed the Southern Christian Leadership Council in 1967, in his speech, "Where Do We Go From Here?" Dr. Martin Luther King, Jr. noted " Of the good things in life, the Negro has approximately one half those of whites. of the bad things of life, he has twice those of whites. Thus half of all Negroes live in substandard housing. And Negroes have half the income of whites. When we view the negative experiences of life, the Negro has a double share. There are twice as many unemployed. The rate of infant mortality among Negroes is double that of whites and there are twice as many Negroes dying in Vietnam as whites in proportion to their size in the population." The data have changed, but only slightly. The history of enslavement is the basis for these gaps, and so many others, …
---
February 16, 2017
In the spirit of the Durban Declaration and Program of Action of 2001, which declared the Atlantic Slave Trade and chattel slavery as crimes against humanity, to directly confront racism, we urge the Women's March 8 mobilization to embrace the growing national and global movement for reparatory justice.…
---
January 22, 2017
Pioneering psychiatrist, Dr. Phyllis Harrison-Ross, passes at 80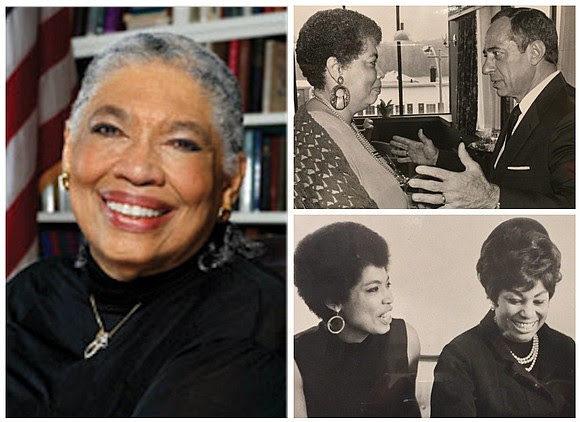 By Herb Boyd
There's a photo of Wayne State University's College of Medicine graduating class in Detroit in 1959. Of the 66 graduates, …
Dr. Phyllis Harrison-Ross with Gov. Andrew Cuomo (top) and American soprano singer Leontyne Price (bottom)
One of her major concerns was about the mental health of people in custody and how to improve their contact with relatives and loved ones on the outside. "The most important thing is keeping that connection with family and keeping it in a reasonable way—not having to make those long, stressful trips," she told a reporter in conjunction with her role as chair of the New York Society for Ethical Culture's Social Services Board, which manages the televisiting program for inmates. "That connection helps enormously with reducing recidivism and aids in the mental health of both the child and the incarcerated parent."
More …
---
December 28, 2015
…
---
April 21, 2015
The National/International Reparations Summit
New York City, April 9-11, 2015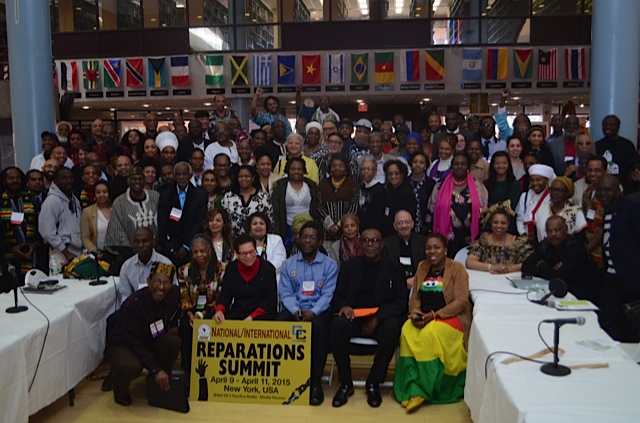 Final Communiqué
The National/International Reparations Summit
April 9-11, 2015,
New York City, NY, USA
In the spirit of the Durban Declaration of 2001 which declared the Atlantic Slave Trade and chattel slavery as crimes against humanity, scores of representatives from the CARICOM Reparations Commission (CRC), the National African American Reparations Commission (NAARC) and representatives of emerging Commissions in Martinique, the U.S. Virgin Islands, Canada, United Kingdom and Europe gathered in New York, April 9-11, 2015 for a historic National/International Summit. Convened by the Institute of the Black World 21st Century, these representatives were joined by hundreds of Credentialed Observers from the U.S. and the Pan-African world, and hundreds of residents from the greater New York area who participated in the Reparations Rallies, a Tribute to Cong. John Conyers and the Business Sessions.
These …
---
October 6, 2014
A major conference bringing together leaders in the fields of health care, law and social services kicked off a national campaign against human trafficking which has been described as a "horrible form of modern day slavery."
Sponsored by The Royal Circle Foundation and Howard University Medical School, the conference was held at Baltimore's Royal Sonesta Harbor Court Hotel from Oct. 2-4. It began with a networking/welcoming reception and the Baltimore screening of the documentary "Not in my Life" which depicts the global trafficking of children at 5:30 pm on the 2nd.
This was followed by two days filled with papers and panel discussions featuring leading experts who focused on the devastating effects of trafficking on public health and exploring efforts at treatment and recovery.
On Friday evening (Oct. 3rd) an awards banquet honored Congressperson Barbara Lee (California, 13th Congressional District) with the Foundation's "Inspirations Award" for …
---
October 4, 2014
By PATRICK DELICES 
For decades, and up to this point, Haiti has had the inauspicious distinction of being labeled the poorest country in the Western Hemisphere despite its rich resources, along with its rich historical and cultural legacy. This lamentable economic reality in Haiti has overshadowed its richness, beauty and historical essence, along with the humility and humanity of its people. Haiti, the land of many beautiful mountains and people, is known for its extreme poverty and crime, not its rich cultural history and resources.
Haiti was once known as the "Pearl of the Antilles" because of its richness and natural beauty. Unfortunately, Haiti is now known for its earthquake, cholera outbreak, kidnapping, crime, and, of course, poverty. However, during the colonial era, the wealth of Haiti surpassed that of all the British colonies in the Caribbean. Moreover, it was Haiti that augmented considerably the size, wealth and power of …
---
March 15, 2014
March 20-22, 2014
Sojourner-Douglass College, Baltimore
Based on the intense interest in healing Black families and communities and the experience and skill of Participants at the Table, it was proposed that IBW explore the creation of Father or Family Healing Circles in a select number of cities as a cooperative effort between Black Family Summit Participants like Fathers, Inc., Mothers in Charge, Black Psychiatrists of America, Association of Black Psychologists, All Healers Mental Heal Alliance, National Association of Black Social Workers and Justice Collaboratives in Pittsburgh, Philadelphia, Baltimore and Washington, D.C.
Utilizing the collective experience of the participating organizations, a multifaceted, holistic approach would be devised to provide healing for fathers and sons in terms of the stresses, strains and traumas resulting from racism in its many manifestations; parenting skills; mediation/conflict resolution; counseling for formerly incarcerated persons/returning citizens; intergenerational dialogues; entrepreneurship and economic development; leadership development and organizer training, and …
---
December 17, 2012

Give a Gift to Haiti for the Holidays
An Appeal by Dr. Ron Daniels, Founder of the Haiti Support Project

January 12, 2013 will mark the third anniversary of the disastrous earthquake which devastated major sections of Haiti, killing an estimated 200,000 people, maiming thousands more and dramatically increasing the number of orphans in a nation where millions of children suffer from the ravages of poverty. The cameras and media spotlight are gone now, and Haiti is hardly in the news these days.  And, despite billions of dollars pledged by the international community and private donors (some of which have yet to be received) far too little progress has been made to repair the damages of the earthquake and to build a new and better Haiti.
Since 1995, the Haiti Support Project has focused on building a constituency for Haiti in the U.S. among people of African descent to  partner …
---
February 2, 2012
Please take a moment to view the powerful/moving video of the Oasis Institute Camp [Click Here] . Your Special Gift will provide vital supplies to maintain the Camp while preparations are underway to build the Academy.  We sincerely hope you will be persuaded to make a sacrificial tax deductible donation online [Click Here] or via check/money order payable to Institute of the Black World/HSP and mail to: 31-35 95th Street, East Elmhurst, NY 11369. Every contribution is precious and is appreciated. Thank you so much!…
---
National / International Reparations Summit
Connect With IBW
Subscribe/Sign-Up
Symposium
Martin Luther King/Malcolm X Community Revitalization Initiative
Pan African Unity Dialogue
Research Consortium
Haiti Support Project