News
May 8, 2017
By Kate Aronoff
The city of Jackson, in the heart of staunchly Republican Mississippi, might seem an unlikely place for a municipal revolution. Yet Jackson's radicalism has been forged in the crucible of massive disinvestment, both by private industry and by a conservative state legislature. Led by the Black nationalist organization Malcolm X Grassroots Movement, organizers in Jackson have backed experiments in everything from worker-owned businesses to participatory, neighborhood-by-neighborhood democracy.
A leader of this movement, Jackson Councilman Chokwe Lumumba, helped start people's assemblies in the city, inviting residents to hash out the kinds of changes they want to see. He was elected mayor in 2013, only to pass away months later.
In an effort to carry on his father's legacy, Chokwe Antar Lumumba, 33, …
---
Of all the political spectacles of Donald Trump's candidacy and presidency, few could match the improbability of his meeting in the Oval Office in late February with nearly 100 presidents of historically black colleges and universities. The official photo of the event captured a beaming Trump surrounded by a dozen African-American educators smiling and applauding his promise to boost federal funding to their schools. Considering that Trump was the most racially polarizing national politician since George Wallace, the episode inspired an outcry on many HBCU campuses and critical commentary from leading black journalists.
The issue, however, was analyzed almost entirely through the lens of the last decade. Did or didn't the Obama administration snub …
---
April 24, 2017
The term gets thrown around carelessly, but the history of this ideology is long and tangled.
By Anis Shivani, Salon
We must secure the existence of our people and the future of White children. — David Lane's 14-word creed.
Hardly any concept is thrown around as carelessly these days as "white supremacy." It has become the go-to term of condemnation, applied as loosely as "fascism," with similar ramifications in terms of lack of clarity. Are all white supremacists separatists, and are all separatists supremacists? Is anti-Semitism (and, more recently, Islamophobia) always a part of white supremacy? Are white supremacists interested in combating government or taking it over for their own ends? Are all white supremacists violent, or do some value peaceful means of attaining their aims? Are all white supremacists even Christians? If they're not, then how does religious diversity accommodate the overall …
---
April 19, 2017
By Earl Ofari Hutchinson
Few subjects have been more hotly debated, scrutinized, and endlessly rehashed, than whether #45 can or will be impeached. A deluge of petitions has been circulated online, and tens of thousands of signatures have been gathered for his removal. The issue of a Trump impeachment roared back on the public and media plate at a recent anti-Trump tax disclosure rally in Washington D.C. where speaker after speaker called for his head by way of impeachment.
The article in the Constitution, the so-called "impeachment clause," on the surface seems clear enough. A president can be impeached for committing treason, bribery, or the vague, hazy and thoroughly ambiguous, "high crimes and misdemeanors." The House would initiate the action and then the Senate would have to convict him. That's never happened.
At this point, there's little chance that can happen with Trump either. The biggest …
---
April 15, 2017
On the eve of the Security Council's decision to closedown the MINUSTAH, the highly criticized mission it has maintained in Haiti since 2004, five Nobel Peace Prize Laureates call on the UN to ensure reparations and an end to impunity for the mass human rights violations committed by its troops.
Adolfo Pérez Esquivel, Jody Williams, Rigoberta Menchú Tum, Shirin Ebadi and Betty Williams wrote to Secretary General Antònio Guterres to express their "deep concern about the total lack of justice and a comprehensive response of reparations for the direct victims of the MINUSTAH's catastrophic actions… ".
"Thousands of women, children and girls have been raped or sexually exploited, many of them abandoned with children", they recall in their letter. They also point out that a recent UN report recognizes that "the number of people killed due to the introduction of cholera by MINUSTAH troops is very likely to be three …
---
Drug Policy Alliance
VOCAL-NY
New York Academy of Medicine
For Immediate Release: April 14, 2017
Contact: Tony Newman (646) 335-5384, Kassandra Frederique (646) 209-0374
Emphasizes Research-based Approaches to Promote Public Health and Safety and Reduce Negative Impact of Past and Current Policies
Advocates Call for People Who Use Drugs and People in Recovery to be Immediately Involved in City's Drug Strategy Coordination
New York, NY –The NYC Council recently passed legislation to create a coordinated municipal drug strategy, just as NYC experienced 9 overdoses in a 24-hour span, highlighting the urgent need for the City to face the opioid crisis with innovative approaches. The bill empowers the Mayor to designate a lead agency or office to convene stakeholders including city agencies, outside experts, and communities impacted by drug use to develop a city-wide, health-focused plan for a coordinated approach in addressing issues related to drug use.
Under current policies, city …
---
April 9, 2017
A pattern is emerging in the administration's scandal-defense playbook: Go after black women.
By Adele M. Stan, The American Prospect
It's no secret that a toxic combination of misogyny and racism helped Donald J. Trump win the presidency. Never mind dog whistles and code—Trump proudly displayed his contempt for women and non-white people throughout his campaign. But another likely helper to that victory was one whose involvement Trump and his allies would prefer to have kept under wraps: the government of Russia, a U.S. adversary.
Bubbling for months, the story of Russian meddling in the 2016 presidential campaign on Trump's behalf caught fire when, on March 20, FBI Director James Comey announced in his open-session appearance before the House Intelligence Committee that members of the Trump campaign and other Trump associates were under investigation in the matter. Apparent collusion between the …
---
April 4, 2017
Black women in particular bear the brunt of the burden.
By Valerie Wilson, Janelle Jones – Economic Policy Institute
Over the last several decades, black workers have been offering more to the economy and the labor market to incredibly disappointing results in pay and unemployment. Some have argued that the disparity in wages between blacks and white is the result of white workers working longer and harder than black workers. They blame black workers for racial wage gaps, saying that they should do anything from getting more education to simply working harder. Such explanations minimize the role of racial discrimination on labor market outcomes, while perpetuating racial bias and stereotypes of black workers as unmotivated and lazy.
And the data show they are simply false: hours and weeks worked have increased for both races, with a larger increase for black workers over the last several decades. The increase in annual …
---
Wait, does the United States have 1.3 million or more than 2 million people in prison? Are most people in state and federal prisons locked up for drug offenses? Frustrating questions like these abound because our systems of confinement are so fragmented and controlled by various entities.
Peter Wagner and Bernadette Rabuy – Prison Policy Initiative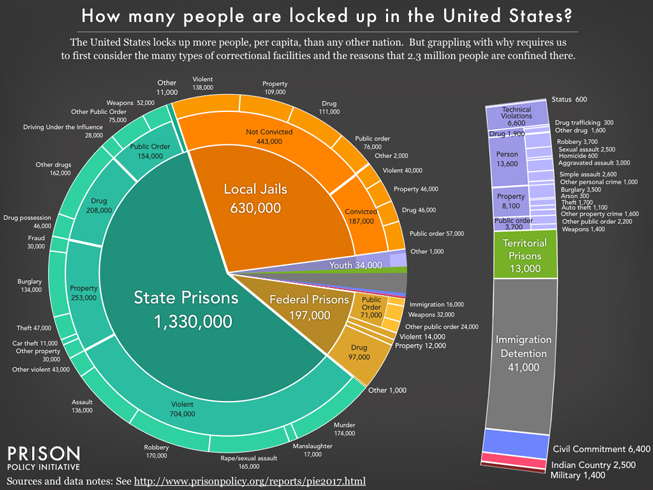 There is a lot of interesting and valuable research out there, but varying definitions make it hard — for both people new to criminal justice and for experienced policy wonks — to get the big picture.
This report offers some much needed clarity by piecing together this country's disparate systems of confinement. The American criminal justice system holds more than 2.3 million people in 1,719 state prisons, 102 federal prisons, 901 juvenile correctional facilities, 3,163 local jails, and 76 Indian Country jails as well as in military prisons, immigration detention facilities, civil commitment centers, …
---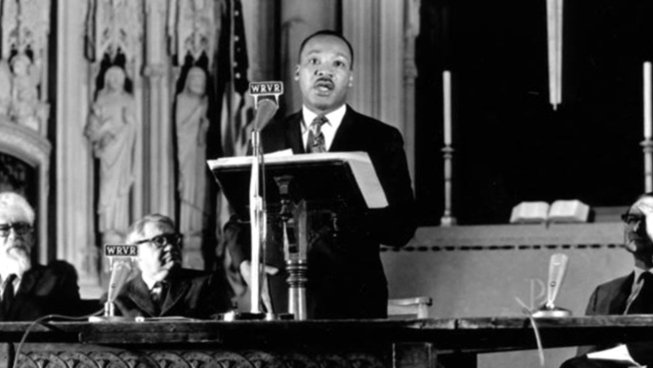 Beyond Vietnam: A Time to Break Silence
Martin Luther King, Jr. on April 4, 1967, at Riverside Church in New York City
Mr. Chairman, ladies and gentlemen, I need not pause to say how very delighted I am to be here tonight, and how very delighted I am to see you expressing your concern about the issues that will be discussed tonight by turning out in such large numbers. I also want to say that I consider it a great honor to share this program with Dr. Bennett, Dr. Commager, and Rabbi Heschel, some of the most distinguished leaders and personalities of our nation. And of course it's always good to come back to Riverside Church. Over the last eight years, I have had the privilege of preaching here almost every year in that period, and it's always a rich and rewarding experience to come to this great church and …
---
National / International Reparations Summit
Connect With IBW
Subscribe/Sign-Up
Symposium
Martin Luther King/Malcolm X Community Revitalization Initiative
Pan African Unity Dialogue
Research Consortium
Haiti Support Project