Why Do Black Lives Matter?
Print This Post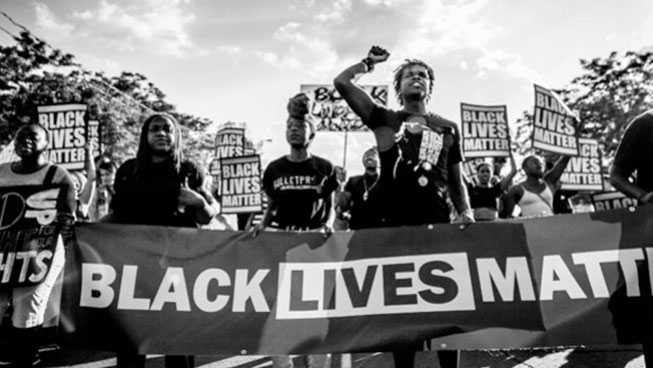 By: Daniel Peterson
The inequity of opportunity attacks Black America perhaps even more seriously now, given its extremes than the economic reality which encouraged Dr. King to shift the focus of his movement from civil rights to economic justice, as omitted in his last, tragically sterilized effort to organize a "Poor People's Campaign."
The childhood rate of poverty for African-Americans maintains stubbornly close to what it was on the day Dr. King was assassinated; the unemployment rate for black Americans runs nearly twice that of the national average, and the distrust between the police and impoverished communities continues to spiral. Still confronted is the question that arose the time the first slave ships arrived: (Do black lives matter?)
It is due to this whiplash condition of economic inequality that college scholars have come of age. They were teenage-stars when Hurricane Katrina overwhelmed New Orleans — for a time the ultimate sign of inequality of opportunity and income — and teenagers when Trayvon Martin was killed by George Zimmerman. They have been absorbed by a roster of published police butchering of unarmed black boys and men since August 2014, when Michael Brown was killed in Ferguson, Mo., then followed by similar assaults in Staten Island, North Charleston, Cleveland, Chicago and, S.C.
Black girls and women haven't escaped injustices, either. We need focus only on the young lady in the Mall of America who was restrained by a security guard or a teenager in South Carolina who was thrown from her desk by the school resource officer. Or, the 13 black women who testified rape against the former Oklahoma City police Officer Daniel Holtzclaw.
The nation's African-American scholars are searching visibly and profoundly for an ultimate end to racial injustice. College campuses, Du Bois's proving platforms for the testing and training of social leadership and responsibility, have once more become a main front in the war against inequality — from "I, Too, Am Harvard," a concept which has spread from Berkeley to New York University, to the principled demonstration of football players at the University of Missouri against racial insensitivity, to protesting at Brown and Brandeis, Princeton and Yale.
Many administrators have indicated strong support for these protests as well as an institutional will to change, be it renaming the buildings or re-evaluating the constitution of their student body and faculty.
A Change, even at the symbolic level, is hard, of course, and it remains to be noticed what this present wave of protests will achieve. Will the war against police brutality, signs of the Confederacy and society's plethora of microaggressions become the focus of a broader movement for the improvement of under-funded public school education, for the right to employment with decent salaries, and for the halt of residential division that relegates the poor to neighborhoods with murder cases as alarming as those on the Chicago's south?
What is certain is that the outrage that led to "Black Lives Matter" and its spinoffs will always remain with us for the coming years unless these legacies of Jim Crow and slavery become remnants of the past.
National / International Reparations Summit
Connect With IBW
Subscribe/Sign-Up
Symposium
Martin Luther King/Malcolm X Community Revitalization Initiative
Pan African Unity Dialogue
Research Consortium
Haiti Support Project