Reparations Resource Center
The National/International Reparations Summit
New York City, April 9-11, 2015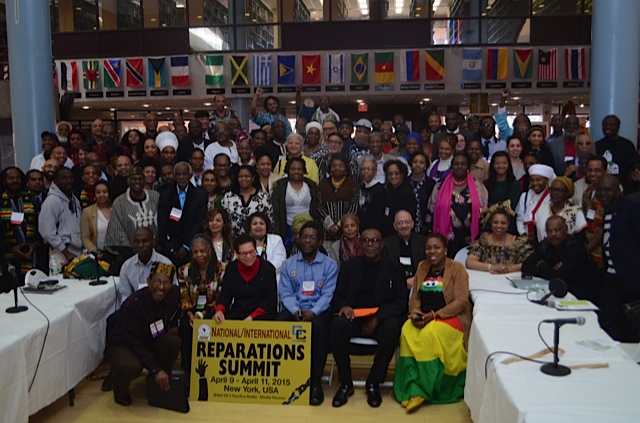 Final Communiqué
The National/International Reparations Summit
April 9-11, 2015,
New York City, NY, USA
In the spirit of the Durban Declaration of 2001 which declared the Atlantic Slave Trade and chattel slavery as crimes against humanity, scores of representatives from the CARICOM Reparations Commission (CRC), the National African American Reparations Commission (NAARC) and representatives of emerging Commissions in Martinique, the U.S. Virgin Islands, Canada, United Kingdom and Europe gathered in New York, April 9-11, 2015 for a historic National/International Summit. Convened by the Institute of the Black World 21st Century, these representatives were joined by hundreds of Credentialed Observers from the U.S. and the Pan-African world, and hundreds of residents from the greater New York area who participated in the Reparations Rallies, a Tribute to Cong. John Conyers and the Business Sessions.
These participants from some twenty (20) countries in the Caribbean, Europe, Central, and South America, Canada and the USA gathered with a clear determination to strengthen the global movement to finish the continuous, heroic struggle of Africans on the continent and people of African descent everywhere for reparations to repair the damages inflicted on our peoples by genocide and enslavement at the hands of European colonial and slave-holding nations.  In the memory of our ancestors, those who gathered for this historic Summit New York viewed the National/International Summit as the beginning of the final stage in the long historical process of seeking reparatory justice, for the monstrous crimes of African enslavement and native genocide.
It is in that spirit that the Summit adopted the following Resolutions, Pronouncements and Action Items:
Agreed to consolidate and expand the growing African global reparations movement by calling on civil society organizations and governments in countries where there is a legacy of enslavement to establish national reparations commissions or committees. Such commissions and committees should place a particular priority on educating, mobilizing and organizing young people. In that regard, the Summit agreed to connect with and engage the #BlackLivesMatter Movement in the United States and globally.
Agreed that the CARICOM Reparations Commission (CRC), which is demanding compensation/restitution from the former European colonialists for Native Genocide and African enslavement, will support the National African-American Reparations Commission (NAARC) by encouraging and facilitating Caribbean political leaders, artists, civil society activists and scholars to participate in various NAARC educational and mobilizing/organizing initiatives in the months and years ahead.
NAARC recognized the extraordinary value of the vision/mission of CARICOM in establishing the Reparations Commission and pledged to support the commission in its milestone programmatic and mobilizing/organizing work in whatever ways are feasible.
Agreed to welcome the establishment of reparations commissions in Europe, Britain and Canada that share the mission and values of the CRC and NAARC, and to seek meetings with such commissions in the near future.
Agreed to convene a Global Summit in Europe at the earliest practical date to take CARICOM'S demand for reparations for Native Genocide and African enslavement into the homes of the offending nations. In addition, it was agreed that a global summit of reparations commissions and aspiring bodies be convened in the Caribbean in 2017.
Called upon the CARICOM Heads of Government to proceed urgently with the recommendation that the slave-owning and slave-trading European nations be invited to attend an inter-governmental reparatory justice summit in 2015.
Recognized U.S. Cong. John Conyers, Jr., as a champion of the reparations movement and as the consistent sponsor of HR-40, the reparations study bill in the US Congress, and urged the Congressional Black Caucus, major civil and human rights, faith, labor and civic organizations in the USA to support the global reparations movement.
Declared a Decade for Reparations and in that context, applauded the General Assembly of the United Nations on the Declaration of 2015-2024 as the Decade for People of African descent which should advance the demand for reparations. The Summit expressed strong support for the UN Decade's program of activities. It also called on member states of the U.N. to officially launch the Decade. The Summit further applauded UNESCO for its continued support of the 'Slave Routes Project' and the 'General History of Africa Project'.
Applauded the government of Brazil for making mandatory the study of African history and culture at all levels of the educational system in that country and called on all countries with African-descended populations to do likewise and also to recognize the validity of traditional African spiritual and religious systems.
Called on the global reparations movement to develop sustainable funding strategies and called on the international community to work towards a 21st Century new moral order for sustainable development in which reparatory justice is an integral component.
Contact: info@ibw21.org  ♦ www.ibw21.org ♦ 410. 844.1031
(Photos courtesy Chris Griffith, Dale Rich, and Salim Adofo)
By Richard Sudan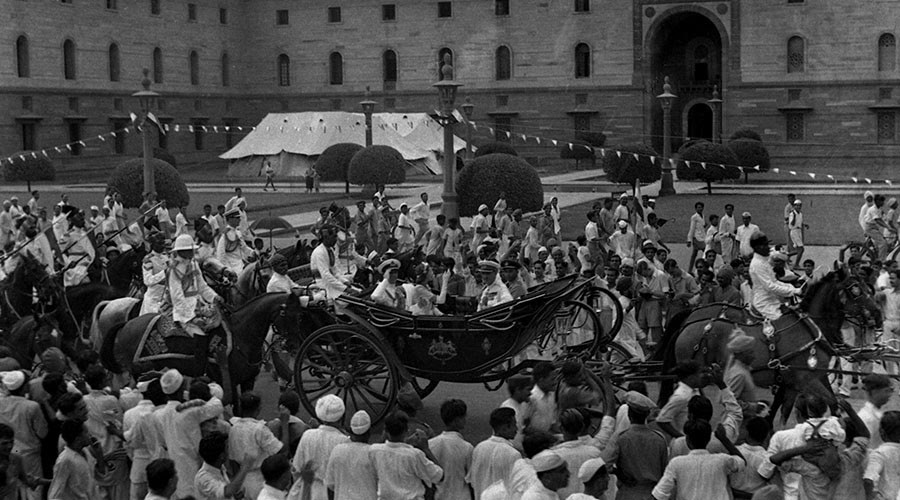 In this handout picture taken 15 August 1947, British Governor-General Lord Mountbatten (C) gestures as he rides in a carriage alongside Lady Edwina Mountbatten prior to witnessing the raising of the Indian tricolour for the first time at India Gate in New Delhi. © AFP 
The world is changing fast. For the first time since the Cold War, the dynamic of power in the world is shifting. Since WWII, the United States and its Western and European allies have dominated world politics.
Now, with the emergence and strengthening of the BRICS economies, and with the false reasons for war in recent years fully exposed, this shift is set to continue, with Western hegemony being challenged, although not nearly quickly enough for nations still on the receiving end of the empire's wrath.
Along with this changing power dynamic, in the United Kingdom, we are seeing more and more parts of Britain moving further away from the clutches of Westminster.
Wales has the Welsh Assembly, and continues to devolve from Westminster. Scotland under pressure voted to remain with the Union, but many still believe that Scotland will leave it within a decade. In Cornwall, there is a similar move to cede more power from the British state into the hands of the Celtic Cornish people, with Cornwall remaining one of the poorest areas of Western Europe today.
Northern Ireland and the Irish people also need to control their own destiny.
But the changing perception of the role of Britain in the world, past and present, also extends to Britain's former colonies overseas.  And why shouldn't it?
Central to this debate is the call for the British state to face up to its past crimes and to stand accountable to former colonies, particularly those nations and peoples whom were brutalized under one of the most despicable crimes in human history, transatlantic slavery.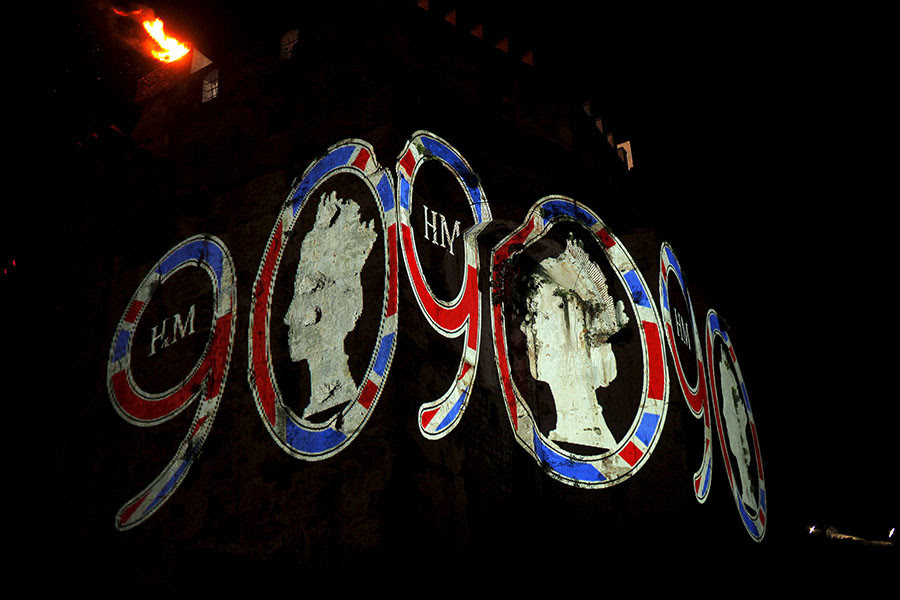 © Jon Nazca / Reuters
Not only has Britain yet to formally apologize for its role in perpetuating slavery, but there is a perfectly legitimate, moral, and legal argument to suggest that Britain ought to pay reparations to those peoples affected.
It makes sense, especially when we look at the current socioeconomic conditions in the countries Britain occupied.  While the countries which Britain got rich from were left devastated and impoverished, slave owners, including the relatives of British Prime Minister David Cameron, were compensated to the tune of millions of pounds following the abolition of slavery for loss of their "property."
Following the "end" of slavery, Africans in the Caribbean were left poor, politically voiceless and uneducated. The British state, which contrary to Cameron's claims in Jamaica last October, did not play a leading role in bringing about the end of slavery.  Rather, they had no choice but to back down as slaves demanded and took back their freedom.
Not only that, but once Africans in the colonies were "freed," Britain then set about replacing the African labor force in order to keep the commercial trade in the Caribbean running and to make sure the sugar cane got chopped.
India, which at the turn of the 20th century was still occupied by Britain, provided the answer for the British state's labor force void. Britain set about transporting, by trickery, manipulation and false promises of fortune and wealth, Indians from East India to the Caribbean to fill the shoes of the now "liberated" Africans.
My father's parents are of Indian and African Caribbean descent, respectively, and my Indian family from Trinidad were part of the labor force which was exported to the Caribbean by the British.  The hardships and pain they went through do not need illuminating here.
Last October, Prime Minister David Cameron, a direct beneficiary of slavery and commerce in the Caribbean, told Jamaica that they ought to "move on" from slavery and focus on the future.  Just consider that for a moment.  This is like Angela Merkel telling Jews to get over the Holocaust. It's deeply hurtful, offers no remorse, and more significantly is a cheap way to avoid the question of reparations and the moral responsibility Britain has in giving back what is owed.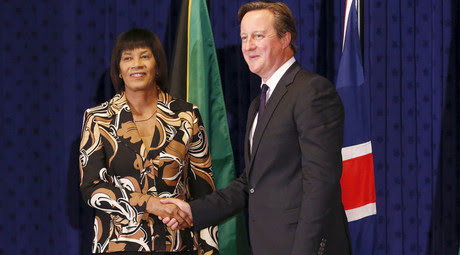 'Jamaica must move on from painful legacy of slavery' – Cameron
In Cameron's same speech, he made clear that money for development in Jamaica is scant. But guess what?  Britain will happily invest money in Jamaica to build a prison to – wait for it – relocate Jamaicans currently in British prisons.
The call for reparations is not a call for a handout or charity.  Africans were forced to work for free for 400 years and when they finally demanded freedom and the British state departed, it was not before they had drained the life, liberty, and money from the Caribbean.
And this is of course not just the case for the Caribbean. There is a legal case and moral argument among all of the former colonies and communities which the British state used in order to build its vast empire at home and abroad.
People are coming around to this fact. If Britain has a limitless budget when it comes to war, decimating other people's homelands, for oil and control, then surely the British government can cough up some money for the redevelopment of the countries which it used and abused and then left behind, having sucked all the life and prosperity from them like a vampire.
Harriet Tubman, the abolitionist runaway slave who freed many other slaves and led them along the underground railway to freedom in the northern United States, will reportedly now have her imaged featured on American dollar bills.
In the UK, we witnessed the efforts of the "Rhodes must fall" campaign, as a growing tide of people understand the nature and scale of the slavery and the impact it had around the world and the fact that modern Britain as we know it was built off the back of wealth accumulated through slavery.
While these gestures are important, what would be an even more significant move would be for Britain and the other colonial nations to be made to pay reparations where they are due. And what of the big banks and insurance companies which sprung up from the wealth built up off the backs of Africans?  Perhaps we should be thinking about making banks like Barclays give back some of what they have taken.
David Cameron will barely even acknowledge the crimes committed by Britain and by his own lineage, never mind acknowledge any responsibility in fixing the murderous, exploitative and disastrous legacy left behind.
If former colonies are refused an apology and acknowledgment from Britain, I hope they severe their ties with the British state and the Queen, both symbolically and practically.
There is no glory to be found in the empire. Whatever greatness exists in Britain exists among those British working classes who continue to fight for universal rights of all people at home in Britain and abroad. In fact, during slavery in Britain, many runaway slaves found sanctuary from ordinary working families in places like East London, but then again it was these working-class families in Britain who were also screwed over by the same empire.  David Cameron and other leaders will keep ignoring this question unless we keep it on the agenda.  A prime minister whose family benefited from slavery, refusing to acknowledge it is a slap in the face to us all.  If he cannot even acknowledge it, then without some serious political pressure he is also unlikely to reach for the Treasury's checkbook.
This event in May in London will outline the case for reparations with some key speakers including Sukant Chandan and Lee Jasper. Let's force this issue back onto the agenda.
Richard Sudan is a London-based writer, political activist, and performance poet. His writing has been published in many prominent publications, including the Independent, the Guardian, Huffington Post and Washington Spectator. He has been a guest speaker at events for different organizations ranging from the University of East London to the People's Assembly covering various topics. His opinion is that the mainstream media has a duty to challenge power, rather than to serve power. Richard has taught writing poetry for performance at Brunel University.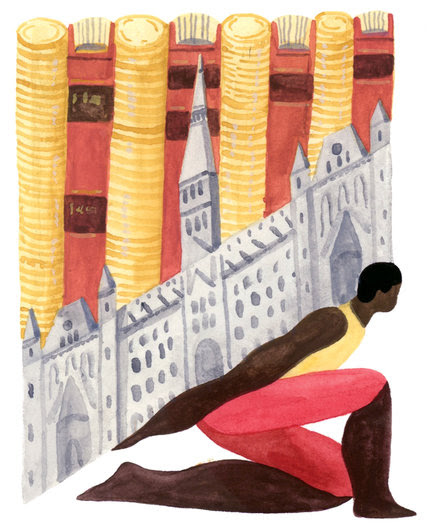 Credit Monica Ramos
The reparations movement, which calls for compensating the descendants of generations of enslaved Americans going back 250 years, has failed to gain traction in this country for a variety of reasons.
Most Americans see slavery as an artifact of the distant past that has no bearing on the nation's present. And even people who are sympathetic to the reparations idea — and who acknowledge the continued imprint of slavery on society — have often argued that there is no way to distinguish descendants who have provable claims to compensation from those who do not, partly because enslaved people usually went unnamed in the United States census, which rendered them faceless in the historical record.
Bankers, merchants and manufacturers all profited from the slave trade, as did companies that insured slaving ships and their cargo. And more than a dozen universities have acknowledged ties to slavery. Even so, some will find ways to paper over the role that slavery played in their founding and early history.
Such denials are impossible in the harrowing history of slavery at Georgetown University that Rachel Swarns recounted recently in The Times. In 1838, the Jesuits running the college that became Georgetown sold 272 African-American men, women and children into a hellish life on sugar plantations in the South to finance the college's continued operation. On that fact, there is no dispute.
The sale by the Jesuits stands out for its sheer size and the directness of its relationship to the existence and fortunes of one of the country's top Catholic universities. The names of the people who were taken from the Jesuit plantations in Maryland and shipped to New Orleans are known. The fact that some of their descendants have already been found makes this a particularly salient case in the emerging effort to confront one of history's worst crimes against humanity.
Georgetown is morally obligated to adopt restorative measures, which should clearly include a scholarship fund for the descendants of those who were sold to save the institution.
Many people may be startled to learn that the Jesuits were among the largest slaveholders in the nation. But as the historian Craig Steven Wilder notes in the forthcoming book "Slavery's Capitalism: A New History of American Economic Development," the Catholic Church was fully involved with slavery in the colonial period. Professor Wilder writes that income from slave plantations gave Catholics the resources to resist colonial-era persecution, allowed the church to survive through the American Revolution and underwrote the church's expansion.
Visitors to the Jesuit plantations, including an Irish priest who visited Maryland in 1820, documented the violence against the enslaved. Some urged the church to get rid of its slaves. But as Professor Wilder writes, "Rather than retreating from slaveholding, the bishops built their church by tracking the westward expansion of plantation slavery" after the Louisiana Purchase.
At Georgetown, slavery and scholarship were inextricably linked. The college relied on its plantations to help pay for its operations. When the school fell into trouble, the sale of the African-American men, women and children staved off its ruin.
The black Georgetown families might have been lost to history had the Jesuits not recorded their names. With that information in hand, a nonprofit group called the Georgetown Memory Project has begun tracking down living descendants of these families. The statistical model used by the project estimates that there are 12,000 to 15,000 living descendants of the original 272 enslaved people.
Following student protests last fall, the university removed from two campus buildings the names of the two priests who arranged the sale. In addition, a university working group made up of students, alumni, professors and others are studying ways for the university to acknowledge, memorialize and make amends for this history.
According to Richard Cellini, the Georgetown alumnus who established the memory project, some of the descendants wept openly when they were told of family histories that had been a mystery to them. As Catholics, some have experienced crises of faith since learning of the brutality of the 19th-century priests. None of the descendants he has spoken with have mentioned money or reparations for themselves, Mr. Cellini said.
The descendants want their ancestors recognized in a durable way. Some would like to see a permanent memorial on campus that honors the enslaved families, one descendant said, as "real people with real names." Georgetown can begin by welcoming the descendants into the university family and listening to their suggestions.
National Coalition of Blacks for Reparations in America
Jumoke Ifetayo, National Male Co-chair Diana Kimble, National Female Co-Chair
(601) 885- 3081 P.O. Box 90604, Washington, DC 20090 info@ncobraonline.org
REPARATIONS NOW: RIGHTEOUS DEMAND FOR JUSTICE
Position Paper on the Preliminary Report of UNITED NATIONS Human Right Council Working Group of Experts on People of African Descent
(The Working Group) from its visit to US, January 19 to 29th 2016
On Friday January 29th 2016 The Working Group of Experts on People of African Descent held a press conference which focused on its preliminary findings assessing the situation of African Americans and people of African descent in the United States. This followed in response to an invitation by the US government to visit the country from January 19-29th 2016. The Working Group visited Washington DC, Baltimore, Maryland, Jackson, Mississippi, Chicago and New York City and met with hundreds of civil society representative organizations, lawyers and individuals from the African American community. During the press conference the Working Group stated that it regretted that it did not receive access according to the terms of reference for special procedure mandate holders to visit Mississippi State Penitentiary Parchman, nor meet with all of the high level state and local level authorities requested.
The Working Group assessed the situation of African Americans and people of African descent and gathered information on the forms of racism, racial discrimination, xenophobia, Afrophobia and related intolerance that they faced and continue to face during its visit. The Working Group studied the official measures and mechanisms taken to prevent structural racial discrimination and protect victims of racism and hate crimes as well as responses to multiple forms of discrimination. The visit focused on both good practices and challenges faced in realizing African-Americans human rights.
It concluded in its preliminary findings that despite substantial changes since the end of the dejure segregation and the fight for civil rights, ideology ensuring the domination of one group over another, continues to negatively impact the civil, political, economic, social and cultural rights of African Americans today. The Working Group also concluded that the persistent gap in almost all the human development indicators, such as life expectancy, income and wealth, level of education and even food security, among African Americans and the rest of the US population, reflects the level of structural discrimination that creates de facto barriers for people of African descent to fully exercise their human rights. In Washington DC the Working Group found that the process of gentrification (ethnic cleansing) has a heavy impact on African Americans who are being displaced from city centers under the argument of the need for new investment and development. In particular, the Working Group was alarmed by incidents of eviction, demolition and conversion of Barry Farm public housing in Washington DC, similar to what has happened to public housing in cities across America.
The Working Group stated in its report that it was particularly concerned that African Americans did not and do not have the possibility to bring their cases or individual complaints to regional and international bodies when they have exhausted all domestic remedies at the state and federal level as they are not party to the protocols which would allow them to bring complaints. Furthermore, International human rights treaties cannot be invoked in national courts as there is no enabling legislation and they have been declared non-self-executing.
Recommendations and plan for action:
N'COBRA supports the recommendations of the Working Group, especially, advocating that the US government should acknowledge that the transatlantic slave trade was a crime against humanity and is among the major sources and manifestations of racism, racial discrimination, xenophobia and related intolerance and that Africans and people of African descent were victims of these acts and continue to be victims of their consequences and vestiges. N'COBRA supports the Working Group's suggestion that Congress pass the H.R. 40 – Commission to Study Reparation Proposals for African Americans Act and establishes the Commission to examine slavery and discrimination in the colonies and the United States from 1619 to the present and recommend appropriate remedies.
N'COBRA acknowledges and applauds the Working Group for its findings which validate and confirm the injuries sustained by people of African descent since slavery, and which were identified and documented by N'COBRA nearly twenty (20) years ago:
Peoplehood/Nationhood: The domination of the larger culture upon Black peoples;
Education: The denial of the right to a quality education, and mis-education;
Criminal Punishment; Discrimination and disproportionate punishment within theUS criminal justice system on People of African Descent;
Wealth/Poverty; Deprivation of wealth and continuation of poverty subjugation; and
Health; The denial of quality healthcare during and post slavery.
Since the Working Group acknowledged that African Americans and people of African descent have no vehicle to register complaints to international bodies when domestic and federal remedies fail and have been exhausted, N'COBRA highly recommends that the United Nations establishes the appropriate vehicle and protocols by which affected groups, such as people of African descent in the US, can directly appeal to international bodies for relief, particularly, a vehicle and protocol that mitigate the continued US government, federal and local, hostility toward African-Americans and people of African descent under their jurisdiction, and if necessary, apply appropriate measures until such hostility has ceased.
N'COBRA further recommends that the UN assist N'COBRA with the necessary resources and technical assistance in conducting a plebiscite in order to determine those African Americas and people of African descent currently residing in the U.S. who desire political separation either repatriation or a sovereign nation state, the latter as called for by the Provisional Government of the Republic of New Afrika (PG-RNA). The cry
African-American
of African-Americans and people
of African descent after centuries of subjugation as reported by the Working Group.
N'COBRA declares that the appropriate reparation remedies for African Americans and people of African descent be in alignment with the UN International guidelines for reparations, which are: Restitution, Damages Compensation, Rehabilitation, Satisfaction, and Guarantees of non- repetition.
N'COBRA will continue to work with local, national, international organizations, international bodies, and supportive governments to see that justice and reparations for African-Americans and people of African descent are guaranteed.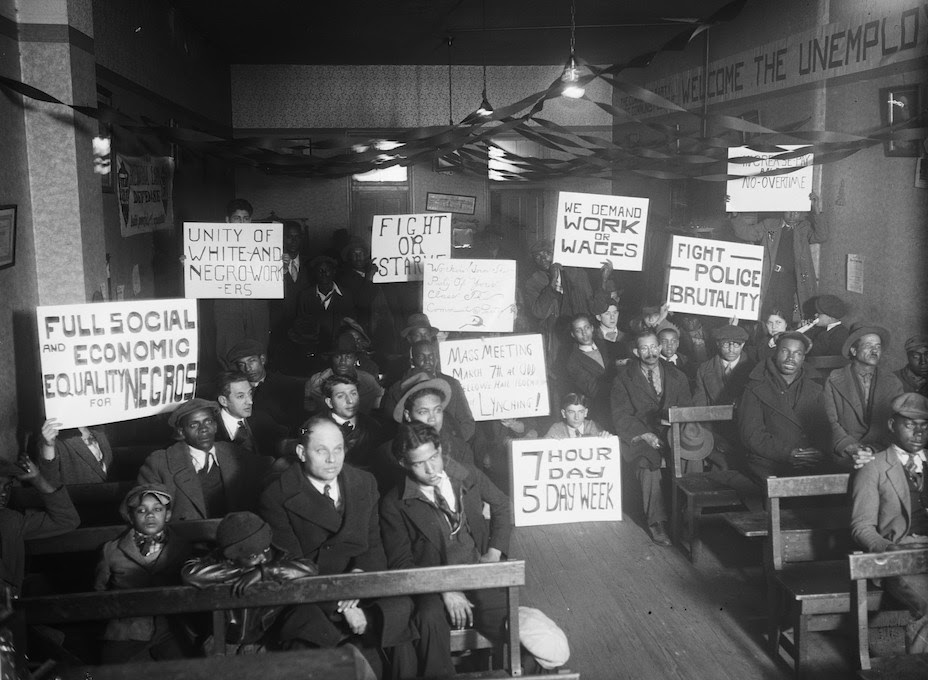 A 1930 unemployment rally at local Communist Party headquarters in Washington, DC. Library of Congress
In a series of recent articles in the Atlantic, columnist and author Ta-Nehisi Coates criticized US presidential candidate and self-described socialist Bernie Sanders for not supporting reparations. Cedric Johnson responded with an open letter that challenged Coates's worldview, and suggested that Coates is operating as part of a black managerial elite whose calls for reparations and critiques of redistributive social programs are really about carving out their piece of the American capitalist pie.
There is a lot at stake in this debate — much more than whether Bernie Sanders cares about black people or whether we should support him as a candidate. The more important issue is how the Left views the relationship between racist oppression and the exploitation of the working class. And in this respect, Sanders, Coates, and Johnson all get it wrong.
I think socialists should absolutely support the call for reparations for people of African descent in the United States (and elsewhere). Sanders was wrong to dismiss the issue, and Coates erroneously concluded from Sanders's position that socialists necessarily adopt a reductionist, "class first" politics. Coates's error was then confounded by Johnson's argument, which counterposed the call for reparations to the fight for social-democratic redistributive policies — as if the two couldn't, or shouldn't, be part of the same struggle.
Socialists should favor reparations for black people as part of a broader movement to redistribute wealth and power to all people who are oppressed and exploited under capitalism.
Black people have been robbed specifically and continuously in this country. As Coates points out, systematic racist plunder is not something that only happened four hundred years ago. It's the whole story of the twentieth century — and, despite the election of the first black president, it's marked the twenty-first century, too. The subprime mortgage crisis of 2008 was the single greatest destroyer of black people's wealth in US history. The banks got paid, and black people (disproportionately) got robbed. On this much, I assume, Coates, Johnson, and Sanders agree.
Other people in this country were — and continue to be — robbed as well: the indigenous people of North America whose land and lives were stolen; the Chinese immigrants whose broken backs built railroads; the European immigrants who suffocated in mines; and many others. Throughout US history, when these workers rose up and fought for dignity, better pay, safer conditions, and fewer hours, they were met with organized violence, terror, and even murder. Every great fortune was built with blood.
While the ideology of "white supremacy" was necessary to justify this systematic plunder, it served to mask all exploitation and oppression. Racism was not created for its own sake. It's long been wielded to divide the laboring population.
Coates points to large disparities in wealth and other indices of white and black life, arguing: "This is not a class divide, but a racist divide." But in setting these categories against each other, he fails to appreciate their profound entanglement. If there weren't large gaps between white people and black people — e.g., material and wealth disparities — racism would not be effective. Racism explains these differences, but the ideology of race also prevents us from noticing that most people's net worth is falling.
Coates, however, concludes that racial identification is more powerful than class identity. "In America," he writes, "solidarity among laborers is not the only kind of solidarity," and furthermore, "it isn't even the most potent kind." Coates is correct, of course, that working-class solidarity is not usually the "most potent" kind of solidarity. If that were true, capitalism would be in big trouble. If racism has been essential to disrupting class solidarity, it isn't permanent, unchanging, or uncontested.
Because racism is central to the operation of capitalism, antiracism must be central to any movement that hopes to challenge it. As Coates rightly notes, racism has systematically hampered even strong left movements trying to win reform in the United States. Therefore, the specific legacy of racism in the US must be addressed if we are to have any hope of winning the kinds of progressive legislation Bernie Sanders is proposing.
Black people, Johnson correctly points out, have historically been at the core of efforts to secure such a program. The American Communist Party's flawed-but-heroic attempts to meld these issues is probably the best example of a mass movement in the US guided by the idea that fighting racism is central to fighting for socialism.
Likewise, instead of counterposing these agendas, we should fuse them. We need to push for wealth redistribution on a vast scale and insist that such an effort attack the legacy of racism. Doing one without the other is a recipe for disaster.
We can even go a step further. As Marx argued, all profit is theft — if workers were paid the full value of their labor, there would be no profit. Reparations therefore must be targeted at the class of people who benefit from this theft.
Walmart is a clear example. The largest private employer in the country (and, as it happens, the largest employer of black people in the US), the company pays its full-time workers so little that many qualify for public assistance. Through the decades, Walmart's owners have piled up billions by exploiting low-wage labor. It's the Walton family who should pay reparations — not Walmart's white workers, who are scraping by on public assistance.
Indeed, understanding the class nature of our society is essential to thinking through the reparations issue. Most discussions about reparations are emphatically not about taxing every white person in order to cut a check to every black person. However, there are entities — banks, insurance companies, and the federal government — that have accumulated vast sums through the systematic exploitation of black people over many years. These organizations, corporations, universities, and, in some cases, individuals, are sitting on piles of cash and should pay up.
It's also worth remembering that nowadays, some of the people sitting on top of these fortunes (or helping manage them) are black. There is a small but growing class of black elites who will never support reparations — or any politics of genuine wealth redistribution — because it is not in their material interest to do so.
That's why Johnson is wrong to characterize the call for reparations as emanating from the black elite. This group is too well integrated into American capitalism for that to be the case. Walmart, for example, is also a corporate sponsor of the Congressional Black Caucus. The largest employer of black people, in other words, also pays off the black politicians — so don't expect the CBC to jump into the fight for higher wages and wealth redistribution any time soon.
The bottom line is, the very concept of reparations for people of African descent is dangerous to the American ruling class. Grappling with the real legacy of white supremacy would explode the lies America tells about itself (from "meritocracy" myths to "culture of poverty" arguments). And, equally important, a serious debate over reparations would raise dangerous questions about where wealth comes from and about who is owed what in this country.
Socialists should argue that black people are owed quite a bit — and that other people are owed too. If black people should receive remuneration because they were robbed, shouldn't banks and major corporations be responsible for compensating everyone they've abused and exploited? If the source of all profit is labor, then isn't the entire American working class being shortchanged?
The kind of redistribution Bernie Sanders is talking about falls far short of what Marx advocated: the genuine democratic control over our working lives. It also falls short of what is needed to truly end poverty in the US. But Sanders's proposals do threaten America's elite, because they would shift the balance of power toward labor and away from capital.
If there was no such thing as health care bills or college tuition, and if every job paid at least $15 an hour, working-class people in general — and black people, in particular — would be in a much stronger position to speak up, organize, and fight for everything that we are collectively owed.
Coates is wrong that Sanders's program represents the same kind of "rising tide lifts all boats" approach that Obama adopted. Obama has been a neoliberal president from the beginning; his policies have shifted the balance of power in favor of capital. For example, Obama's support for privatizing public education and crippling teachers unions has had a disproportionately negative impact on black teachers, and has been a harbinger of further attacks on one of the last bastions of black people's wealth — public sector unions.
Bernie Sanders, in contrast, is bringing the word "socialism" back into the mainstream and raising the idea that America needs a more equitable distribution of wealth. Those are good things. Unfortunately, he is doing so inside a party whose goals are the complete opposite. Whether or not he prevails, I hope a new generation of people rediscovers the socialist tradition. We desperately need a mass socialist party in this country. But the Democrats are never going to be that party — we'll have to build our own.
The reparations discussion is reemerging now because a new movement of black people fighting state-sponsored violence is taking shape nationwide. This new movement is already rediscovering the brilliant work of black socialists like W. E. B. Du Bois, C. L. R. James, Angela Davis, and many others. They teach us that the struggle against racism and the struggle against capitalism are inseparable — and that we will never defeat one without tearing down the other.
Connect With IBW
Subscribe/Sign-Up
Symposium
Martin Luther King/Malcolm X Community Revitalization Initiative
Pan African Unity Dialogue
Research Consortium
Haiti Support Project