Reparations Resource Center
Recent Posts: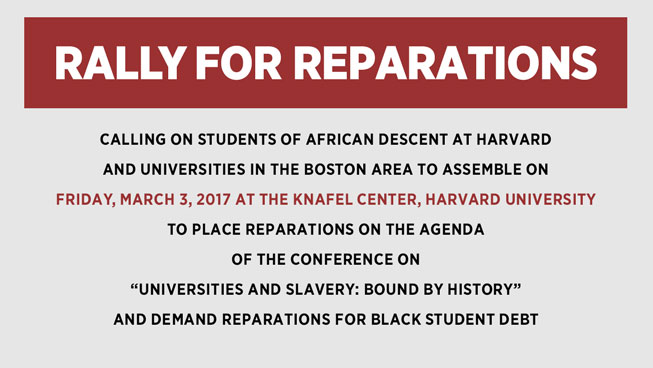 The National African American Reparations Commission (NAARC) is launching a nation-wide initiative to address the large debt that African American and other students of color take on to receive a college education. Given the wealth created for many institutions of higher education based on slavery, slave trading, and the labor of enslaved Africans and African Americans, we are calling upon students at Harvard and other universities to assemble at the Knafel Center, Harvard University, on Friday, March 1, 2017 to demand that reparations in general, and reparations to cover student debt in particular, be addressed at the conference. The ultimate goal is for students of African descent to graduate from these colleges or universities debt free.
(more…)
In the spirit of the Durban Declaration and Program of Action of 2001, which declared the Atlantic Slave Trade and chattel slavery as crimes against humanity, to directly confront racism, we urge the Women's March 8 mobilization to embrace the growing national and global movement for reparatory justice.
(more…)
By Barbara Krauthamer
Over the past few days, the national climate has grown increasingly tense over the issue of "sanctuary" cities and states. Local communities, including some college and university campuses, have pledged to shield undocumented children and adults from President Donald Trump's proposals for deportation. Municipalities and campuses remain steadfast even in the face of the president's threats to withhold federal funding from these communities.
(more…)
By Richard Sudan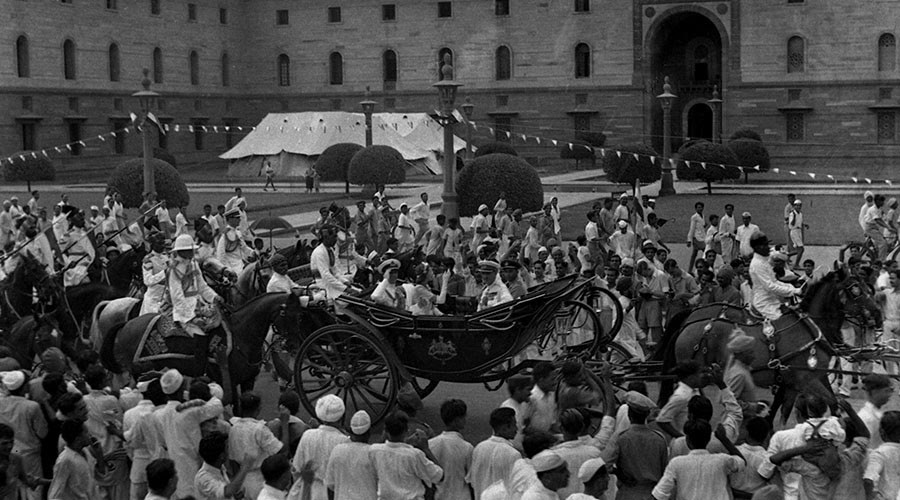 In this handout picture taken 15 August 1947, British Governor-General Lord Mountbatten (C) gestures as he rides in a carriage alongside Lady Edwina Mountbatten prior to witnessing the raising of the Indian tricolour for the first time at India Gate in New Delhi. © AFP 

The world is changing fast. For the first time since the Cold War, the dynamic of power in the world is shifting. Since WWII, the United States and its Western and European allies have dominated world politics.
Now, with the emergence and strengthening of the BRICS economies, and with the false reasons for war in recent years fully exposed, this shift is set to continue, with Western hegemony being challenged, although not nearly quickly enough for nations still on the receiving end of the empire's wrath.
(more…)
Danny Glover speaks to the Permanent Council of the Organization of American States (OAS) on March 29.
Connect With IBW
Subscribe/Sign-Up
Symposium
Martin Luther King/Malcolm X Community Revitalization Initiative
Pan African Unity Dialogue
Research Consortium
Haiti Support Project