March 29, 2017
The Basics for why Reparations Is a Necessary part of the Black Liberation Struggle. It is a silent presentation so that you can talk over the images.
SOURCE:
youtube.com/user/blackeducator
S. E. Anderson
Author of The Black Holocaust for Beginners
www.blackeducator.org
www.blackeducator.blogspot.com…
---
March 17, 2017
Prof. Sir Hilary Beckles's presentation at the recent conference on "Universities and Slavery" held at Harvard University in Cambridge, Mass.…
---
Author/journalist Ta-Nehisi Coates address as the keynote speaker at the Harvard conference on "Universities and Slavery" followed by his discussion with the President of Harvard.…
---
A tribute to legendary Pan-Africanist and Reparations Champion Dudley Thompson on the 100th Anniversary of his birth.…
---
March 1, 2017
"I think our nation, as a whole, hasn't dealt with slavery."
Leave it to President Trump to prove Daina Ramey Berry, associate professor of history at the University of Texas at Austin, right. When he gazed upon a slave auction block during a tour of the National Museum of African American History and Culture, the president reportedly said, "Boy, that is just not good. That is not good." No, it wasn't.
LISTEN HERE
…
---
February 17, 2017
By Dr. Julianne Malveaux
February 17, 2017
When he addressed the Southern Christian Leadership Council in 1967, in his speech, "Where Do We Go From Here?" Dr. Martin Luther King, Jr. noted " Of the good things in life, the Negro has approximately one half those of whites. of the bad things of life, he has twice those of whites. Thus half of all Negroes live in substandard housing. And Negroes have half the income of whites. When we view the negative experiences of life, the Negro has a double share. There are twice as many unemployed. The rate of infant mortality among Negroes is double that of whites and there are twice as many Negroes dying in Vietnam as whites in proportion to their size in the population." The data have changed, but only slightly. The history of enslavement is the basis for these gaps, and so many others, …
---
February 16, 2017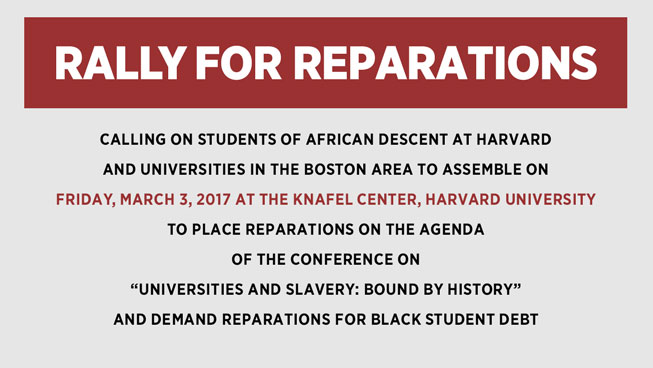 The National African American Reparations Commission (NAARC) is launching a nation-wide initiative to address the large debt that African American and other students of color take on to receive a college education. Given the wealth created for many institutions of higher education based on slavery, slave trading, and the labor of enslaved Africans and African Americans, we are calling upon students at Harvard and other universities to assemble at the Knafel Center, Harvard University, on Friday, March 1, 2017 to demand that reparations in general, and reparations to cover student debt in particular, be addressed at the conference. The ultimate goal is for students of African descent to graduate from these colleges or universities debt free.…
---
In the spirit of the Durban Declaration and Program of Action of 2001, which declared the Atlantic Slave Trade and chattel slavery as crimes against humanity, to directly confront racism, we urge the Women's March 8 mobilization to embrace the growing national and global movement for reparatory justice.…
---
February 14, 2017
By Barbara Krauthamer
Over the past few days, the national climate has grown increasingly tense over the issue of "sanctuary" cities and states. Local communities, including some college and university campuses, have pledged to shield undocumented children and adults from President Donald Trump's proposals for deportation. Municipalities and campuses remain steadfast even in the face of the president's threats to withhold federal funding from these communities.…
---
May 4, 2016
By Richard Sudan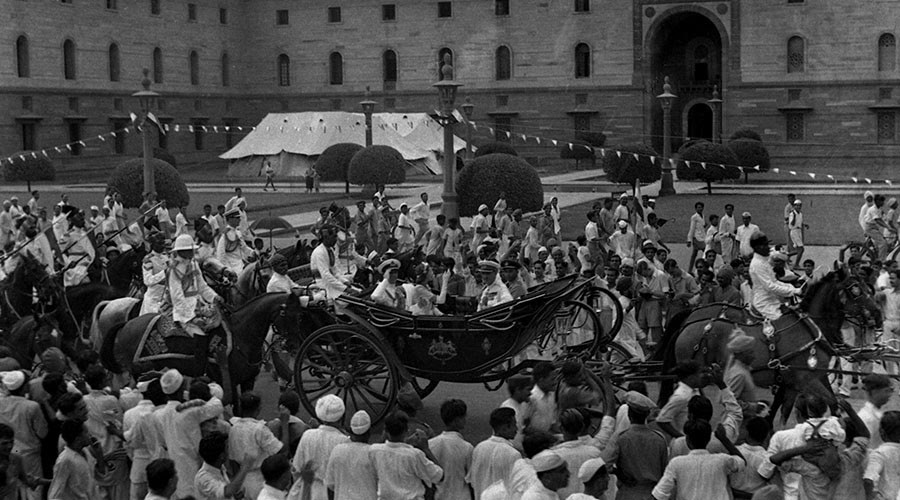 In this handout picture taken 15 August 1947, British Governor-General Lord Mountbatten (C) gestures as he rides in a carriage alongside Lady Edwina Mountbatten prior to witnessing the raising of the Indian tricolour for the first time at India Gate in New Delhi. © AFP 

The world is changing fast. For the first time since the Cold War, the dynamic of power in the world is shifting. Since WWII, the United States and its Western and European allies have dominated world politics.
Now, with the emergence and strengthening of the BRICS economies, and with the false reasons for war in recent years fully exposed, this shift is set to continue, with Western hegemony being challenged, although not nearly quickly enough for nations still on the receiving end of the empire's wrath.…
---
Connect With IBW
Subscribe/Sign-Up
Symposium
Martin Luther King/Malcolm X Community Revitalization Initiative
Pan African Unity Dialogue
Research Consortium
Haiti Support Project