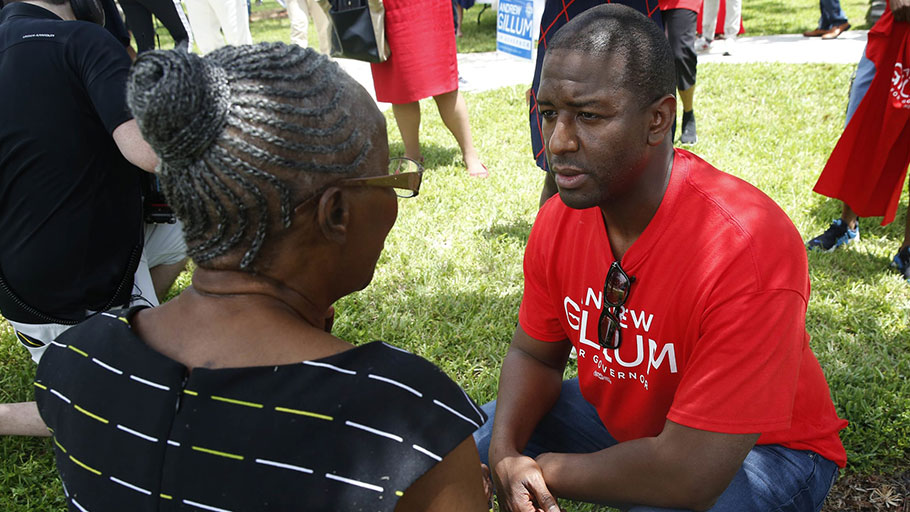 Democratic gubernatorial candidate Andrew Gillum talks with a supporter after speaking to voters and public school teachers at a rally in Miami Gardens, Florida. Photograph: Brynn Anderson/AP
The prospect of electing the state's first black governor is expected to boost African American voter turnout.
By Richard Luscombe, The Guardian —
It has been nearly two years since Florida's black voters mostly stayed home on election day and, in the eyes of some, gave Donald Trump a free pass to win the state and the White House. To Quiana Malone, it was a mistake that cannot be allowed to happen again.
Malone has been fired up for months about November's midterms, and after spending most of this year knocking on doors and speaking at community meetings around Florida for the African-American advocacy group Color of Change, she is convinced black voters have regained their enthusiasm.
"It's a moment of history for us, one of those things where you have a dream of something you want to achieve and see it can actually happen," Malone, 35, said after delivering a motivational speech to about 150 Color of Change supporters at a rally in Orlando.
"A lot of the people I've met are excited. I didn't know it would be such a fight, but now it's here, people are ready to go out and vote."
The moment of history that Malone believes will spark a revival in the black vote is in reality two moments. Firstly, there is the prospect of electing Tallahassee mayor Andrew Gillum as Florida's first black governor. Gillum, the surprise winner of the Democratic party's primary in the summer, leads Republican Ron DeSantis in a gubernatorial race that pollsters have recently switched from toss-up to "Leans Dem".
The second is an issue personal to Malone, a proposed amendment to Florida's constitution that would sweep away post-slavery era disenfranchisement of former felons and restore voting rights to those who served their sentences for crimes other than sexual offences or murder.
While about 1.6 million people, or one in 10 Florida citizens, are "felony disenfranchised" according to the Sentencing Project, the percentage of the African American population affected is significantly and disproportionately higher at 21.35%.
"You have people like me who have served their time, are transformed in every way and deserve their second chance. We are as much upstanding citizens as anybody else," said Malone, who was released from an 18-month sentence in 2009 for a crime she says she prefers not to discuss.
Since then she has turned her life around; she operates a not-for-profit to help released felons readjust to society and owns a catering company employing many of those she has assisted. She spoke of her experiences at the Orlando rally, hoping to inspire voters in a similar way.
"We've been talking to people nonstop, but there's still work to do before election day," she said.
Arisha Hatch, the managing director of campaigns for Color of Change, said direct contact was the key to reinvigorating black voters in Florida, who were uninspired by Hillary Clinton in 2016 and reflected a national slump in black and minority voting.
"We are focused on those considered to be non-voters, who might have voted once or twice for Barack Obama but are very disenchanted with politics and the type of people where campaigns and candidates never knock on their doors," she said.