By Herb Boyd
Special to IBW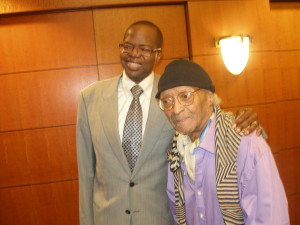 Legendary jazz pianist and composer Cecil Taylor was swindled out of $500,000 by a man who befriended him last year.  Taylor, 85, who appeared at a press conference in Brooklyn with Kings County District Attorney Kenneth P. Thompson Tuesday afternoon, was one of three recipients of Japan's Kyoto Award in 2013.  The prestigious prize comes with a cash gift of 50 million yen or $500,000.
     According to Thompson, "the defendant befriended Mr. Taylor and won his trust, which later made it easier for him to allegedly swindle this vulnerable, elderly and great jazz musician out of his prize money."
     The defendant, Noel Muir, 54, who lives in Uniondale, New York, is awaiting arraignment in Brooklyn Criminal Court.  He is charged with one count of second-degree grand larceny and if convicted, faces up to 15 years in prison.
     "That's for him to worry about," Taylor said when asked about Muir.  He was reluctant to spell out the details of how they met other than Muir was a contractor working on a brownstone next door to Taylor's residence in Fort Greene.
     Apparently, Muir knew of the award and convinced Taylor to allow him to travel with him to Japan last November to accept the prize.  In Japan, Muir, allegedly instructed the Inamori Foundation to send the prize money to his own Citibank account, then listed as MCAI Construction and not the Cecil Taylor Foundation as he told them.         
     That account, Thompson said, has been depleted.  "But we will make every effort to make sure Mr. Taylor gets all of his money back," he told reporters.
     In a move to recover the money, Thompson said his office has filed a civil asset forfeiture action against the defendant in Brooklyn Supreme Court.
     When asked if he still performs, Taylor, McArthur Genius Grant awardee, said "no."