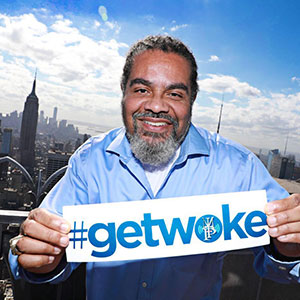 "After some meaningful convos on Kwanzaa with Tamika Mallory on Christmas Day & Dr. Ron Daniels of IBW/The Institute of the Black World 21st Century the day after, I feel inspired to discuss today's practical application of the Nguzo Saba. We need to get our you know whats together, honestly."
— Mark Thompson, Make It Plain
1. Umoja (Unity)
Support one another. Stop fighting with each other. Let's stop hatin' and backbiting. Discourage all beefs especially in these streets. Stop criticizing, finding fault and putting each other down. Stop holding grudges.Reconcile with family, friends and neighbors. Children stop fighting parents, and parents stop fighting children. Stop attacking each other especially, in public. Stop competing with each other to impress white people at work and school. Cheer for each other's success and accomplishments rather than gloat over each other's mistakes and missteps. There's nothing more dangerous than one who isolates her/himself from their own community. Become a part of our own community. Be Black! Accept that you are Black! Be proud and don't apologize for it! Join an organization or movement working for our liberation, and struggle to build consensus with others. This is true love for one another; love that our struggle requires; love in action.
2. Kujichagulia (Self-Determination)
Decide today to start working toward our people's command and control of our own spiritual destiny, our own cultural destiny, our own socioeconomic destiny and our own political destiny without any external influences from any external forces. No one should pick our leaders but us. Our organizations should not be controlled by anyone else's money, but ours. We decide who succeeds in the Democratic Party. If we're not going to split off and build our own African American political party, make the Democratic Party respect us by taking it over. If our votes make the difference then we should control the party. Shut down those using the veiled, racist term, "identity politics." Black votes matter. Decide to run for office yourself, but start small. And most of all, keep voting, especially in down-ballot, local races for offices that affect our daily lives.
3. Ujima (Collective Work & Responsibility)
Each of us knows someone who is incarcerated. Each of us knows someone who has either been abused by or killed by the police. Each of us are confronted with racism/white supremacy daily. Many of us have had family killed by white people. Each of us has been #MeToo because our ancestors, both genders, were sexually assaulted on the auction block and the plantation. And whether we want to admit it or not, each of us suffers from long-term, transgenerational, post-traumatic slave syndrome exposure. So no one African American is so different than another, and no one of us is better than the other. Commit class suicide. Your problems are my problems, and my problems are your problems. As long as you have your problems, I'll have mine, and as long as I have my problems, you'll have yours. We will not be free until we find common solutions to our common problems—and the biggest, most common problem of all is racism/white supremacy. (Invoking Ancestor Dr. Frances Cress Welsing.)
4. Ujamaa (Cooperative Economics)
Stop believing the white man's ice is colder. Stop spending all your money with businesses and corporations that do nothing to create jobs and opportunities in our communities. Build African American businesses. Spend money with African American businesses. Overcome the affliction that disables us from trusting each other when it comes to business. That's a form of learned self-hatred. HBCU's and their hospitals are our businesses. Support them. Houses of worship are our businesses. Support them. Independent African American schools are our businesses. Support them. African American contractors are our businesses. Support them. African American professional organizations, African American social organizations, including our fraternities and sororities, are our businesses. Support them. African American organizations fighting for justice are our businesses. Support them. Support African American bookstores where we still have them, and where you can't find one, find African American authors online. They are businessmen and businesswomen, too. Support African American publishers, like @HakiMadhubuti @tworldpress & #TanehisiCoates dad #PaulCoates at #BlackClassicsPress. Stop spending money with white companies to trace your DNA and find your roots. Spend money with the only one that can tell you precisely the African ethnic groups with whom you share DNA—AfricanAncestry.com. And stop spending money supporting professional sports and their advertisers that don't care about you.#TakeAKnee Giving our money to those who are at war with us does not have to be an addiction.
5. Nia (Purpose)
As Rev. Willie Wilson at Union Temple Baptist Church in Washington, DC has said, it is not our purpose to wake up early, to go to work early, to go to lunch early, to leave work early, to have dinner early, to go to bed early, to wake up early, to go to work early. We are not meant to be rats running on a wheel. We are in an emergency. And just as on an airplane we are to put our oxygen masks on before we put on our children's, we are to educate ourselves and then educate our children as to who we really are, and what our purpose really is. We are not the descendants of slaves. We are the descendants of the greatest civilization in the history of humankind that was invaded, attacked and enslaved because of our greatness. Our children must be taught by us that their ancestors were the original scientists, and have the confidence that excellence in STEM is in their very DNA. If we believe we are nothing, we will be nothing. But if we teach ourselves and know for ourselves, that we were the first civilization builders and the first to interpret humankind's relationship with spirituality then we will be gods—again.
6. Kuumba (Creativity)
Make something. Even if it's just a difference in another person's life. Let's search within ourselves to give one another more than material things. Write a note to a loved one. Encourage the children to draw a picture for an elder. Seek beauty, and where you cannot find it, beautify the home, the block, the neighborhood, the community. Stop thinking neighborhoods are beautified only when gentrification occurs. Settlers don't define beauty. Let's make things beautiful for ourselves. Let's take pride in our surroundings. Let's take pride in our creativity. Help support and sustain our original art forms—those that came with our people from Africa, and evolved here in America, be they music, dance or visual art, to name just a few. Do not let our culture die. And let's be creative when it comes to solving problems rather than always calling the police on one another. Support creative efforts to bring peace in our streets. Believe in your own power to create. After all, we did create human civilization. Remember it's Black that is beautiful.
7. Imani (Faith)
Believe in yourself, even when it seems all is lost. Believe in our people and in our victory, even though there's a devil in the White House as leader of the free world. Believe in something greater than yourself, and if nothing else, that something should be some ones—our ancestors, upon whose sturdy shoulders we stand, and whose eternal vigilance we must aim to emulate. They made it under far more trying circumstances than we can imagine. And they made it believing in us, whom they would never live to see. Surely, we can believe in them. So believe in yourself, the way your ancestors believed in you.
---
Mark A. Thompson (Matsimela Mapfumo) is the host of Make It Plain, which airs Mondays through Fridays on SiriusXM Progress 127, 6-9 p.m. ET. Follow him on Twitter: @MakeItPlain