Third World Press announces the forthcoming publication of The Diary of Malcolm X.  In 1964, Malcolm X, El-Hajj Malik El-Shabazz, made two trips to Africa and the Middle East.  During those trips, he kept copious notes. Malcolm's transcribed notes, along with annotations and commentary by editors Herb Boyd and Ilyasah Al-Shabazz, comprise the entirety of this remarkable diary.
"From the pages of his Diary," said his daughter Ilyasah Al-Shabazz, "we hear his voice distilled and pure, devoid of outside interference, manipulation or intent.  With his Diary, the entire world can now accurately assess the value, contribution and magnitude of Malcolm X."
The Diary captures Malcolm in all his complexity, reveals some of his trepidations, and above all his humanity as he encountered a coterie of dignitaries, world leaders, and ordinary people who were as mesmerized by his genius as he was in wonder of the often challenging new cultures he experienced from country to country.
Readers will discover how significantly The Diary complements his autobiography, at times filling in the blanks, expanding an incident, and adding context to moments sometimes only mentioned in passing in the autobiography.
"One of the most astonishing revelations we learn from The Diary is the possible CIA agent who was shadowing Malcolm in Africa and the Middle East," said Herb Boyd.  "In his autobiography Malcolm believed he had discovered who that agent was but a close reading of The Diary discloses an even more surprising man who may have been the spook on Malcolm's trail."
For several years The Diary and other priceless memorabilia—since they were rescued by the family from a proposed auction—have been stored at the Schomburg Center and the publication of The Diary is just the beginning of other projects, including his letters, photographs, and films that will further advance our understanding of Malcolm X and his monumental contributions to Black empowerment and possibility.
"It is, as it has always been, on us to continue the good and corrective work that Malcolm and our fore-parents prepared us for," poet and publisher Haki R. Madhubuti said in his Foreword to the book.  "The Diary of Malcolm X is a transcended document to support us in such efforts.  The editors, in their deliberations, careful annotations and commentary, have given us oxygen in the actual language of our brother and leader.  The only question left is: will we accept his daunting challenge?"
The Diary of Malcolm X is scheduled for release on November 15, 2013.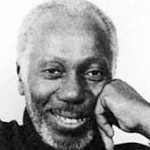 Herb Boyd on the genesis of the book:
"Back in 2003, when Howard Dodson, then curator at the Schomburg Center, called to alert me that two crates of Malcolm X's memorabilia would be coming to the Center I rushed over there in great anticipation.  Inside the crates was a veritable treasure trove of Malcolm's memories, and his diary was the one thing that commanded my attention.  I vowed to myself then that one day I'd read it.  That day arrived some five years later after the material had been cataloged, laminated, and prepared for scholars and researchers.
"Only a couple of scholars—the late Dr. Manning Marable and Marika Sherwood—actually consulted the diary for their books, but neither read it entirely nor with the intention of publishing more than a few pages.   After I read it, I knew this was something the world had to see and I contacted Ilyasah Al-Shabazz, Malcolm's third eldest daughter, and asked what she thought of the idea of publishing the diary.  She believed it would be a great idea and would add to her father's already incomparable legacy.  We approached Haki Madhubuti of Third World Press with whom I had worked on a collection of essays and reviews about Marable's biography of Malcolm, and he met the idea with a similar enthusiasm.
"In less than a year of research and editing, the book is at last ready for the world and it is our hope that we have given Malcolm the respect and honesty he expressed throughout the writing of the diary and his monumentally important life."