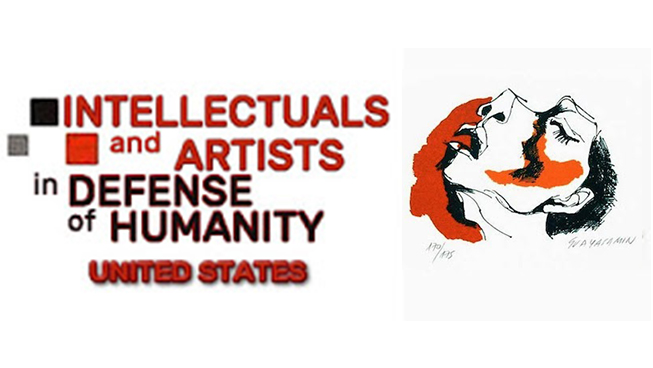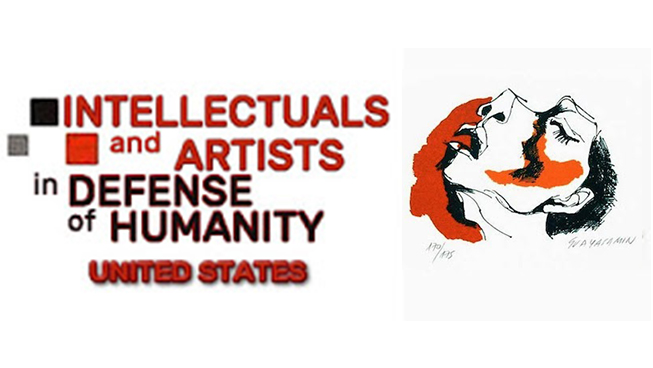 The U.S. Chapter of the Network of Intellectuals, Artists and Social Movements in Defense of Humanity support a peaceful, self-determined, sovereign, constitutionalsolution to the internal ideological and political struggles among Venezuelan citizens and political representatives. In accordance with the official declaration of Latin American and Caribbean nations as a Zone of Peace we call upon U.S. citizens, the U.S. Government, and the Organization of American States (OAS) to stop all foreign interference and to acknowledge and support the internal dialogue established by the Venezuelan government of President Nicolas Maduro. Central to this dialogue should be Venezuelan citizens and expert international interlocutors committed to a peaceful, just, and independent Venezuelan national resolution of political disagreements and tensions.
There are a number of internal and external factors contributing to the current ideological, economic, and political crisis facing Venezuela, as is the case with other countries in the region, including Argentina, Mexico, Paraguay, and Brazil. However, in the case of Venezuela, a double standard of disregard for independence, national self- determination, and sovereign resolution is being unjustly and illegally applied against the Maduro government by the U.S. political establishment, U.S. and Latin American corporate media, and the OAS.
These brazen interventions into the sovereign affairs of the democratically elected and constitutionally functioning government of Venezuela sets a dangerous precedent for unjust and illegal undermining of the affairs of other OAS member states.
We urge U.S. citizens, the media, and government officials to be informed with accurate information about legal constitutionally grounded mediations of differences and conflicts among Venezuelan citizens and political factions within government. It is important to recognize and respect that after the death of President Hugo Chavez, Nicolas Maduro was democratically elected President of Venezuela by the majority of the Venezuelan people.
We should be forthright in acknowledging that there is a sharp struggle underway in Venezuela between traditional corporate and elite social sectors against radical progressive mass-citizen sectors over policies that benefit the neediest and marginalized citizens. The anti-elites, in the last 18 years, have voted repeatedly in favor of Bolivarian policies from which they have benefitted. Such policies have improved their quality of life and increased the country's active participation of its citizenry.
Despite real differences and conflicts among Venezuelans, the constitutional rule of law and protocols voted for by the majority of citizens to implement internal mediations to resolve conflicts must be implemented, respected, and upheld by the Venezuelan people and the international community.
Fair-minded citizens of diverse political persuasions must responsibly reject the internal disruption of national mediations and reject the intensified eruption of massive street violence by the opposition to the Maduro led government. These eruptions are accompanied by massive and continuous bombardment of media misinformation, outright lies, and interventionist threats by right wing elites and the U.S. government against Venezuela, which have increased since former foreign minister of Uruguay Luis Almagro became General Secretary of the OAS in May 2015. This too must be exposed and denounced.
OAS General Secretary, Luis Almagro, supported by a minority of OAS Latin American and Caribbean Member States, has violated OAS and regional multilateral protocols of non-interference in internal national affairs. He has abandoned the OAS Charter with personal, prejudicial, and unfounded questioning of the legitimacy of the Venezuelan government, and he has disregarded the majority opinion and will of all the OAS Member States in his dogmatic pursuit to impose on Venezuela the Inter-American Democratic Charter.
The majority of OAS member states have resisted Amalgro's dogged attempt to get the two-third votes needed from the 36 countries to sanction Venezuela.
The U.S. government's intervention against Venezuela is being led by Florida's Republican Senator, Marco Rubio, who has directly threatened the governments of the Dominican Republic, El Salvador, and Haiti, calling for them to vote against Venezuela or face repercussions through economic assistance provided by the United States.
There is alarming news that the U.S. military's top official for Latin America presented an ominous report to the Senate claiming that Venezuela could be a "destabilizing" factor in Latin America.
U.S. citizens across the ideological and political spectrum do not condone foreign interference into their own internal political disputes, thus we should not accept or impose a different standard on other countries.
We call on the international community to support the dialog between all parties and respect the self-determination and sovereignty of Venezuela, the right to resolve its internal conflicts and to live in peace. It is imperative and urgent to oppose the machinations that both threatens the sovereignty of other Latin American and Caribbean nations and weakens and dislodges the mutually beneficial protocols those nations have forged over the centuries.
Network of Intellectuals, Artists and Social Movements in Defense of Humanity,
US-Chapter
Initial List of Endorsers

Danny Glover, Estela Bravo, Piero Gleijeses, Gayle McLaughlin, Michael Parenti, James Early, Jane Franklin, Bishop Thomas Gumbleton, Nelson Valdes, Jose Pertierra, James Cockcroft, Chelys Lopez, Cristina Vazquez, Clarence Thomas, Felix Salvador Kury, Peter Schey.