GHANA'S DEMOCRACY FACES CRUCIAL TEST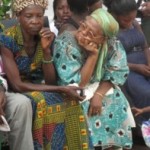 Aug. 27 (GIN) – After months of hearings, Ghana's Supreme Court justices will put to rest, this week, a challenge to the election of 2012, creating a possible scenario of bitter if not violent feuding between the two major parties.
Uncertainty as to who will prevail has prompted a flurry of party-led prayer services, peace walks and inter-party conferences to pre-empt any actions that could damage Ghana's singular reputation as a peaceful democracy enjoying steady growth.
Supporters of Nana Akufo-Addo, standard bearer of the New Patriotic Party (NPP) insist that John Mahama, of the National Democratic Congress (NDC), now president, won the election by fraud. In their December petition to the Supreme Court, the NPP challenged the validity of over a million votes.
Further fanning the flames of resentment, pro-NNP Ghanaians in the UK wrote on their website: "Why should we sit back while these scoundrels perpetually take us for rough ride? Why should we allow them to continually commit crimes with impunity when we have the means to deal with them?
"These cheats and liars have got away with blue murder – stealing the presidency."
Supporters who back Mr. Mahama, on the other hand, seem sure of victory. Murtala Mohammed, deputy minister of information, even denied that the nine justices had the power to upset the NDC win. 
Ali Dawood, host of Multi TV's political program, Majority Caucus, also assured his audience: "If anything at all, (the election) is going to be confirmed by the Supreme Court and there is never going to be a time, whether 2013 or the years to come, where we will have over-turning of verdicts in the Supreme Court; it is not going to happen."
While the case has exposed voting irregularities, said lawyers and political analysts surveyed by Reuters, the verdict will validate the election result. Several predicted a 6-3 split among the judges against Akufo-Addo. 
Afia Asantewaa Asare-Kyei of the Open Society Initiative for West Africa, credited the efforts of the 9-member court panel. "The case will set a precedent for Africa because it provides an intensive audit of an election by a court widely perceived as neutral."
"I do think it's going to take a lot from the court to overturn the electoral result," she said.
Whatever the outcome, Ghanaians can be expected to know it within minutes. Coverage of the decision has been updated frequently by social media on a website (africanelections.org), and on Twitter @africanelection  w/pix of Ghanaians waiting to vote
SWAZI KING HIT WITH NEW CORRUPTION CLAIMS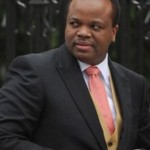 Aug. 27 (GIN) – Cheating may have reached new heights in the kingdom of Mswati III, last reigning absolute monarch in southern Africa. 
In the Aug. 24 poll, one winning candidate reportedly brought in so many voters from outside the district that as many as 1,000 people voted, although only 300 lived in the chiefdom, the official Swazi Observer reported.
There were similar complaints across Swaziland, the paper reported, and in some cases people said they were paid for their votes. Ballot papers had incorrect names and some voters were simply denied the chance to vote.
The Observer noted: 'Most people felt that the elections were far from being "free and fair", pointing out that voting was opened for just four hours in some stations while in other stations they were given the full 10 hours or more.'
Sex discrimination was also in evidence. Mani Mavimbela, 18, was denied a ballot spot when she showed up to be registered while wearing jeans. Dr. Sikelela Dlamini in the Africa Review, noted: "Archaic and chauvinistic practices are being used to prevent Swazi women from taking part in primary elections, despite the country having a constitution that guarantees their rights."
An editorial in Swazi Media Commentary critically observed: "The King chooses the government under the "tinkhundla" system," they wrote. "Political parties are banned. Out of 55 House of Assembly members, 10 are picked by the King.  He chooses 20 out of 30 senators, all the government ministers and the nation's prime minister."
Now, the fate of Swaziland, Lesotho, and Botswana has emerged as a campaign plank in neighboring South Africa. A manifesto of the Economic Freedom Fighters, led by former ANC youth leader Julius Malema, calls for the elimination of the region's national borders in a step called "progressive internationalism".
The proposal was shot down sharply by Motsoko Pheko, a long time activist, lawyer and author in a piece published by the website Pambazuka.
Pheko wrote: "Annexing" Lesotho and Swaziland to the "rainbow nation" is no solution for Lesotho and Swaziland nor for so-called "New South Africa" itself, while the African people are still colonially robbed of their country (Azania, colonially called South Africa). "It would be suicidal for the Basotho, Batswana and Swazi to be incorporated into a still economically controlled South Africa," without resolving the land question in South Africa first."  w/pix of King Mswati III
AS FOREIGN TROOPS DIG IN FOR LONG STAY, RESENTMENT IN MALI BREWS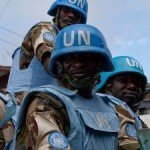 Aug. 27 (GIN) – As the U.S. ponders regime change in Syria, U.N. peacekeepers are preparing for a long stay in Mali as that country recovers from a similar French-led campaign earlier this year.
In a rescue mission made urgent by pictures of ruined mosques and Malian battle victims, French troops in January moved in to halt an Islamist offensive which threatened to take the capital Bamako. After a longer than expected military campaign, the French fighters were slated to return home. But till security returns, some 3,200 soldiers will remain to supply logistics and training.
About 1,000 French special forces will also stay to deter the return of Islamists.
"This could become a permanent force with a mandate to tackle Islamists across the region, particularly in Niger," said one Western diplomat.
A 500-strong brigade of Chinese soldiers is due next month but the lack of "enablers" such as engineers and helicopters mean it will take time for others to arrive. 
"The UN is here to facilitate the return of the state to north Mali and provide security until the army is ready to take over … It's a mission which is likely to last a few years," said Bert Koenders, the UN special representative to Mali.
Some Malians are troubled by the massive U.N. presence – close to 13,000 – which dampens prospects for the return of tourists. 
One of Bamako's biggest hotels, the Amitie, has been turned into UN headquarters, with armored personnel carriers and blast barriers protecting the glass-fronted atrium.
"We do not need them here. They drive around town in their white cars without saying hello to anybody," said Yaya Diaby, 54, a Bamako artisan in a press interview. "Since they came, there has not been the slightest clash. They have not had to intervene at all."
Abdoulaye Niang, a local political commentator, said he had lobbied newly-elected President Boubacar Keita and petitioned the Supreme Court to reduce the size of the UN mission and withdraw it from Bamako.
"A UN administration cannot come and run Mali. Malians will not accept this," Niang said, recalling how residents of Bamako had taken to the streets in January—just before the French intervention—to protest foreign meddling.
The UN mission will attempt to facilitate a peace deal revising ties between Bamako and northern Mali—a new "social contract"—which would devolve political power but put in place checks to prevent corruption.
But Kwesi Aning, director of research at the Kofi Annan International Peacekeeping Training Centre in Ghana, says this points to a dangerously broad range of tasks for a peacekeeping mission. State-building takes a decade, at least, he added.
President Keita, due to take office in mid-September, has said little in public about the UN mission, but his campaign stressed the need to prepare for its departure at some point. w/pix of U.N. peacekeepers in Mali