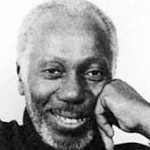 By Herb Boyd
(Special to IBW)
Seven years ago the Institute of the Black World 21st Century launched its first Annual Marcus Garvey Commemorative Meeting and Pan-African Unity Dialogue (PAUD). Last Saturday morning at Local 1199 SEIU more than fifty invitees assembled to pay tribute to what would have been Garvey's 127th birthday and also to continue the IBW's mission to bring together individuals representing various Black world diaspora communities for the purpose of dialogue and coordinated actions.
After welcoming remarks from Executive Vice-President Estela Vazquez of  1199SEIU and a brief summary of Garvey's remarkable life by Charles Jarvis, the promised dialogue began and it was as wide-ranging as the organizations in attendance.
A Pan-African overview and the need to build on what had already been accomplished were at the heart of Dr. Ron Daniels' opening comments.  As founder and president of IBW, Daniels has been unstinting in his quest to galvanize discussion and action around such pertinent issues as immigration reform, the De Blasio administration and its appointments, human rights violations, and a welter of domestic and global affairs as they impact the Black world.
"Economic development is a fundamental crisis in the Black world, and we have to deal with it," Daniels charged.  He also stressed the need for the various organizations to reach out in its recruitment of young leaders.
And a few of them were on hand to offer their perspectives and how much they can learn from their elders.  "There are a lot of young black men and women who want to get involved," said Tiana Stowers Pearson.  She said the creation of intergenerational panels was an absolute necessity and they should be "multidiscipline because the issues we face are multifaceted."
Rev. Dennis Dillon was given the responsibility to report on Mayor de Blasio and what can be done to ensure more Black appointments to his administration.  He advised the audience that the groups that bring the money to the administration's table get the appointments.  He agreed with Black Star Publisher Milton Allimadi that a task force should be formed by the Black press in order to inform the mayor of some of the initiatives proposed by IBW.
The meetings main speaker was Ambassador Muhammad Beisart of the Polisario Movement in the Western Sahara.  He explained the history and background of his people's struggle from the choke-hold of Moroccan colonialism.  He requested that a group of Black journalists be called to travel to his country to see the challenging conditions they face in the Western Sahara.  This group, he said, could balance the Moroccan government's outreach to the Congressional Black Caucus.
There were a number of highly informed voices at the meeting, including publisher Karl Rod  ney of the Carib News with information about the upcoming Multi-national Business Conference; insightful remarks on African affairs from Brooklyn College faculty member Dr. Majubaolu Okome; Dr. Waldaba Stewart spoke on the need to push for immigration reform; Olatune Olusesi on the plight of the missing girls in Nigeria and the menace of the Boko Haram; and there was a withering critique of the recent African Summit called by President Obama with a draft resolution against the legislation granting immunity to African heads of state and senior officials.
Several books were given special attention.  Imam Talib Abdur-Rashid waved a copy of Radley Balko's Rise of the Warrior Cop, which is most appropriate in view of the current militarization of the nation's police forces, and author Dowoti Desir sold and signed copies of her latest book Goud Kase Goud: Conjuring Memory in Spaces of the Afro-Atlantic.
When Dr. Leonard Jeffries was asked to speak he said that what was necessary as the group moves forward was a retreat.
That suggestion was well-received by Dr. Daniels and his director of communications, Don Rojas, and a retreat will allow them to add more time with additional items on the ever-expanding agenda of critical issues.