Assemblymember Rodneyse Bichotte announces Little Haiti designation with Council Member Jumaane Williams, Ron Daniels, Farah Louis, Jensen Derosiers of Tonel Restaurant and Community Leaders
Brooklyn, NY — Friday, Assemblymember Rodneyse Bichotte, Assemblymember Nick Perry, Council Member Jumaane D. Williams, Council Member Mark Treyger, Borough President Eric L. Adams, and community leaders kicked off Haitian Flag Day with the announcement of the establishment of a Little Haiti cultural and business district in Brooklyn and the unveiling of the Nostrand Ave co-name to Toussaint L'Ouverture Boulevard.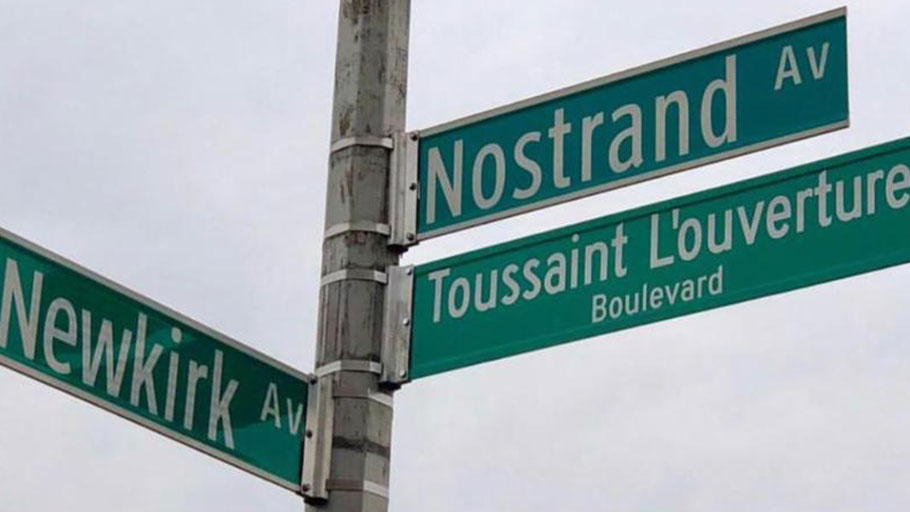 The Brooklyn lawmakers made their announcement at a Press Conference on the corner of Newkirk and Nostrand avenues. In addition to the elected officials, a large crowd of constituents, as well as members of Community Board 17 and the Flatbush Junction Business Improvement District, also attended the event.
Assemblymember Bichotte touched upon the historical contributions of Haitians to American history.
"Few are aware that Haitians fought in the American Revolution on the side of the founding fathers," the Assemblymember explained. "In fact, there is a monument to the sacrifice of these Haitians in Savannah, GA."
In addition to their announcement of the Little Haiti designation in Brooklyn, the elected officials also re-unveiled the street co-name of Nostrand Avenue to Toussaint L'Ouverture Blvd, which was taken down many years ago without any real explanation. The street sign was re-unveiled ceremonially, as part of the designation for Little Haiti. Parts of Rogers Avenue will be co-named after the Haitian Revolutionary leader Jean-Jacques Dessalines later this year.
During the Press Conference, Council Member Jumaane D. Williams made a case for a Little Haiti here in Brooklyn.
"I'm proud to represent the largest group of Haitians in America, outside of Florida. Haitian culture has been and continues to be extremely impactful and beneficial in this community and in the entire city. This designation is a great way for the New York City to show the world and the nation that Haitians add a cultural, educational and economic significance to this country that cannot be ignored." said Council Member Jumaane D. Williams.
"Little Haiti is an idea whose time has come. Brooklyn is the Port-au-Prince of America, and it's time for the world to know and come experience all we have to offer," Borough President Eric L. Adams noted. "On this year's Haitian Flag Day, we raise our voices to make Little Haiti an official designation in the heart of Flatbush."
Deputy Mayor J. Phillip Thompson drew a connection between a Little Haiti here in Brooklyn and the Haitian homeland. "In a lot of ways a Little Haiti will help a big Haiti," explained the Deputy Mayor. "The investment that will flow into Little Haiti will be sent back to our brothers and sisters in Haiti."
A fellow Caribbean, Assemblymember Nick Perry, praised the efforts to bring a Little Haiti to Brooklyn.
"The establishment of the 'Little Haiti Cultural and Business District' is significant in that it is a very public display to the entire nation," Assemblymember Perry said, "That the vast contributions of Haitian-Americans will forever be celebrated here in Brooklyn, a place where we welcome all immigrants with open arms."
---
For more information regarding Little Haiti BK please visit: www.littlehaitibk.org