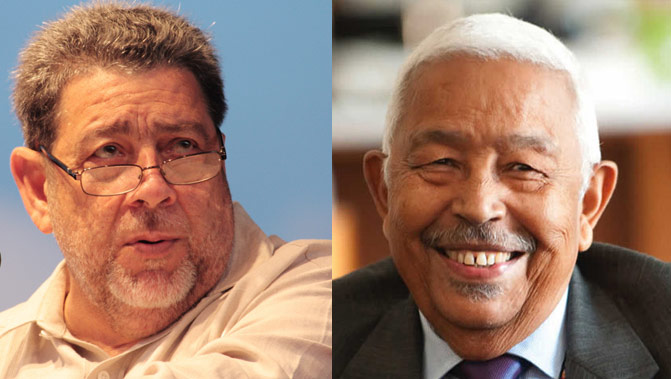 African and Caribbean Leaders to Speak at IBW Symposium in Washington, DC
Democracy, Development, Reparations on the Agenda
Washington, DC; Oct. 10th–Dr. Ralph Gonsalves, current Prime Minister of St. Vincent and the Grenadines and Hon. Pedro Pires, former President of the Republic of Cape Verde will deliver keynote addresses to an international symposium on The Future of Democracy & Development in Africa and the Caribbean at the Metropolitan AME Church, one of Washington DC's most historic African-American institutions.
Members of the US Congressional Black Caucus, ambassadors from the African and Caribbean diplomatic corps, along with prominent academics, policy experts, journalists and activists will participate in the Oct 17-18th symposium organized by the Institute of the Black World 21st Century (IBW), a research, policy and advocacy group focused on issues that impact Black countries and Black communities around the world.
PM Gonsalves will speak at the opening session on Oct. 17th at 7 pm and as a leading proponent of the growing reparations movement in the Caribbean region, he is expected to draw connections between future socio-economic development and the current demands of CARICOM (the 15-nation Caribbean community of states) for reparations from European countries.
CARICOM leaders at their summit meeting in Trinidad & Tobago in July agreed to the formation of a region-wide Reparations Commission to seek compensation from Europe "for native genocide and enslavement of Africans" during 300-plus years of colonization. Gonsalves will assume the chairmanship of CARICOM in January 2014.
On Oct. 18th, President Pires will speak on the historical experience, evolution and development of the Republic of Cape Verde emphasizing its successes in democratic governance and its unique model of including the diaspora in the country's governing processes.
For his efforts in good governance when he was president from 1995-2006, Pires was named as the third man to receive the 'Ibrahim Prize', a $5 million award given by Sudanese-born telecommunications executive Mo Ibrahim to African leaders who "raise the bar for good governance and leadership".
During the symposium, the Institute of the Black World 21st Century (IBW) will present its Pan-African Service Award to Prime Minister Gonsalves and its Legacy Award to President Pires.
"We are deeply honored to have Prime Minister Gonsalves and President Pires, two esteemed statesmen from Africa and the Caribbean, speak at our symposium," said Dr. Ron Daniels, President of the IBW. "Their speeches, along with contributions from our other distinguished panelists, will advance IBW's international work in promoting a process of shaping a progressive 21st Century vision and practice of non-exploitative, people-oriented, community building and nation building."
Daniels hopes that the gathering will produce a consensus on a framework and process for on-going and in-depth deliberations on key issues addressed in the symposium, with IBW functioning as the deliberative vehicle. The Institute plans to publish the proceedings as a resource to inform and engage broader audiences in the conclusions and recommendations coming out of the symposium.
"We are delighted to be hosting this important international gathering," said Rev. Ronald Braxton, senior pastor of the Metropolitan AME Church, which is celebrating its 175th anniversary this year.
"It is fitting that these deliberations be held here given that several of our members are former US diplomats who have served in Africa and the Caribbean, that Presidents Obama and Clinton have worshiped in our sanctuary in the past and that the church hall where the symposium will be held is named in honor of the great 19th Century abolitionist and orator Frederick Douglas, who often gave speeches at this church."
The symposium's opening session will be streamed live and later archived for on-demand retrieval on IBW's Web site—https://ibw21.org.