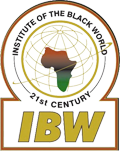 Press Release – April 19, 2017
PDF available by clicking here
The Institute of the Black World 21ST Century (IBW) will convene a National Town Hall Meeting to evaluate the impact on Black America of the Cabinet appointments, the Supreme Court appointment, Executive Orders and Legislative/Policy initiatives advanced by President Trump in the first 100 days of his administration.  The event is scheduled for Friday, April 28, 7:00 – 9:30 PM in the Frederick Douglass Hall of the historic Metropolitan AME Church, 1518 M Street, N.W., Washington, D.C.  Dr. Ron Daniels, President of IBW said, "we have assembled an outstanding panel of scholars, policy analysts and political commentators to evaluate the impact of President Trump's first 100 days on the interests of Black people." The Panel Includes:
Dr. Julianne Malveaux, Author, Political/Economist, President Emeritus, Bennett College for Women
Dr. Elsie Scott, Founding Director, Ronald Walters Leadership and Public Policy Center, Howard University
Atty. Barbara Arnwine, President and Founder, Transformative Justice Coalition, Former Executive  Director, Lawyers Committee for Civil Rights Under the Law
Symone Sanders, CNN Political Commentator and Director of Communications, Bernie Sanders for President Campaign
Ronald Hampton, Former Executive Director, National Black Police Association
Bill Fletcher, Author, Labor and Social Justice Activist, Former President, Trans Africa Forum
Jamira Burley, Millennial Vote Director, Hillary Clinton for President Campaign
Ben Jealous, Former President, NAACP, Social Justice Activist, Advisor, Berne Sanders for President Campaign
Mark Thompson, Host of Make It Plain, SIRIUSXM Progress 127 and Verna Avery Brown, Host of What's at Stake, WPFW, Pacifica, Washington, D.C., will serve as Moderators/Facilitators for the Panel Discussion – which will be broadcast live. Rev. William H. Lamar IV, Senior Pastor, Metropolitan AME Church and the Bethel Literary and Historical Society are hosts for the Town Hall Meeting.
Addressing the significance of the event, Dr. Ron Daniels commented: "It's no secret that there is tremendous concern about the potential damage that Trump's agenda might inflict on Black America and the broader Black World. This will be an opportunity to assess whether those concerns are justified."
There will be media availability with the leadership of IBW and the Panelists prior to the start of the Town Hall Meeting.
For further information or interviews contact: Director of Communications, IBW–410.844.1031 info@ibw21.org
www.ibw21.org