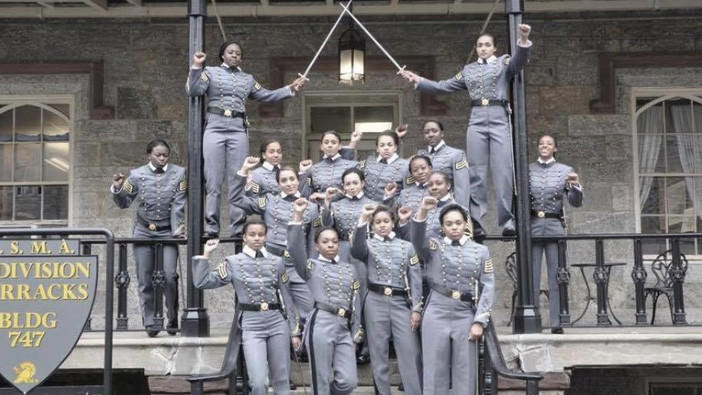 Female cadets at West Point were accused of violating academy rules by making a political statement with a photo of them raising their fists. West Point officials say they are investigating the photo. (Twitter)
Social media has erupted over a photo of a group of black cadets at West Point posed with raised fists in the manner of Black Power activists in the 1960s, bringing the elite military academy unwanted attention over its struggles with racial diversity and its strict rules against political activity.
The 16 cadets, who a West Point spokesman said in a statement are members of the class of 2016 and are under investigation for the picture, posed in traditional uniforms and with some holding sabers in what's known as an "Old Corps" photo that harks back to the academy's two-century history. In a twist, each woman holds a fist in the air, a sign some have taken of political support for the Black Lives Matter movement.
That would be a problem, as the academy and military as a whole have a broad policy against members taking part in politics aside from voting.
But some have suggested that the women took inspiration not from black revolutionaries but from pop culture – specifically, Beyonce, who used the salute during her controversial Super Bowl halftime show performance of the song "Formation." Others have said the women were simply celebrating their upcoming graduation.
Although the raised fist may be best known in the U.S. for its association with the Black Power movement, its origins and use are much broader, from ancient Assyria to the Spanish Civil War. Over the years, the symbol has simultaneously been used by leftists, white nationalists and black activists — all for very different purposes.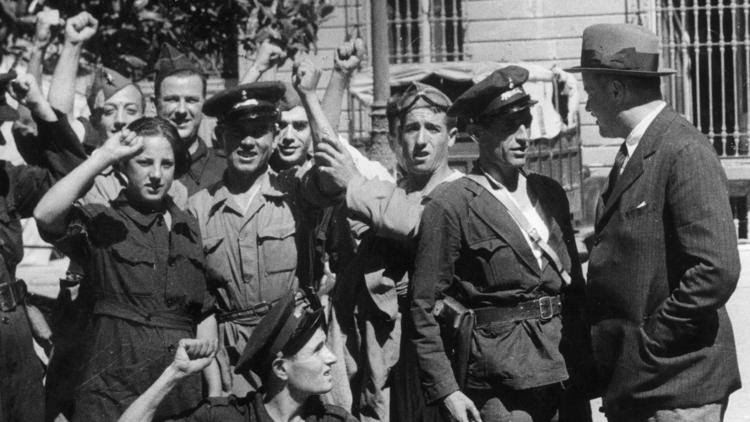 The British charge d'affaires in Madrid, George Ogilvie-Forbes, met members of a Republican militia group in Madrid the first months of the Spanish Civil War on Sept. 8, 1936. (Getty Images)
Spanish Civil War, 1936-1939
During the brutal civil war in Spain between leftists loyal to the Republican government and the wealthy and powerful Nationalists, many Republicans adopted the fisted salute. Nationalists, meanwhile, used the Roman salute, similar to that used by Italian Fascists and German Nazis.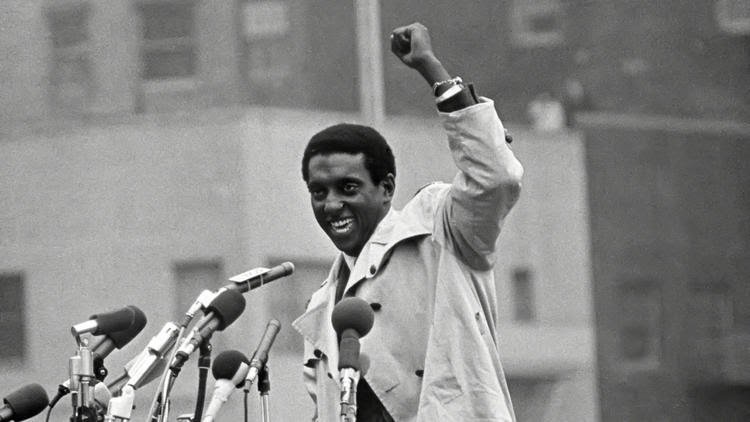 Stokely Carmichael attends an anti-Vietnam War rally outside the United Nations in New York City in 1967. (Getty Images)
Stokely Carmichael, 1967
Trinidadian American civil rights activist Stokely Carmichael, later known for his support of Pan-Africanism, popularized the phrase "black power" in the 1960s. A Harvard graduate who led the Student Nonviolent Coordinating Committee, Carmichael described black power in a 1967 book by the same name as "a call for black people in this country to unite, to recognize their heritage, to build a sense of community … to define their own goals, to lead their own organizations."
"When you talk of black power, you talk of building a movement that will smash everything Western civilization has created," Carmichael said in a later speech.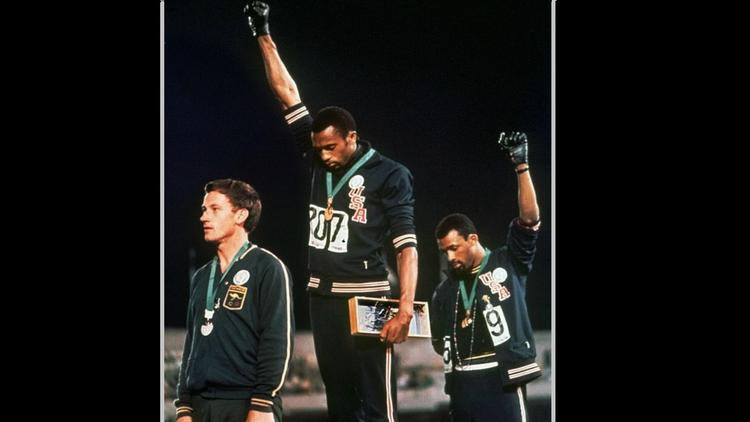 Tommie Smith, center, and John Carlos raise their fists during "The Star-Spangled Banner" after Smith received the gold and Carlos the bronze for the 200-meter run at the 1968 Summer Olympics in Mexico City. (Associated Press)
John Carlos and Tommie Smith, 1968 Mexico City Olympics
Perhaps the best-known image of raised fists is of John Carlos and Tommie Smith who won third and first place, respectively, in the 200-meter race at the 1968 Mexico City Olympics.
After receiving their medals and turning to hear "The Star-Spangled Banner," Carlos and Smith raised black-gloved fists in the air, shocking Olympic organizers who had championed keeping the games apolitical. They wore no shoes and black socks to represent black poverty, while Smith had a black scarf on his neck, which he later said was a symbol for black pride.
"If I win, I am an American, not a black American," Smith said at a news conference afterward. "But if I did something bad, then they would say 'a Negro.' We are black and we are proud of being black."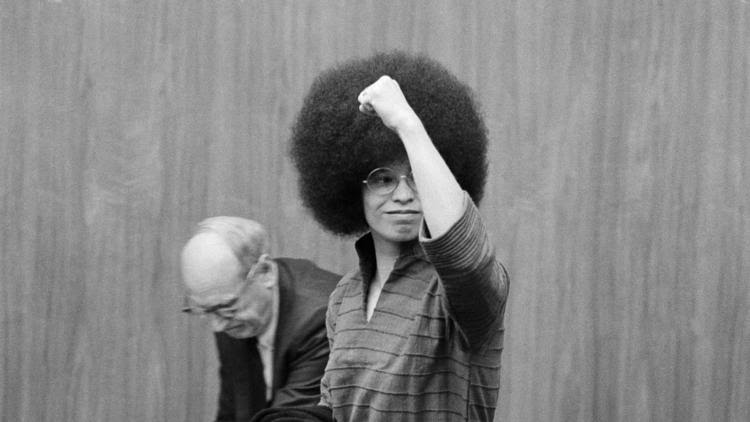 Angela Davis puts her fist in the air as she arrives to court in San Rafael, Calif., on June 28, 1971, for a pretrial hearing. (Associated Press)
Angela Davis, 1970s
During Angela Davis' rise to fame in the late 1960s and early 1970s as a UCLA philosophy professor who was a member of the Communist Party, associate of the Black Panthers and radical feminist, her images sprung up in newspapers and leaflets across the country, including on the FBI's most-wanted list. (She landed there after being charged with murder for allegedly being an accomplice in a notorious courthouse shooting. She was acquitted.) They featured her iconic Afro and often included her raising her fist.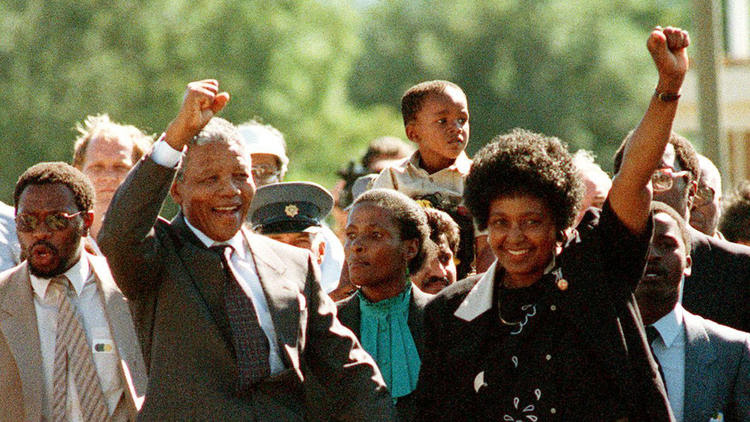 Nelson Mandela and his then-wife, Winnie, raise their fists on Feb. 11, 1990, in Paarl, South Africa, after Mandela was released from Victor Verster Prison. (Alexander Joe/AFP/Getty Images)
Nelson Mandela, 1990
When he was released after 27 years in prison, a jubilant Nelson Mandela marched out of Victor Verster Prison with his then-wife, Winnie, raising a fist. An anti-apartheid champion of rights for black Africans, he called on peace between races during his post-release Cape Town speech on Feb. 11, 1990.
"I have fought against white domination and I have fought against black domination. I have cherished the ideal of a democratic and free society in which all persons live together in harmony and with equal opportunities," he said, quoting from his 1964 trial. "It is an ideal which I hope to live for and to achieve. But if needs be, it is an ideal for which I am prepared to die."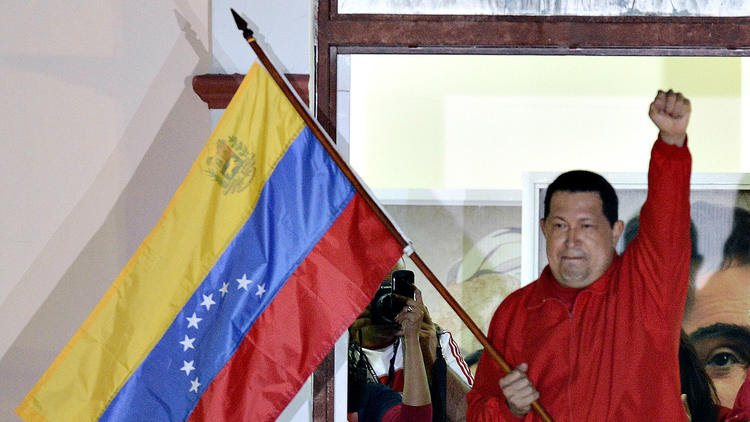 Then-Venezuelan President Hugo Chavez raises his fist while speaking to supporters after his reelection in Caracas on Oct. 7, 2012. (Juan Barreto / AFP/Getty Images)
Global leftist activism and politics
The Industrial Workers of the World raised the fist in the early 20th century; by the 21st, it was being used by leftists of all stripes, including the late Venezuelan President Hugo Chavez and protesters supporting union rights in Wisconsin in 2011.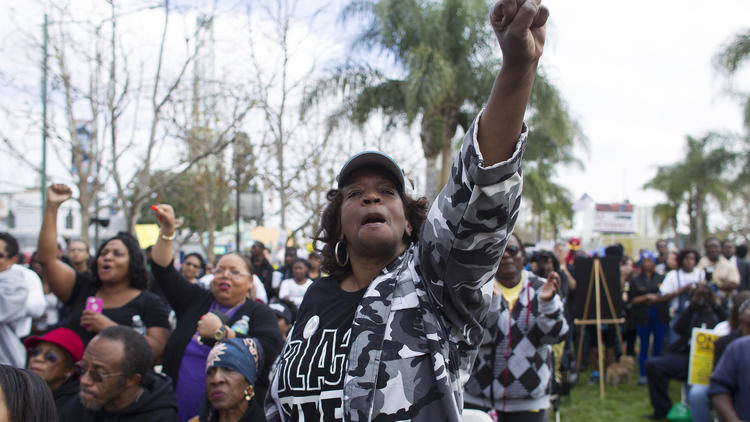 Linda Jay, wearing a Black Lives Matter shirt, joins hundreds of protesters to rally against police abuse and to remember Ezell Ford, a mentally ill black man killed by Los Angeles police, in Leimert Park on Feb. 21, 2015. (Gina Ferazzi / Los Angeles Times)
Black Lives Matter
Raised fists have frequently appeared in the Black Lives Matter movement. But it hasn't been activists' only symbol. After the August 2014 death of Michael Brown in Ferguson, Mo., the "hands up, don't shoot" pose spread across rallies and social media posts throughout the U.S. After Trayvon Martin was killed in February 2012 by George Zimmerman, the hoodie also become an icon. Martin wore hoodies frequently, including the day he died.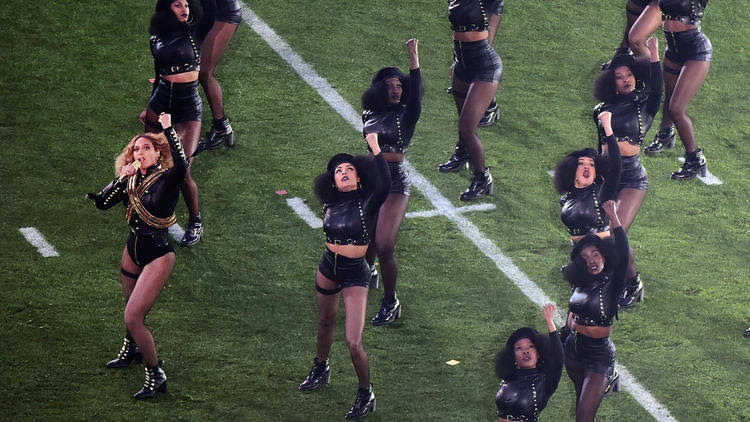 Beyonce at the Super Bowl. (Harry How / Getty Images)
Beyonce at the Super Bowl, 2016
The megastar's performance at the big game this year was widely hailed and criticized after her dancers, dressed in outfits reminiscent of the Blank Panthers, raised their fists alongside Beyonce during a performance of "Formation." The music video for the song, released a day before the game, featured images of a submerged police cruiser and the words "Stop shooting us" spray-painted on a wall. Police around the country threatened to boycott the star, who was going on tour, before backing off.
Beyonce later clarified her views in an interview with Elle. "Anyone who perceives my message as anti-police is completely mistaken. I have so much admiration and respect for officers and the families of the officers who sacrifice themselves to keeps us safe," she said. "But let's be clear: I am against police brutality and injustice."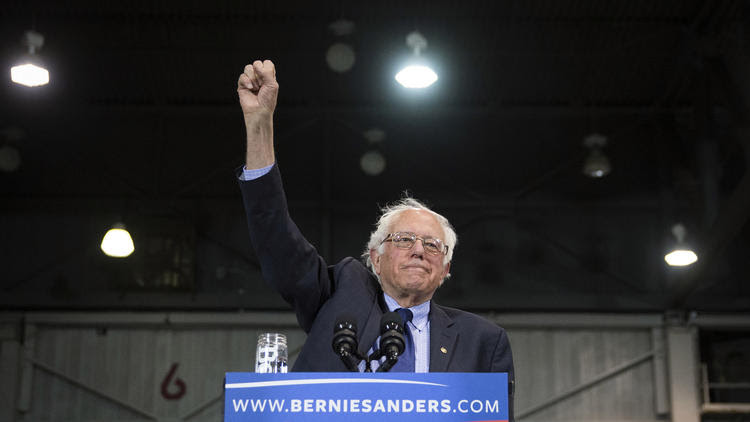 Sen. Bernie Sanders raises his fist to acknowledge the crowd before he speaks during a campaign event at the Big Sandy Superstore Arena on April 26, 2016, in Huntington, W.Va. (John Minchillo / Associated Press)
The presidential race, 2016
Sometimes a raised fist is just a raised fist. On the campaign trail, aspiring presidential nominees have frequently raised their fists as they rally cheering supporters. That includes Vermont Sen. Bernie Sanders, former New York Sen. Hillary Clinton and presumptive Republican nominee Donald Trump.