How will we Emerge?
What will We create?
Art is Art
I use my pen to paint a different picture
Can we Emerge with Love?
Genuine, unconditional Love
Will we extend a hand without needing to receive?
Just give because the heart says so.
How will we emerge?
What will we create?
Will it spark the revolution that our soul searches for?
Will we use what we already have to keep winning on this journey we call Life?
How will we emerge?
I want to love the way I want to love,
To be free in my want to Be,
No judgement,
Just me Rising in my birth given light,
Loving Blackness
Being Blackness
Shining Blackness
How will we Emerge?
Life is short, Will we stop playing the 'game'?
Say what you wanna say,
Do it with good intentions.
How will we Emerge?
What will we create?
Will we stop finding excuses that carry no moral gain?
My pen will regain comfort in its fearless cry.
My heart will slow down to feel the words.
How will we emerge?
What will the new normal in our community look like?
Less exclusion,
More truth,
More from the inside,
Less from what you show through materialistic eyes.
Will we see each other?
How will we emerge?
What will we create?
Creative healing,
Living spaces, where we address conflict as a place of growth.
How will we emerge in this world with fear at a high pitch?
Racism on full blast.
How will we emerge?
What do you believe in?
Can we find a common ground?
Strengthen self
Teachable moment
Authenticity
Show up!
Will we be healthier spiritually and mentally?
Will we move with more heart?
Will we listen to spirit?
Our ancestors prepared us for this,
Will we hold each other up?
Will we begin to stand in our truth fearlessly?
We already know why. Now the question is, what will we do about it?
How will we emerge?
What will we create?
How will we Rise in these unpredictable times?
What will we learn?
My spirit needs movement,
My skin needs the sun.
How will we emerge?
What will we create?
Hopeful!
Will we touch gently?
I want to smell the scent in the air,
I want to walk barefooted on the grass.
Con movimiento,
Azucar!
I am going to hug you tight,
I will love hard and Unapologetically.
I love you.
Te quiero.
How will we emerge?
What will we create?
Will Babylon win?
Standing in light with the vibration of the ancestors
We will create a just society
We will rise up in our Jah given light.
We will emerge champions of our future.
We will create everything that rhymes with Love.
How will we emerge?
What will we create?
Many questions,
Now is Our time to answer collectively.
What is your answer?
How will WE emerge?
Today I am emerging with you in heart and mind Creating a space for us to build a world that sees us Together. March 17, 2020
I began writing this poem at the beginning of the pandemic because I immediately started to realize that we as a people and a society did not have a road map, a plan for what we were about to experience. I was flooded with internal and external questions. Two key questions, How will we Emerge? What will We Create? showed up with ease. I found myself posing the questions and answering the questions as the shelter in place was extended. Living in these unprecedented times and as we closed out the year and welcomed 2021, I went back to it with the hope that the disturbance of 2020 would be somewhat lifted and that 2021 would be a healing time for all.
One of the greatest lessons learned in 2020 was to Trust the Process. Trust the pain that you are feeling and that it will move through you. Trust the joy. Embrace it. Trust the love. Trust the resiliency. All of it, with the hope that you will land on the side of the light.
I have new answers that I will use to guide me, a Black woman in this world, in 2021. I learned 'A Lot' in 2020 and look to continue on this journey in 2021.
Here is 2021, How will I Emerge? What Will We Create? Remix
I am emerging stronger in Self
More clarity
More focus and dedication to my Blackness, to the Black women I love, to the Black men I love.
I am emerging more committed to my purpose.
I am emerging with an understanding of what it means to deeply love and be selfless in that love.
I am emerging seeking, searching, learning and growing.
I am emerging with a greater understanding that we are one with nature and we need to care for it. This truth highlighted my loc journey.
The importance of movement. My athletic discipline has been a part of my movement since I was 8 years old when I joined the Colon Track Team and continues to be a part of what keeps my mind, body and spirit healthy. It also grounds me and clears my mind.
I have created something dear to me. I have a created a sense of safety and rituals that lift and ground me
I am emerging with an understanding of why it was so easy for me to loc my hair with the knowledge that my journey was to land saying, Jah Rastafari, that moves beyond my locs.
I am emerging not wanting to follow what people do and embracing my revolutionary spirit in doing it the way my ancestors would want me to. In a way of fearless freedom that shows up in that doing.
I am emerging loving my parents and being in love with my parents for now I have a greater understanding that what they showed me, what they gave me, what they fed me, what they told me is what sustains me.
I am emerging giving thanks to the man, my father, that took that baton, did it his way and we turned out ok. 🙂
Loving him in all his perfection and imperfections, I emerge seeing how Melsa has cared for my father that keeps him Rising up. Gracias Melsa!
I am emerging doing the work because it is not work, it's purpose. It's an extension of why I get up, Blackness Rising, helping me on days when it was a struggle to do so. I learned that it is bigger than me and they placed me on this road because they see something in me. The light that they shine upon me as Yvette Marie Modestin Durant,Lepolata Aduke Apoukisi, Empress Modest-I is the light that I will lean into you in this new year. Love is at the center of it all. It is my guiding force.
I look forward to you joining me on this journey.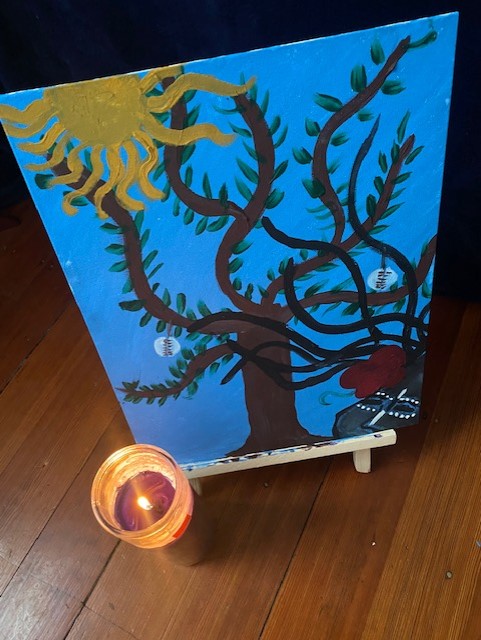 I share with you my first painting of 2021, One with Nature.
Also, my storypoem  'An Ode to Mi Corona' for our new project The HairStory Project.