African Unity and Reparatory Justice
Keynote Speech Delivered by Hon. Samia Yaba Nkrumah, President of the Kwame Nkrumah Pan-African Centre on October 10th, 2017, at the Launch of the Centre for Reparation Research at the University of West Indies, Mona, Jamaica.
"…Freedom is not a commodity which is 'given' to the enslaved upon demand. It is a precious reward, the shining trophy of struggle and sacrifice. Nor do the struggle and sacrifice cease with the attainment of freedom. The period of servitude leaves behind tolls beyond what it has already taken. These are the cost of filling in the emptiness that colonialism has left; the struggle and the toil to build the foundation, and then the superstructure, of an economy that will raise up the social levels of our people, that will provide them with a full and satisfying life, from which want and stagnation will have been banished. We have to guard closely our hard-won freedom and keep it safe from the predatory designs of those who wish to re-impose their will upon us." — Kwame Nkrumah, Africa Must Unite, 1963
In his seminal work, Africa Must Unite, Kwame Nkrumah tells us to guard our hard-won freedom we need a common political basis to integrate our policies in Economic Planning, in Defence, and in Foreign Relations. Our mission therefore, remains unaccomplished until we realize the total liberation and unification of our continent – an Africa that is politically, economically and culturally independent.
I am grateful to CARICOM, the government and people of Jamaica, and the University of the West Indies for this recognition of Osagyefo Dr. Kwame Nkrumah's contribution to the struggle for African liberation and unification.
I bring you warm greetings and good wishes from Ghana and Africa, your true home. I thank you for inviting me to speak with you about African Unity and Reparatory Justice.
And for those of you whom I have met before, Prof. Beckles and Prof. Shepherd, I am grateful for the opportunity to see you again.
I am deeply honoured to be here today to witness the launch of this historic Centre for Reparation Research. I know that it will consolidate our struggle for justice for the crimes of dehumanisation, repression, despoliation, degradation, and oppression meted out against Africa and Africans over the last few centuries. Our expectations are high for we expect this initiative to strengthen the cultural and spiritual unity of our people and promote research into our heritage.  May your labour complement efforts to move us one step closer to attaining our economic and cultural independence.
I am especially inspired by being here in Jamaica, the birthplace of Marcus Garvey. His rallying call to Africans at home and abroad to rise, greatly inspired Kwame Nkrumah. In his autobiography, Nkrumah said that of all the literature he studied, the book that did more than any other to fire his enthusiasm for the liberation struggle was The Philosophy and Opinions of Marcus Garvey. Here we have to thank Amy Jacques Garvey for further disseminating this work.
Nearly 40 years after Garvey's Black Star Shipping Line, Ghana under Nkrumah, began our own shipping venture and named the fleet of vessels, The Black Star Shipping Line in honour of Garvey.  We had 18 vessels, each named after each one of our precious rivers, symbolically bringing to life Marcus Garvey's hope of self-reliance and prosperity for Africans. We added a black star to the centre of our flag, with its red, yellow and green Pan-African colours.
Nkrumah attributed the rise and development of Pan-Africanism to the 'Back to Africa' movement of Marcus Garvey and the work of the early pioneers of African Nationalism. He also credited the Caribbean intellectuals and activists like Sylvester Williams and George Padmore, together with other intellectuals of African descent like W.E.B. Dubois, for articulating the aspirations of Africans at home and abroad at the earlier Pan-African Congresses held between 1900 and 1927 in Europe and the United States of America respectively.  And lest I forget Toussaint L'Ouverture, whom Nkrumah called on for inspiration together with Marcus Garvey on the eve of Ghana's independence.
Padmore and Nkrumah collaborated in organising the fifth Pan-African Congress in Manchester in 1945 where Pan-Africanism and African Nationalism really took concrete expression. Nkrumah tells us in "Africa Must Unite" (1963) that they concluded that well-organised firmly knit movements must be established as a condition for the success of the national liberation struggle of Africans.
Dubois and Padmore came to live in Ghana at Nkrumah's invitation, with the latter becoming Nkrumah's Adviser on African Affairs in the newly-independent state of Ghana, while the former worked on the Encyclopaedia Africana by Africans from an African perspective. In Consciencism: Philosophy and Ideology for Decolonisation, Nkrumah says that "Our history needs to be written as the history of our society and not as the story of European adventures … In this way, African history can come to guide and direct African action."
I recall these facts to emphasise the point that Ghana's national liberation was never planned in isolation from African and Caribbean states. The achievement of Ghana's independence was only a first step towards the restructuring of our economies and uniting our continent in order to attain socio-economic and cultural emancipation, our development and our dignity.
Nkrumah's bold Pan-African declaration on the eve of Ghana's independence, "that the independence of Ghana is meaningless unless it was linked up with total liberation of Africa", signaled the return of Pan-Africanism to African soil. Courageous steps were taken to support the decolonisation process and to begin the journey to continental political unification.
Ghana, under Nkrumah, joined forces with Guinea and Mali in 1958 and 1961 respectively, forming a nucleus of a United States of Africa. Ghana reached for the African populace by convening the All African People's Conferences and the All African Women's Conferences. Nkrumah put forward a blueprint for the continent's political and economic unification that while not fully accepted, brought into being the Organisation of African Unity (OAU), the precursor to the present day African Union (AU), in 1963, in Addis Ababa.
Almost 30 years later, in 1992, the OAU broached the subject of Reparations for African enslavement and colonialism, thanks to the intervention of Chief Moshood K. O. Abiola, who was ably aided by Jamaica's Dudley Thompson in this quest.  This led to the First Pan-African Conference on Reparations in Abuja, Nigeria, under the supervision of the Group of Eminent Persons for Reparations. The ensuing 1993 Abuja Declaration stated that the damage caused by slavery, colonialism and neo-colonialism "is not a thing of the past, but is painfully manifest in the damaged lives of contemporary Africans from Harlem to Harare, in the damaged economies of the black world from Guinea to Guyana, from Somalia to Suriname." It called for "full monetary payment…. through capital transfer and debt cancellation."
With the transformation of the OAU into the African Union at the turn of the century, the Group of Eminent Persons, the Commission on Reparations and their call to pursue reparatory justice for the crime of the enslavement of Africans and its aftermath all came to an end.
Is the Africa Union today demonstrating Nkrumah's vision for political unification? This is the conclusion he reached on the OAU as far back as 1968:
"… Any sincere critical appraisal of past activities and achievements of the OAU shows that it is not likely to be able to achieve the political unification of Africa. This obviously is why imperialists, although against the idea of political union, will do nothing to break the OAU.  It serves their purpose in slowing down revolutionary progress in Africa."
In its current form, the AU is neither financially independent nor self-reliant; as donors led by the United States and the European Union, the same countries from whom reparatory justice would be demanded, fund over 70 percent of its operational budget.
Our individual African states do not fare any better. The African Economic Outlook of 2017 tells us that over 50 per cent of the population in 46 African countries are living in poverty. Our countries lack manufacturing capacity resulting in increasing import bills. Intra-African trade is as low as 15 per cent only, compared with 30 per cent with Europe. We have inherited weak economies from the colonial background that subordinated our development to the needs of the colonial powers. And how can we transform the very structure of our economies when we lack control over our economies, production activities on a national scale, and resources? We import our food and we are now living in fear lest our governments capitulate and allow genetically modified foods to enter the food chain.
These setbacks only go to confirm the timelessness and relevance of the unity message. Our goal must remain the total liberation and unification of Africa. We must abandon imported Western ideologies such as neo-liberalism and foreign notions of development and challenge neo-colonialism. We must declare instead our philosophical and ideological independence. It is time to study Nkrumah's Consciencism: Philosophy and Ideology for decolonization.  We must think for ourselves at the highest level possible based on our history and experience and culture.
In his address at the first seminar at the Ideological Institute in Ghana in 1962, Nkrumah stated that, "Nkrumaism is the consistent ideological policies as contained in his speeches, theoretical writings and stated ideas and principles …To be successful this ideology must offer the ordinary man and woman some concrete tangible and realisable hope of better life within his or her lifetime." And "With this ideology there should be a full scale intellectual, educational, and organisational attack on all aspects of colonialism, neo-colonialism and imperialism."
After the illegal overthrow of his government in 1966, Nkrumah said on Guinea Radio "every revolution is a programme; and derived from a new, general, positive and organic principle." In Voice from Conakry, he states that the first attack was directed at the ideological centres he set up to prevent independent thinking, as distinct from imperialist conditioning of the people. His office was ransacked and his books, manuscripts, and papers burnt.
We need to revisit Nkrumaist principles of humanism, egalitarianism and communalism, to name but a few and consult his writings. In Nkrumah's own words, "The way forward is "a Union Government of African States with a unified policy working at the continental level." Working in isolation has failed our people.
The Pan-African project has suffered because we have abandoned and suppressed Nkrumah's policies in our schools, in our public discourse and even in our constitution. Suppressing Nkrumaism has adversely affected all aspects of the struggle against our exploitation.
In our struggle to pursue reparatory justice, I believe it would be a mistake to separate reparation from repatriation. They are linked and cannot be separated. 'Back to Africa' cannot be left out of the agenda. Africa is indivisible. Similarly, I would not dismiss the class analysis or ignore our cultural specificity when looking into reparation research.
Reparatory Justice is a call for action and unity and must go beyond governments and institutions. Popular determination by the students, the youth, and the women will build the movement for Reparation.  Nkrumah said that, "the degree of a country's revolutionary awareness may be measured by the political maturity of its women." They will be the main beneficiaries of our changed circumstances. With every progress we can guarantee that no woman leaves her child to return to work prematurely. We can provide our children with education fitting for nation building.
The Kwame Nkrumah Pan-African Centre, based in Accra, Ghana, which I head was founded to promote the vision, philosophy and ideology of Kwame Nkrumah. It is ready to collaborate with the Reparation Research Centre or any movement to put African Unity and Reparatory Justice on the Public agenda.
It has been said, that the most significant achievement in the 20th century was political emancipation and the return of Pan-Africanism to the African continent. In this century, we must accomplish the unfinished mission: Reparatory Justice, Repatriation, economic independence, ownership of our resources, cultural emancipation, and transformation of our economies. One thing that will undoubtedly advance these milestones is the political unification of African and Caribbean States. I hope my generation will make a meaningful contribution toward that end. At the African Union Headquarters, a statue of Kwame Nkrumah was put up about five years ago. The inscription at the foot of the statue reads, "Ethiopia shall stretch forth her hands to God. Africa Must Unite."  Africa Must Unite!
I thank you for your attention.
---
References
African Development Bank (ADB), Organisation for Economic Co-operation and Development (OECD), United Nations Development Programme (UNDP)  (2017) African Economic Outlook 2017: Entrepreneurship and Industrialization, http://www.africaneconomicoutlook.org/en/theme/Entrepreneurship-and-industrialisation.
The Abuja Declaration (1993) A declaration of the first Abuja Pan-African Conference on Reparations for African Enslavement, Colonisation and Neo-colonialism,  sponsored by The Organisation of African Unity and its Reparations Commission, April 27-29, Abuja, Nigeria. http://www.shaka.mistral.co.uk/abujaProclamation.htm
Kwame Nkrumah (1963) Africa Must Unite, London, Heinemann.
Kwame Nkrumah (1964) Consciencism: The Philosophy and Ideology of Decolonisation.
Kwame Nkrumah (1965) Neo-Colonialism: The last Stage of Imperialism, London: Thomas, Nelson and Sons Ltd.
Kwame Nkrumah (1973) Revolutionary Path, London, Panaf Books.
---
Also Watch
Prof. Rupert Lewis and Samia Nkrumah talk African Unity and Reparations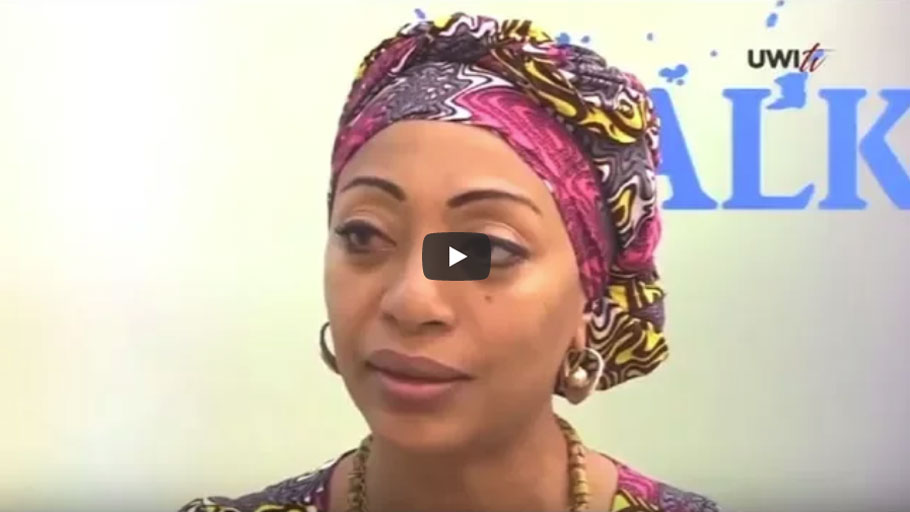 Video: Region Talk interview with Samia Nkrumah, Ghanaian politician and daughter of former president of Ghana, Kwame Nkrumah. The interview hosted by Professor Rupert Lewis. Originally aired on October 19, 2017.