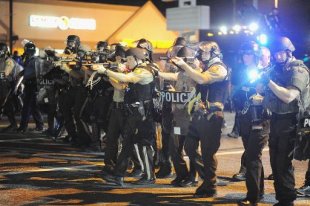 So it begins. Missouri Governor Jay Nixon declared a state of emergency on Monday. He authorized the National Guard to assist police in Ferguson ahead of the grand jury's decision on whether or not to charge Officer Darren Wilson for the murder of 18-year-old Michael Brown.
Less than a week ago, Nixon announced that law enforcement was well prepared for protests in Ferguson if Wilson walks free. He said, "Violence will not be tolerated"—but he wasn't referencing police violence. Instead, since Brown was killed in August, St. Louis County police has spent $172,669 on tear gas, rubber bullets and other equipment meant to harm protesters.
"We see them preparing for war," said Mervyn Marcano, spokesperson for Missourians Organizing for Reform and Empowerment (MORE).
"We don't see any interest from them in shifting the relationship between police and the communities that they serve," said Marcano, who is from Oakland, California, and now lives in Ferguson.
Police Prepare for War
The Ferguson community has little faith that prosecutor Robert P. McCulloch will indict Wilson, Marcano said. And it's doubtful that newly released evidence on Wilson will be taken into account.
In a video published Friday, Wilson is seen threatening a man and saying he will "lock [his] ass up" for filming him. Wilson then proceeded to illegally arrest the man. Also on Friday, the St. Louis Post-Dispatch released surveillance footage of Wilson heading to the hospital, which seems to contradict police's claims that Wilson was severely injured.
But prosecutors play a large role in swaying a grand jury, and McCulloch has a history of siding with police. Because an indictment against Wilson is unlikely, Marcano said police have spent a lot of time and energy talking to businesses and in public forums stoking fear of the imminent protests.
"What the police publicly are saying is that they're interested in protecting the First Amendment rights of protesters, but what they're sort of doing is sending a racist dog whistle that the First Amendment is really dangerous," he said. "So on the one side of their mouth they're telling people they are preparing for peace, and on the other side of their mouth they're instructing businesses to board up their windows and prepare for civil unrest."
Protesters Prepare to Fight for Peace
Meanwhile, organizers in Ferguson have tried to push police to demilitarize their response to protests. The Don't Shoot Coalition, which includes MORE, has proposed this in the form of its 19 "Rules of Engagement" to officers, which police have refused to sign.
MORE has already trained more than 500 people in non-violent civil disobedience and will continue until the grand jury decision is announced. Its trainings include participating in direct action, documenting police misconduct and conducting jail support. Marcano said MORE has seen more than 300 arrests in Ferguson, and the organization will continue to play a key role in paying bail for protesters.
"You'll see not just a legal defense strategy but an offensive legal strategy on our part," he said. "We have a rock star team of civil rights lawyers coming to town to monitor the situation."
Since Wilson shot Brown in August, Marcano said there's been an outpouring of energy from people in the community looking to both get involved in the current struggle and have a long-term conversation about the justice system. MORE and other groups continued to plan actions, including Ferguson October, a "weekend of resistance." Ferguson organizers also interrupted the St. Louis Symphony Orchestra's concert, singing the civil rights song, "Which Side Are You On?"
"That is a choice you have to make here," Marcano said. "The young people in the streets, they're asking for… transformative change in our system," he added. "I think the measure of any society is the response to the loss of one of our members. And this system responded with tear gas and rubber bullets. … So the question for everyone in St. Louis is how will you stand with the young people asking for change and for justice and letting them define what that looks like?"
Ferguson Faces Racism
While Marcano said the Ferguson community is seeing a cross-section of older white people join with young people of color in the struggle, "all sorts of ugliness" has still been on display. Cops have worn "Darren Wilson" wristbands, community members have bought "Darren Wilson" shirts, and people nationwide contributed to raising more than $400,000 for Wilson. The local KKK also promised to use legal force on Ferguson protesters. Hacktivist group Anonymous has since hacked its site.
Marcano believes these people are in the minority, and that people are waking up to the idea that black lives matter.
"On the one hand, we're seeing lots of folks across the spectrum show up and show out," Marcano said. "On the other hand, you have the lingering race problem in St. Louis. St. Louis is the eighth most segregated city in the country and … [race] has not been in the forefront of this city's conversation for quite some time. I think now, at the core, St. Louis is ready to have a conversation about race that it has not been ready to do before, and it is leading the nation in that conversation."
Crucial to that conversation is an understanding of the injustice that occurred in Ferguson and accurately contextualizing the protests that are likely to occur.
"This isn't easy," Marcano said. "You know, what is the appropriate response to an 18-year-old child who was killed by an officer? What is the appropriate response to a community in grief that has lost a child? I don't think anyone really has an answer for that. So our message…is don't forget the humanity of the people who are out in the streets—who are dealing with the loss of a child."
Visit FergusonAction.com for actions planned across the country following the grand jury's decision.