The civil war has shifted dramatically since Prime Minister Abiy Ahmed began a military campaign in the Tigray region a year ago. With Tigrayan fighters advancing toward the capital, Ethiopia is at risk of collapse.
By Declan Walsh and Abdi Latif Dahir —
After a year of conflict that has left thousands dead, forced more than two million people from their homes and pushed parts of the country into famine, the tide of the civil war in Ethiopia has shifted heavily in favor of the rebel forces.
Fighters from Ethiopia's northern region of Tigray and their allies announced that they are pressing south toward the capital, Addis Ababa, after driving government troops from Tigray in June. They have since also pushed east, hoping to seize the road that connects to the port in neighboring Djibouti, which would give them control of a key supply route.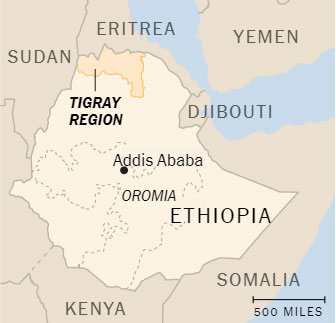 Led by the Tigray People's Liberation Front, rebel fighters captured two key towns on the main highway leading to Addis in late October. Prime Minister Abiy Ahmed appealed to citizens to take up arms to block the fighters' advance, which he said was "pushing the country to its demise."
On Nov. 2, the government declared a state of emergency, reflecting the rapid escalation of a war that threatens to tear apart Ethiopia, an American military ally, and further destabilize the volatile Horn of Africa region.
Here's a look at how Tigray became a flash point in Ethiopia and the broader region.
Why did Ethiopia's prime minister begin an offensive in Tigray?
Even before the war, Mr. Abiy appeared bent on breaking the power of the T.P.L.F., a political group of rebels turned rulers who had dominated Ethiopia for nearly three decades.
A former intelligence officer, Mr. Abiy had once been part of the T.P.L.F.-dominated government. But after he took office in 2018, he set about draining the group of its power and influence in Ethiopia, infuriating the Tigrayan leadership.
The T.P.L.F. retreated to its stronghold of Tigray in the mountainous north of Ethiopia. Tensions grew. In September of last year, the Tigrayans defied Mr. Abiy by going ahead with regional parliamentary elections that he had postponed across Ethiopia, citing the coronavirus pandemic. Weeks later, Ethiopian lawmakers cut funding to the region.
A year ago, T.P.L.F. forces attacked a federal military base in Tigray and tried to steal its weapons. The group has said it struck preemptively because federal forces had landed in a neighboring region days earlier in preparation for an assault.
Hours later, Mr. Abiy ordered a military offensive against the Tigrayan leadership and its security forces.
The government restricted internet and phone communications and declared a six-month state of emergency in Tigray. But the Ethiopian military, which was dominated by Tigrayan officers, was divided, and fighting erupted between rival units inside the region, according to American officials.
Mr. Abiy bolstered his forces by deploying militia fighters from Amhara, south of Tigray, who swept into western Tigray amid accusations of attacks on civilians. Then troops from Eritrea, Ethiopia's former enemy, flooded across the border into Tigray from the north to fight alongside Mr. Abiy's forces.
Federal forces and their allies quickly seized control of Tigray's regional capital, Mekelle, and other towns. But the T.P.L.F. and its armed supporters fled to rural and mountainous areas, and Mr. Abiy found himself drawn into a military quagmire.
The Ethiopian military suffered a major defeat in June when it was forced to withdraw from Tigray, and several thousand of its soldiers were taken captive.
As rebels advanced on the capital, Addis Ababa, in early November, Ethiopia declared a state of emergency. The government called on its citizens to pick up arms and prepare to defend the capital.
The Tigrayans have joined forces with another rebel group — the Oromo Liberation Army — during their advance, and foreign officials monitoring the fighting said there were signs that several Ethiopian Army units had collapsed or retreated.
Over the past year, there have been reports from witnesses, many confirmed by a U.N.-led investigation, of massacres, widespread sexual violence and other human-rights violations.
Who are the T.P.L.F. and the Tigrayans?
The T.P.L.F. was born in the mid-1970s as a small militia of Tigrayans, a group that was long marginalized by the central government, to fight Ethiopia's Marxist military dictatorship.
The country's two largest ethnic groups, the Oromo and the Amhara, make up more than 60 percent of the population, while Tigrayans, the third-largest, are 6 to 7 percent. Yet the T.P.L.F. became the most powerful rebel force in the country, eventually leading an alliance that toppled the government in 1991.
The rebel alliance became Ethiopia's ruling coalition, with the T.P.L.F. at its head.
Meles Zenawi, who headed the T.P.L.F., led Ethiopia from 1991 until his death in 2012, a period during which Ethiopia emerged as a stable country in a turbulent region and enjoyed significant economic growth. It sent troops into Somalia with American backing to fight Islamist militants in 2006.
But at home the Tigrayan-dominated government systematically repressed political opponents and curtailed free speech. Torture was commonplace in government detention centers.
Antigovernment protests that erupted in 2016 paved the way for Mr. Abiy to become prime minister in 2018. His government purged Tigrayan officials and charged some with corruption or human rights abuses, incensing the Tigrayan leadership.
In 2019, Mr. Abiy consolidated his power by creating a new party that was effectively the former governing coalition minus the Tigrayans, who refused to join.
But the T.P.L.F. still controlled the Tigray regional government and an array of security forces that were estimated to number as many as 250,000 armed men, the International Crisis Group said at the start of the war in 2020.
In the war, the government has set out to capture or kill T.P.L.F. figures who include some of Ethiopia's former political and military leaders. In January, the federal government stripped the T.P.L.F. of its status as a legal party and in May, it labeled the group a terrorist organization.
How is this conflict affecting Ethiopia and its neighbors?
Despite international demands to end the conflict, Ethiopian and allied military forces remain in control of much of Tigray, and a humanitarian crisis across the country is worsening.
Children are dying of malnutrition, soldiers are looting food aid and relief workers have been prevented from reaching the hardest-hit areas, according to the United Nations and other aid groups. A blockade of the landlocked Tigray region has kept desperately needed aid from reaching the area for months, and the U.N. has warned that hundreds of thousands of people are at risk of starvation.
In western Tigray, tens of thousands of people have been driven from their homes by Amhara militias allied with the government as part of what the United States has called an ethnic cleansing campaign.
Until recently Ethiopia, with its close ties to the American military, was seen as the strategic linchpin of the Horn of Africa. But as the conflict drags on, analysts worry that it is becoming a source of instability in a volatile region.
The war has also forced Ethiopia to shrink its peacekeeping force in neighboring Somalia.
Mr. Abiy is also contending with outbreaks of ethnic violence in other parts of Ethiopia.
Hundreds of people have died in ethnically driven clashes in several regions including Oromia, the most populous region, where an insurgency has erupted. In May a group calling itself the Oromo Liberation Army vowed to wage "total war" against Mr. Abiy's government.
In August, the O.L.A. entered an alliance with the T.P.L.F. aimed at toppling Mr. Abiy — a pact that has borne fruit in recent weeks as the two groups fight their way down a major highway toward the capital, Addis Ababa.
How has the war changed Mr. Abiy's global standing?
At 45, Mr. Abiy is among the youngest leaders in Africa, and in the first years of his rule he excited great hopes for transformational change in Ethiopia.
He freed thousands of political prisoners, relaxed a repressive security law and helped mediate conflicts abroad. He also made peace with Eritrea, signing a deal with its leader, Isaias Afwerki.
The Ethiopian leader's international profile soared after he won the Nobel Peace Prize in 2019.
But Mr. Abiy's reputation soon took a turn for the worse, and now appears irreparably damaged by the Tigray war. When war with Tigray broke out, it appeared that the peace deal with Eritrea had only paved the way for Mr. Abiy and Mr. Isaias to join forces against the Tigrayans — their common enemy.
In November, the peace prize committee issued a rare — if tacit — rebuke of one of its honorees.
The son of a Muslim father and a Christian mother, he promised to heal ethnic divisions. But as criticism of Mr. Abiy mounted, he resorted to old tactics like shutting down the internet, arresting journalists and detaining protesters and critics by the thousands. The security forces have been accused of killing hundreds of people.
And the conflict with the T.P.L.F. has hardened Mr. Abiy's rhetoric. As the war turned one year old, and rebels were reported to be drawing closer to the capital, the prime minister declared in a speech at his military headquarters: "We will sacrifice our blood and bone to bury this enemy and uphold Ethiopia's dignity and flag."
---
Declan Walsh is the Chief Africa correspondent. He was previously based in Egypt, covering the Middle East, and in Pakistan. He previously worked at the Guardian and is the author of The Nine Lives of Pakistan.
Abdi Latif Dahir is the East Africa correspondent. He joined The Times in 2019 after covering East Africa for Quartz for three years. He lives in Nairobi, Kenya.
Reporting was contributed by Simon Marks, Marc Santora, Eric Nagourney and Richard Pérez-Peña.
Source: NY Times
Featured image: Flags representing the Tigray region of Ethiopia lining a wall in the city of Mekelle, the regional capital. (Eduardo Soteras, Agence France-Presse, Getty Images)