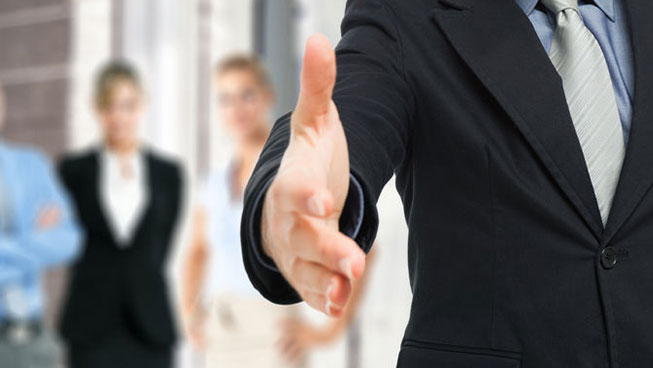 In a call with investors, GEO Group executives boast of a new boon to business.
By Sarah Lazare
In a February 22 call with investors, the private prison corporation GEO Group openly boasted that the Trump administration's crackdown on undocumented immigrants is boosting its bottom line and fueling its expansion.
One of the largest private prison companies in the world, GEO Group, stands accused of widespread human rights violations, including charges that the company forced tens of thousands of immigrants in ICE detention at the Aurora, Colorado Denver Contract Detention Facility to perform slave labor. GEO Group's Karnes family detention center in Texas, where mothers are incarcerated with their children, has been the site of repeated hunger strikes over poor conditions and indefinite detention.
Speaking with investors (transcript is available here), David Donahue, the President of GEO Corrections and Detention, directly cited the Trump administration's "deportation force" as a boon to business.
"This week the Secretary of Homeland Security authorized the hiring of an additional 10,000 ICE officers and 5,000 border patrol agents," said Donahue. "Additionally, the Secretary issued several policy directives for both ICE and the border patrol to take all necessary action and allocate all available resources to expand each respective agency's detention capabilities and capacities."
"We are having ongoing discussions with ICE about our capabilities, which include 3,000 idle beds and 2,000 underutilized beds," he continued. "These discussions include several GEO facilities which have significant capacity, are immediately available and would meet ICE's national detention standards. This underscores the importance of our public-private partnership with ICE, and our ability to respond swiftly to provide high-quality, cost-effective services in safe, secure and humane environments."
In late February, Homeland Security Secretary John Kelly issued memos to top DHS officials instructing them on how to implement executive orders signed by Trump in late January. One of Kelly's memos details policies on the U.S./Mexico border, and the other outlines policies within the United States.
Together, the memos make nearly every undocumented person in the United States a target for deportation and dramatically expand powers to detain and deport people, even if it means separating children from their parents. Kelly signaled a dramatic expansion of the U.S. deportation infrastructure, writing, "I have directed ICE to hire 10,000 officers and agents expeditiously, subject to available resources, and to take enforcement actions consistent with available resources."
Speaking with investors, chairman and chief executive officer George Zoley gloated, "We're very pleased with our strong fourth quarter and year end results and our outlook for 2017," adding: "It is gratifying to see GEO's continued financial success."
Zoley went on to directly cite Trump's anti-immigrant executive orders as a boon to business, proclaiming:
With respect to detention services, in support of border security, we would continue to be the largest provider of detention services to the three federal agencies — that is to ICE, the Bureau of Prisons and the U.S. Marshals Service. With this increased and expanded approach to border security, the first agency that will need additional capacity is ICE. Border Patrol will catch individuals and then send them to an ICE facility. Subsequently, there will be a need by the U.S. Marshals Service for those people that have committed criminal acts and need to be detained for adjudication. And further on down the line, BOP will need additional capacity as well for those people who've been sentenced and need to serve their time in one of the CAR facilities.

So it's really an escalation of capacity need for all three federal agencies as a result of the president's new executive orders redirecting the approach to border security for the three federal agencies.
The advocacy organization Grassroots Leadership blasted the company for profiting from Trump's plans to implement mass deportations. "While immigrant communities are being terrorized by raids, the private prison industry is quietly celebrating a potential boom in business," said Bob Libal, the executive director of the organization. "Prison companies like GEO Group and Corrections Corporation of America are preparing for an enormous expansion to detention under this administration. Mass deportations should make our country ashamed, not make private prison executives rich."
The private prison industry has profited off of Democratic as well as Republican administrations. Last May, GEO Group and Corecivic (formerly Corrections Corporation of America) boasted to investors that profits were up thanks to "family detention centers," which house mothers and their children. In 2014, the Obama administration made the mass detention of families a cornerstone of its response to mass displacement from Central American countries where violence and poverty have been worsened by U.S. policies.
A report released in 2015 by Grassroots Leadership determined that GEO Group and CCA have spent millions of dollars to lobby the Obama administration for harsher immigration policies, including a directive to fill 34,000 detention beds on a daily basis.
These human rights abuses are not limited to private prisons. To cite just one example, the bipartisan U.S. Commission on Civil Rights determined in a report released in 2015 that atrocities are being committed at the publicly-operated Berks family detention center in Pennsylvania. The commission wrote, "Recently, we learned of a three-year-old child at the Berks County Residential Center who was throwing up for three days and was apparently offered water as a form of medical treatment. It was only after the child began throwing up blood on the fourth day that the facility finally transferred her to a hospital. This is simply unacceptable."
---
Sarah Lazare is a staff writer for AlterNet. A former staff writer for Common Dreams, she coedited the book About Face: Military Resisters Turn Against War. Follow her on Twitter at @sarahlazare.