University of Virginia students and faculty members hold a candlelight vigil on Wednesday to protest the deadly violence that shook the nation days earlier. Professors across the country are hoping to use the events of Charlottesville as an opening for classroom discussions on race.
By Fernanda Zamudio-Suaréz
Students aren't always comfortable talking about race, especially at the beginning of the semester in a classroom led by a professor they don't know yet.
But this semester, Wendy Christensen, an associate professor of sociology at William Paterson University, in New Jersey, is starting off her course by tackling racism head-on. "Social Stratifications," will begin on September 6 with a discussion about the violent weekend in Charlottesville, Va., she said.
On August 11, torch-carrying white nationalists, neo-Nazis, and Ku Klux Klan members kicked off a "Unite the Right" rally by marching onto the University of Virginia's campus in Charlottesville and attacking a group of counterprotesters. The next day, the violence grew as marchers clashed with counterprotesters and then turned deadly when a car plowed into a crowd, killing one person and injuring others.
Ms. Christensen is one of many professors across the country who are changing lesson plans in response to the events in Virginia. For some educators, incorporating Charlottesville into course material goes further than using the event as an example in the news; it's a way to protest the white supremacy beyond the classroom, and to prevent the ideology of hate from reaching students.
The clashes in Charlottesville will serve as a lead-in to explore social problems like racism, poverty, racial segregation, and economic disparity, Ms. Christensen said.
She said the 35 students in her class, like most students, may be uncomfortable talking about race as a group. So covering Charlottesville during the first couple of sessions will help them learn that skill. "Students are always afraid of offending each other, and my school is incredibly diverse."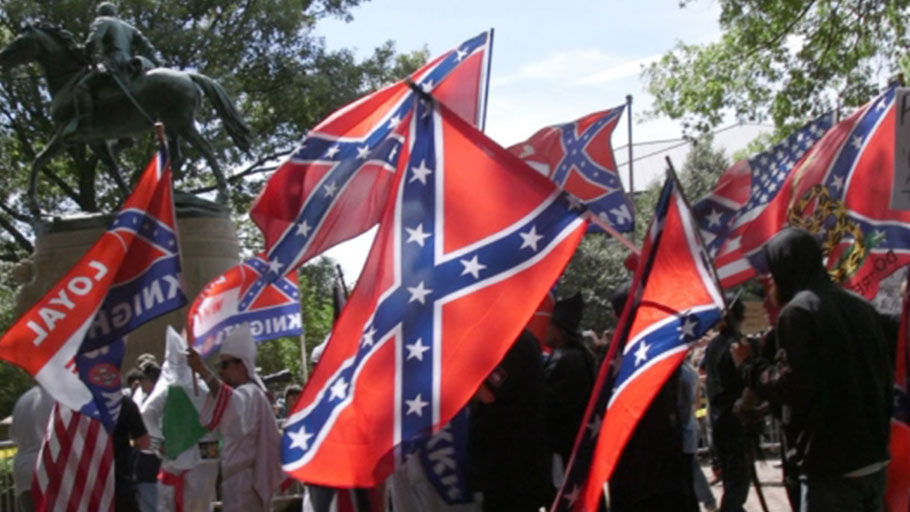 Holly Hamby, an assistant professor of English at Fisk University, in Tennessee, said she had planned to start her freshman composition class with lessons about finding good sources and using different forms of rhetoric. After Charlottesville, she decided it was more important give students a space to vent and question what happened there.
Ms. Hamby said she wants students to walk away from their discussions with the tools to spot hate speech and racist actions and the ability to appropriately call people out. Whether it's a discussion on Twitter or speaking to someone face to face, she wants her students to be able to craft skilled arguments that combat racism.
White supremacists are becoming more comfortable spouting their views in the open, Ms. Hamby said. The best way to confront such groups is to engage in classroom discussions about them and their mission.
At Michigan State University, Django Paris, an associate professor in the department of teacher education and a faculty member in the African-American and African-studies program, said recent events have motivated instructors to take a critical look at their syllabi.
The syllabus is the first message that professors send to students about what they value as instructors and what they deem important enough to teach in the course, Mr. Paris said. Such topics as the sources that the class will study and how minority groups are represented in the readings should be examined carefully.
Instructors should think about how their class, no matter what the discipline, can work toward dismantling a system that is designed largely for white, affluent students, he said. More importantly, a syllabus shouldn't reproduce systematic inequalities.
For example, Mr. Paris said, instructors should consider the racial background of sources on the syllabus, and ask whether black people in course readings are portrayed only in a state of suffering.
In his courses for future schoolteachers, Mr. Paris said he tells his students not to think of curriculum audits or syllabus additions as sweeping changes. Instead, they should look at their work in the classroom as joining a long line of other people who have historically used their role to promote social justice.
"The first thing to do is to understand that you're part of a trajectory of work in education that is attempting to lead toward justice and liberation," Mr. Paris said. "Education can be used for social justice, but it's often been used for the exact opposite purposes."
He also wants students to understand that what happened in Charlottesville wasn't a one-time occurrence. Examples of racism bubbling up in this country are everywhere, like in the summer of 2015 when Mr. Paris taught his students about the racially motivated shooting that killed nine people and injured one at the Emanuel African Methodist Episcopal Church in Charleston, S.C.
"It's really important to remind ourselves as educators and work with our students to help them understand that what's happening now is not only connected to the past, but it's also quite expected, in a sense, in terms of America," Mr. Paris said.
Instructors should use vulnerability to their advantage when teaching about racism, said Walter D. Greason, dean of the Honors School at Monmouth University.
Mr. Greason said one of his colleagues recently asked for advice about teaching the film, Get Out, a horror movie regarded by Variety as "race-savvy satire" for showing the black protagonist living a nightmare thanks to his white girlfriend and her family.
Mr. Greason advised his colleague to be honest about mistakes she made during her scholarly inquiry of the film. That encourages students to acknowledge some of their own misinterpretations, he said.
Admitting mistakes to the class may be tough for scholars, but it ultimately produces better classroom results, he said.
"All of my classes now, I start out with the premise, We are going to be wrong together at all different times in the class," Mr. Greason said. "It's only by doing it together that we can start and build and correct and find our way toward something more true, something more valid and useful for all of us in the path of intellectual inquiry."
---
Fernanda Zamudio-Suaréz is a breaking-news reporter. Follow her on Twitter @FernandaZamudio, or email her at fzamudiosuarez@chronicle.com