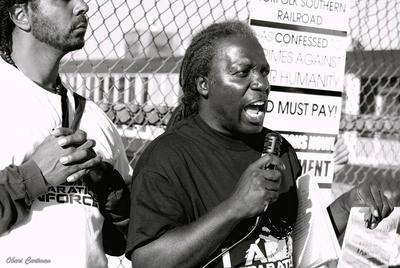 N'COBRA leader Kamm Howard with mic
Coalition makes good on its reparations action
CHICAGO, IL–On Tuesday, September 23rd,  representatives from 25 organizations, armed with the Durban Declaration and Program of Action, met on the corner of 47th Street and Wentworth Avenue as Reparations Enforcers to work to collect $900 million from Norfolk Southern.
The group, being led by the National Coalition of Blacks for Reparations in America (N'COBRA) and the Coalition for the Enforcement of Repair and Restoration (CERR), carried out their plan to present to Norfolk Southern Railroad a Compensation Presentment for past crimes against Afrikan humanity.
With chants of "Reparations is a human right," and "If there were no crimes against our humanity, there would be no violence in our streets," the group proceeded west toward the Norfolk Southern Rail Yard.
Concluding their march, the group proceeded back to the 47th Street Rapid Transit Station.
There, in the midst of early evening travelers, they made statements on their intent on continuing their efforts.
As each organizational representative concluded their statement, shouts in unison declared "NO JUSTICE NO PROFIT."
The organizers vow to return with continued non-violent direct action protest if Norfolk Southern does not agree to begin earnest conversations in regards to the settling of the presentment.
Kamm Howard leads the march for reparations. A Norfolk Southern railcar can be seen in the background.
Kamm Howard, recently elected to lead the reparations work of the Black is Back Coalition, speaks at the August 2014 conference.
The Black is Back Coalition is having a march on the white house on November 1st and 2nd, 2014 with the call "Peace through Revolution!"
The only certain peace for the peoples of the world is 'Peace through Revolution!' Join us for a rally and march on the white house at 12 noon on Malcolm X park, Washington, DC.