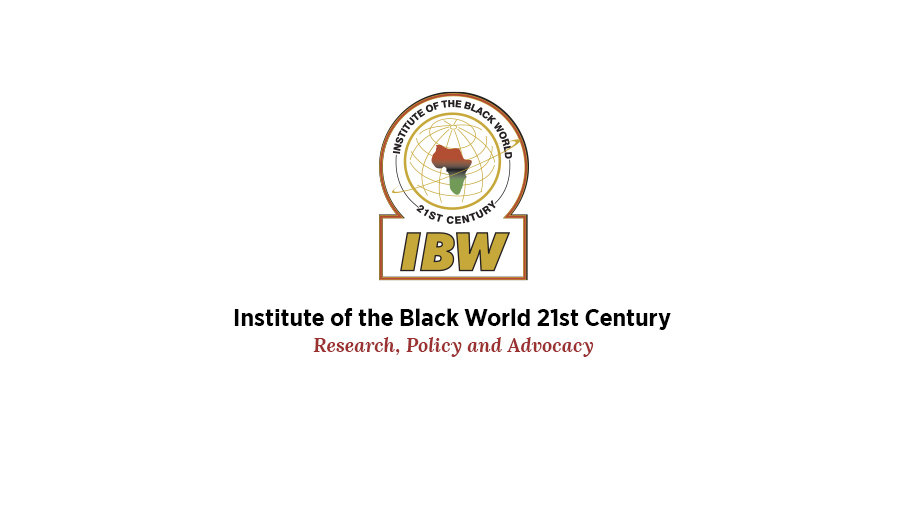 Wednesday, August 27th 2014—Busboys and Poets
Cosponsored by: Institute of the Black World and Institute for Policy Studies
"I grew up in St. Louis and I know Ferguson very well. In a town that is 67% African American, the city council is not representative of the population with only one African American member. In the police department, out of the 53 police officers, only three are African Americans. Democracy is not working and as such, the law enforcement entities put in place to serve and protect aren't working either. When you have a scenario when law enforcement is set up as an occupying force and it is about suppressing rather than protecting, we end up with what happened to Michael Brown. In these circumstances, there seems to be no other response than the community rising up."
–Hilary Shelton, NAACP
"I stand with the people you call looters. They were resisting. When I talked to them they said, 'You don't care about our lives. We don't care about your property.' In this capitalist society that's what you have to do to be heard. You have to break stuff up. Because that's what they value."
— Erika Totten, Activist
"People call them riots. They are rebellions against injustices committed against communities. There is a state of emergency in Black America. People are catching more hell than ever before. They took out the jobs. Disinvested in our communities. Industry has left. Jobs have left. They have created "dangerous communities" and the media has created this image of the dangerous black male. Then they militarize to control us through the so-called War on Drugs. We've been looted of our jobs. We've been looted of quality education, and they have ravaged our communities." — Ron Daniels, Institute of the Black World
"It is one thing for people to be murdered. It is another thing when the perpetrators are those who wear badges and are sworn to uphold the law. I saw a photograph of a lynching juxtaposed with the lifeless body of Mike Brown. When an enslaved person was hung they left the bodies hanging on display for hours to instill fear in the hearts of the other enslaved people. It was terrorism then and I submit that it is terrorism now. Victims of law enforcement abuse–Oscar Grant, Johnny Gammage, Eric Garner…. all of them…. they're crying out from the grave for justice. As we now grieve for young Michael Brown, let us vow that this time, our outrage not just be for a moment, which would dissipate with time but for a movement with justice that would seize a moment to build a focused, justice movement. We must up the ante and internationalize the struggle."
— Nkechi Taifa, Open Society Foundation
"Two months ago everyone was tweeting and talking about, 'Bring Back Our Girls'. Now nobody is talking about it. Black women and girls are also being killed. Don't miss that. A black woman was shot just the other day while she was sitting in her car. We don't see these bodies. We don't treasure these bodies. We can't just heal half the community. We must heal the entire community and save all our lives. Last night many of us watched Iyanla Vanzant's 'Fix My Life'. You cannot think that by preaching the gospel of personal responsibility that you can solve the issues of systemic, structural racism. You can't. As we take on the police, we take on the problem with the school system, with unemployment, etc. It's all related. Systemic, structural racism must be dismantled before justice ever prevails and before anyone is free."
— Barbara Arwine, Lawyers' Committee for Civil Rights
"We can't look at Michael Brown's murder as one point in time but instead we must view it in the context of a continuation of attacks on black people in our communities. Black men and women in police departments isn't the only answer. If we don't address systemic issues around a cult of actions in the police departments, we won't make progress. We must find a strategy that works for black people in black communities."
— Ron Hampton, Former ED of National Police Accountability Project
"In 2012, I made a song called 'Do we need to start a riot?' I made that song because of the report the Malcolm X Grassroots Movement did in 2012 which found that 313 black people were killed by police security guards or people like George Zimmerman which amounted to one every 28 hours. Ultimately when I ask the question do we need to start a riot, I'm really asking what do we have to do to get justice? If we are continually shot down and no one is to blame, then what do you think will eventually happen if this is something that happens over and over and over again? Ferguson is simmering right now but so are New York City, Chicago, L.A. and D.C. So if I was them, I would be careful. Zimmerman was found not guilty. Michael Dunn was found guilty of attempted murder, but not in the murder of Jordan Davis, the person he shot and killed. And now if Darren Wilson is not indicted, what do you want us to do? Because if you're not going to give us justice, then we have to ask, are we wrong if we then take justice in our own hands?"
—Jasiri X, 1Hood
Recommendations:
I. Policies and Practices
a. Policy Development/Reform/Implementation
Establish Domestic Marshall Plan—Rebuild communities into livable places with clean air, jobs, economic opportunities, safety, etc.
Passage of End Racial Profiling Act—Hold police departments accountable and cuts off funding when they are found culpable.
Passage of Law Enforcement Trust and Integrity Act—Define acceptable use of force and consequences for failure to comply.
End Militarization of the Police—Stop the provision of tanks, heavy artillery and use of military tactics in communities.
End War on Drugs–Eliminate mandatory minimum sentencing, shift the focus of drug policies to treatment and rehabilitation, and support state policy reform efforts such as the DC Referendum to legalize marijuana (responsible for the bulk of drug arrests of African Americans).
End Mass Incarceration—Ease drug laws, relax harsh incarceration policies, increase treatment options and anti-recidivism programming.
Establish Community Policing—Implement models that 'promote organizational strategies, which support the systematic use of partnerships and problem-solving techniques, to proactively address the immediate conditions that give rise to public safety issues such as crime, social disorder, and fear of crime.'
Increase Job Creation—Ensure that there are educational and economic opportunities available for youth and others.
Update Department of Justice Guidance Regarding Use of Race By Federal Law—Repair the loopholes and omissions in these guidelines that are supposed to establish the definition of racial profiling and lay out parameters for monitoring and enforcement.
Establish Monitoring, Documentation, and Accountability Protocols:

Institute comprehensive police screening, including cultural sensitivity.
Require Installment of cameras—Gun Cams, Body Cams, and Dash Cams.
Develop a system for documenting reports of each complaint of excessive force and ensurethat all is transparently shared with the public.
Establish Police Accountability Review Boards with power of subpoena and power ofindependence in investigations so that the same system that is alleged to perpetrate abuse isn't reviewing cases of impropriety.
b. Research and Strategy Development
Research Studies

Kerner Commission Type Study— Examine why our communities lack economic opportunities, why do we have such high rates of violence in our communities, etc.
Study on Race and the Criminal Justice System—Examine the inequities of the criminal justice system that result in pervasive culture which is characterized by racially disparate profiling, police brutality, mass incarceration, application of the death penalty, etc.

Strategy Summits

Summit on Race in the Criminal Justice System in America—Convene stakeholders to develop a strategic blueprint for action to eliminate the racial disparities in the United States criminal justice system.
National Summit on Police Misconduct—Convene stakeholders to examine the current state of the incidence of police misconduct including what leads to the cases of abuse and what solutions are needed to remedy.
Organizing/Activism

Human Rights Frame and Instruments—We must utilize the international instruments that have been ratified by the US Government and to which we can hold them to account, in addition to holding the system and its players accountable to jurisdictional law. There are handles we can utilize that apply to the criminal justice system including– United Nations Code of Conduct for Law Enforcement Officials and Basic Principles on the Use of Firearms, Convention on the Elimination of All Forms of Racial Discrimination, Convention on Civil and Political Rights, Convention Against Torture and Other Cruel, Inhuman, and Degrading Treatment, Convention on the Prevention and Punishment of the Crime of Genocide.
Operational Unity—We must break organizational siloes and form and implement a unity agenda to combine forces and build collective power to execute real systemic change.
Youth Leadership–Youth must lead and traditional organizations and elders must not only make space, but also actively guide and support young people being at the forefront. Groups like the Dream Defenders, Hands UP United, National Black United Front, etc. must be encouraged and promoted!
Get Out the Vote—We must get folks registered, conduct political education, and get people out to vote so that we have representative decision making bodies that make decisions with the interests of our communities at the core of their analysis.
Alternative Systems— We must design and implement alternate systems for addressing community safety and development needs, particularly around juvenile justice, with community policing models being critical.
Economic Sanctions—With $1.2 trillion at our disposal, we have immense power we can utilize through ourspending. We must utilize boycotts as an advocacy and power building tool.
Media Justice/Reform—We must be intentional about advocating for fair representation of our communitiesin the media, including pushing for positive images in the entertainment industry.

Ferguson Specific Recommendations

Arrest and prosecution—Immediate arrest and prosecution of Darren Wilson through a fair trial including the recusal of the current prosecuting attorney.
Civil Rights Charges—The Department of Justice must bring civil rights charges sooner than later given the imminent change in administration.
Mental Health Needs—Given the level of community trauma, there must be measures in place to address the mental health needs of the children in particular and the entire community.
Democratization/Representation—The community must organize to ensure that it is better represented in the policy development and implementing infrastructure of the city from the Office of the Mayor, to the City Council, to the Police Department, and beyond.
Community Policing—A community policy model should be designed and implemented to more effectively address community needs and reform what is now a broken system.
Questions or Corrections—Jacqui Patterson, jpatterson@naacpnet.org