By Aaron Allen, The Seattle Medium —
The Race & Gender Equity Committee of Puget Sound Advocates for Retirement Action (PSARA), a group of retirees known for their social justice advocacy that includes former King County Councilmember Larry Gossett, Rev. Dr. Robert L. Jeffrey, Sr., pastor of New Hope Missionary Baptist Church, and officials representing the Seattle Metropolitan Urban League and the NAACP, recently convened to discuss a reparation strategy for African Americans.
The discussion led by Dr. Ron Daniels, current President of the National African American Reparations Commission, focused on efforts both locally and nationally to help pass H.R.- 40. The bill, which currently has about 200 co-sponsors in Congress, calls for $14 million in appropriations to establish and convene a commission to complete redress evaluation.
The Primary Goals of H.R. 40:
• Establish a commission to study and develop reparation proposals for African Americans.
• Examine slavery and discrimination in the colonies and the U.S. from 1619 to the present and recommend appropriate remedies.
• Identify the role of Federal and state governments in supporting the institution of slavery.
• Identify forms of discrimination in the public and private sectors against freed slaves and their descendants
• Identify lingering negative effects of slavery on living African Americans and society.
• Recommend ways to education the American Public about the Commission's findings
• Recommend appropriate redress actions
Many participants at the conference were excited to hear about all the work Dr. Daniels has been doing across the nation advocating for reparations for the descendants of Africans enslaved in America.
The impetus to jump start the reparations efforts for African American residents in Seattle began during a webinar, when participants asked Dr. Daniels questions about reconstituting a local reparations effort. Dr. Daniels said, "I would welcome the opportunity to work with the African American community in Seattle to pursue a reparations strategy."
PSARA has been in the trenches for reparations ever since former Mayor of Seattle Jenny Durkan opened the conversation three years ago. Now Mayor Bruce Harrell has stepped in to keep the conversation going as members of PSARA meet with council members as well as the mayor to discuss reparations for Seattle's Black residents.
"I think that given that thirty-five different Black organizations that we've met with, given that six of nine city councilmembers who met with us, given the fact that the Mayor of Seattle, Bruce Harrell met with us and all of them said, 'we want to put Seattle on the map,'" says Gossett. "Put Seattle on the map on doing the best job for African Americans in relationship to making a difference on some of the harms done to the Black community."
Daniels believes that because of Seattle's size and stature in America it is in a great position to set an example of how Municipal reparations can work.
"I think we are headed towards a milestone initiative here in Seattle," says Daniels. "Simple because Seattle is Seattle. In terms of the size of the city, its reputation as a progressive community, yet its contradictions are still here, but the willingness of the mayor, the willingness of the city council to address those contradictions with a reparatory justice initiative."
"I think this was a great meeting, a great beginning, a renewal," Daniels continued. "Because we have already began to plant some seeds and it is good to see those seeds come to fruition. Seattle has huge corporations here who have an opportunity to become involved in this in way that can make this a huge success, so I am very optimistic."
Organizers of the event are pleased with the conversations that took place and are hopeful that their efforts will continue to gain momentum.
"I am really happy with turnout that we have this weekend in dealing with issue of establishing a local African American Reparations Committee in Seattle," said Gossett. "With this effort, this could end up having results that will be beneficial to hundreds of Black families."
Also, in attendance was Robin Rue Simmons, founder and Executive Director of FirstRepair, a new non-profit organization fighting for reparations on local and national levels. Rue Simmons was a former politician who was instrumental in Evanston, Illinois' effort to secure reparations for their African American residents, the first city to do so setting the example that reparations is possible.
"This was an important and historic convene," says Rue Simmons. "I do believe that there is the commitment, there is the political skill and institutional support right here in this room to move for reparations here in Seattle."
---
Source: The Seattle Medium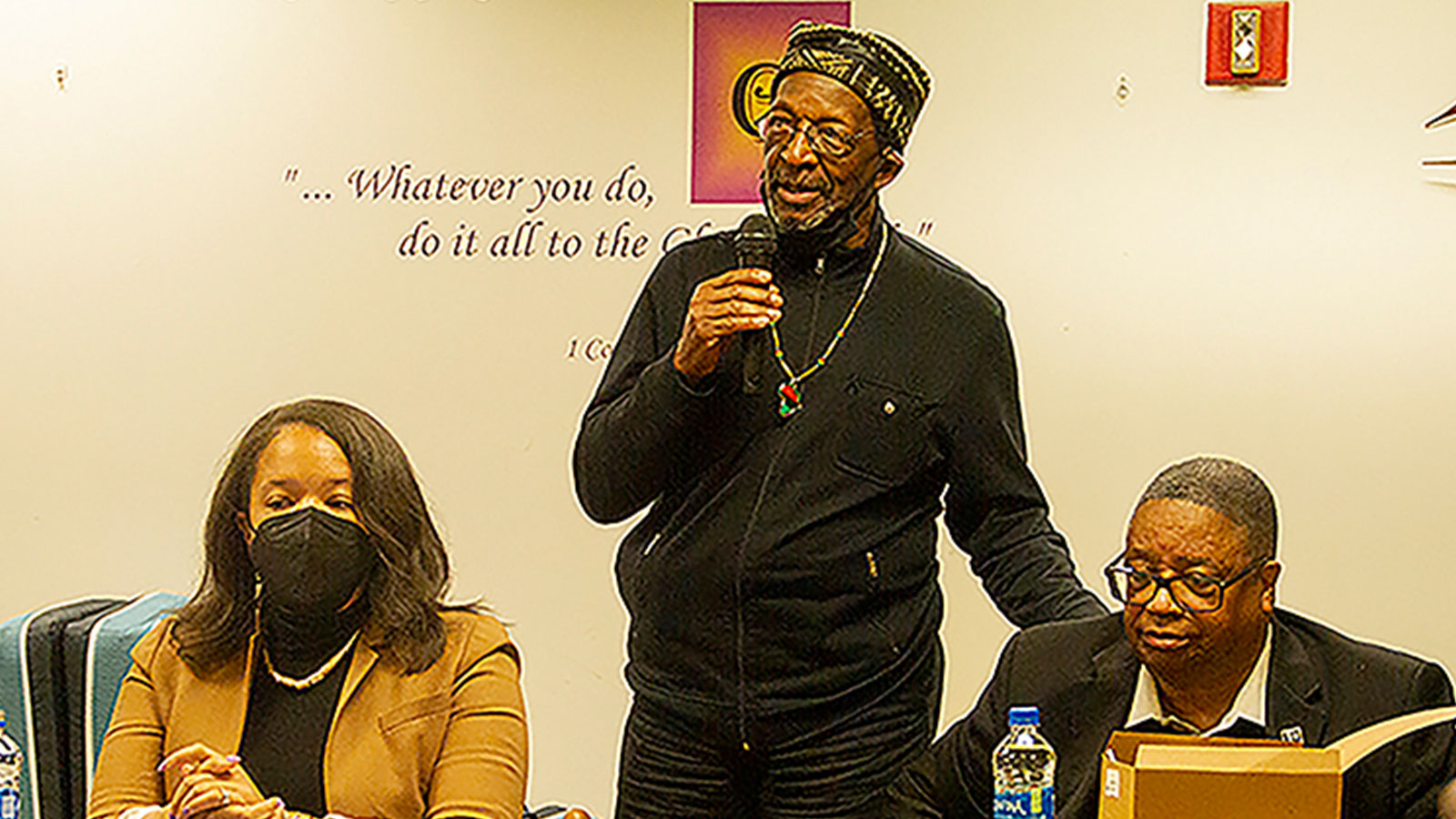 Featured image: Dr. Ron Daniels talks to a group in Seattle about efforts to secure reparations both locally and nationally. Staff Photo/Aaron Allen. The Seattle Medium