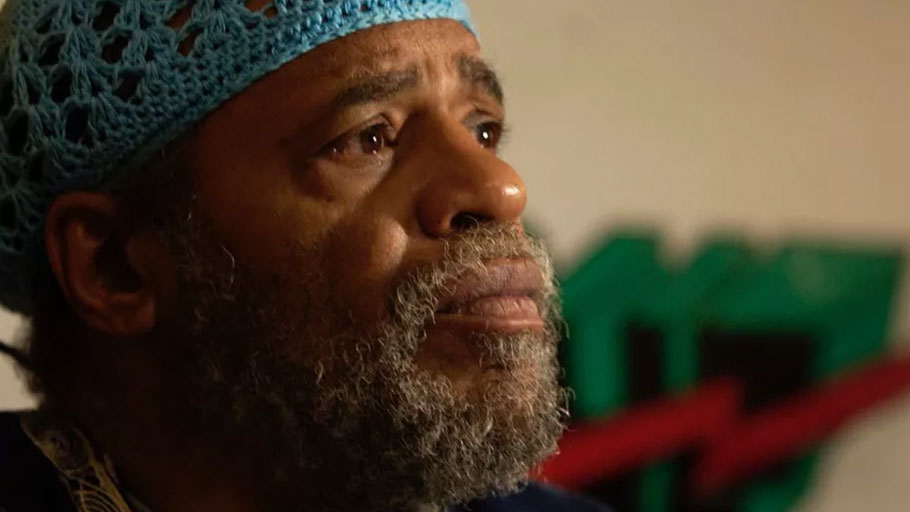 Conrad Worrill (born August 15, 1941) is a writer, educator, activist, and former talk show host for the WVON call-in program On Target. Worrill's activism has centered on the need for greater independence in African-American life and helping young people better understand the relationships between power and institutions. He's still very active on the board of the Black United Fund of Illinois (BUFI) in which he's a founder member. He has remained steadfast in assuring that BUFI continues its rich legacy after the death of its founder and executive director four years ago, Henry English.
Worrill was born in Pasadena, California. His father was active in the NAACP and the YMCA and played a large role in influencing Worrill to become an activist on his own. Conrad moved to Chicago when he was nine. He is married to Arlina Worrill and has several daughters, Femi Worrill, Sobenna Worrill, Michelle Worrill, and Kimberley Aisha King. He became a serious athlete but was awakened to the prejudice and racial segregation that was present when his swim team faced heckling. Despite racial hardships, Worrill pursued football, basketball, and track. In 1962, Conrad was drafted into the army and stationed in Okinawa, Japan. While abroad, he read much about African American history, culture, and politics.
He returned to America in 1963 and attended George Williams College, majoring in Applied Behavioral Sciences. While at college, his past experience overseas of seeing many African Americans sent to war led him to become active in the Black Power Movement. One of the organizations he was involved with was the Student Nonviolent Coordinating Committee, which was one of the first African American civil rights groups against the war.
Worrill graduated in 1968 and was hired by a West Side YMCA as a program director. He left to pursue his Ph.D. at the University of Wisconsin–Madison. His focus was on "Curriculum and Instruction in Secondary Social Studies". He wanted to help students understand the relationship between institutions and power. Upon receiving his degree from Wisconsin, Worrill taught two years at George Williams College. In 1975, he transferred to the faculty of Northeastern Illinois University, where he became active in the Center for Inner City Studies.
---
"At the age of 75, it is time for me to focus on the massive archives I've accumulated and to write my memoirs," expresses Dr. Worrill
---
In addition to his teaching duties, Worrill was involved with the National Black United Front. The organization deals with addressing political, social, economic, and cultural forces that impact people of African descent in America today. The NBUF has been known for pushing a program of study that emphasizes the role of Africans and African Americans.
Worrill is the elected economic development commissioner of the National Coalition of Blacks for Reparations in America (N'COBRA). He was a special consultant of field operations in the Million Man March, which took place on October 16, 1995. Worrill became an activist and scholar whose goal is to advance the cause and concept of African independence and self-determination both in the United States and internationally.
While organizing in 1983 to elect Chicago's first black mayor, Harold Washington, Worrill co-founded the Task Force for Black Political Empowerment. As part of the fight to win reparations for the American descendants of slaves, he traveled to Geneva, Switzerland, in 1997 with a delegation to formally charge the U.S. government with genocide and human rights violations before the Commission on Human Rights. The delegation presented the commission with a Declaration of Genocide by the United States Government Against the Black Population in the United States with 157,000 signatures.
Upon returning to the United States, Worrill presented this petition to the United Nations in New York City. In 2001, he led a 400-member delegation to the U.N. World Conference Against Racism in Durban, South Africa. He writes the syndicated weekly column "Worrill's World," which is widely read in African American newspapers across the country. In August 2002, Worrill organized a national reparations rally attended by thousands. He continues his deep-rooted fight to ensure that Blacks one day gain Reparations.
When Dr. Worrill retired from Northeastern Illinois University, Sun-Times columnist Mary Mitchell scripted a heartfelt editorial chronicling Conrad's journey. "When I first interviewed him in the early '90s, I was terrified that he would dismiss me as a "wannabe" trying to fit into a white man's world," stated Mitchell. "He surprised me when he launched into a wholehearted black history lesson. It didn't seem to matter that much of what he said wouldn't end up in my story. He had to get it out."
After 40 years of "getting it on" at Northeastern Illinois University's Jacob H. Carruthers Center for Inner City Studies — an institution recognized worldwide that Worrill helped build — he retired on Dec. 31, 2018, which Mary highlighted in her piece. "At the age of 75, it is time for me to focus on the massive archives I've accumulated and to write my memoirs," he told me. A historian by nature and training, Worrill said his memoir will be based on much of the rich history he's experienced as an activist scholar.
"Not only in the 40 years working at Northeastern but in the 50 years being involved in the black struggle. Although I've written hundreds of articles, it is time for me to produce a few books while my health is OK," he said. There is plenty to write about. Worrill was a key organizer of the grass-roots effort that swept the late Mayor Washington into office. During his lengthy career at Northeastern (he served 12 of those years as director), Worrill was the person most reporters turned to for a perspective on matters impacting the African-American community. But Worrill considers his role in helping to establish the center of his greatest accomplishment.
"I have attempted to provide leadership based on the foundation of what others built, in hopes that the next generation would build on what we have attempted to preserve," he said. "More than 1,700 students have earned a master's in inner-city studies," Worrill added, pointing out that Chicago Teachers Union President Karen Lewis earned a master's degree under his tutelage.
He calls the late Jacob Carruthers and Anderson Thompson, the men who created the center's African-centered curriculum, his intellectual fathers. "The goal of the center was to preserve the rich history of African people and to teach it from our own perspective and not the perspective of others," he told me. His retirement will give him time to spend on other issues close to his heart.
For example, Worrill, a former athlete, has long advocated for a state-of-the-art indoor track facility, pointing out that low-income students could qualify for college scholarships by running track. "I actually first proposed the idea of building the facility to Harold Washington in June of 1983. After he became the mayor, the resources just were not there. When Michael Scott was president of the school board, he tried his best to build it. The proposal got some momentum around the possibility of the Olympics," Worrill said.
"Now it appears we have the commitment from then-mayor Emanuel's office and the Chicago Park District. We've completed a $2.5 million contract for an architectural firm to design the facility," he said. Ten years ago, he and housing developer Elzie Higginbottom founded Friends of Track and Field to help raise funds for the project. "Obviously a lot of my work now has to do with saving our young black people who at this moment in history seems to be challenged with their survival, particularly in inner-city communities," Worrill said.
Today, the track and field Olympic style facilities located near Gately Stadium in the Pullman area is complete. And before the COVID-19 pandemic exploded on the world, there were plans being developed to host a huge national grand opening with major universities and colleges from across the country invited to see Conrad's masterpiece. This venue has been built with the desire to attract major track and field competitions. Once Chicago gets back to normal, there will be a massive opening of Conrad's dream that he has been cultivating for decades. This venue is his true legacy. And we know that he quietly agrees with that sentiment.
---
Source: TBT News, MG Media.