National Black Nurses Association and the Black Nurses Association, Miami Celebrate National Nurses Week, May 6-12, 2020 with Free Webinar: COVID-19 & Mental Health Consequences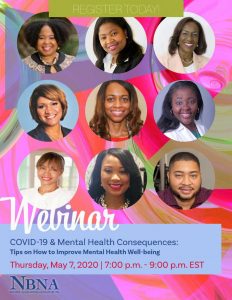 The ongoing COVID-19 pandemic has created new challenges and aggravated existing obstacles to mental health care and well-being. There are multifaceted issues surrounding the pandemic and therefore, nurses nationwide are grappling with an elevated level of overall stress and anxiety. This pandemic also threatens to widen existing disparities, particularly the impact on a nurse's wellbeing. This presentation will highlight and include factors that may exacerbate potential stressors that can lead to detrimental effects on nurses and the community.
The objectives are to:
Categorize disparities among vulnerable and poor communities
Develop healthy ways to better cope with the stress and anxiety
Understand the evidence regarding nurses and suicide
Identify and understand PTSD causes and symptoms
Apply measures to provide self-care during difficult times
Discuss solutions to mitigate the negative impact of COVID-19 on the mental health status of children and adolescents
This webinar is recommended for nurses and practitioners in the public health and mental health fields.
Registration is free and we encourage you to share with your colleagues and professional network.
Register Here
Moderator
Fayola Delica, BSHE, BSN, RN, PhD (Hon) Min.
Greetings
Martha A. Dawson, DNP, RN, FACHE NBNA President
Agenda
COVID-19 UPDATES: Racial Disparities and the Impact on African Americans – Marie O. Etienne, DNP, APRN, FNP, PNP, PLNC, PhD (Hon) Min. & Linda Washington-Brown, PhD, APRN, PNP, FNP, ANP-C, PhD (Hon) Min., FAANP, FAAN
Psychological Factors Associated with COVID-19 Crisis (Anxiety & Depression) – Marjorie Lozama, MSNEd, APRN, PMHNP-BC, CDMS, PhD (Hon) Min.
Suicide Prevention Strategies for Nurses – Patrise Tyson, MSN, APRN, FNP-BC, President, BNA, Miami
Coping Mechanisms for the Exacerbation of Post-Traumatic Stress Disorders (PTSD) – Heather Brathwaite, PhD, APRN, PMHNP-BC
Nursing Self-Care in the Middle of a Crisis – Dawn Grace-Jones, JD, BSN, RN
Mental Health Consequences for Children during COVID-19 Crisis – Benarah Sanford, MSN, APRN, PMHNP-BC & Chad Conrad Jones, RN
Xspurt Provider Services is accredited as a provider of continuing nursing education by the Florida Board of Nursing, Provider # 50-26886.
More Info