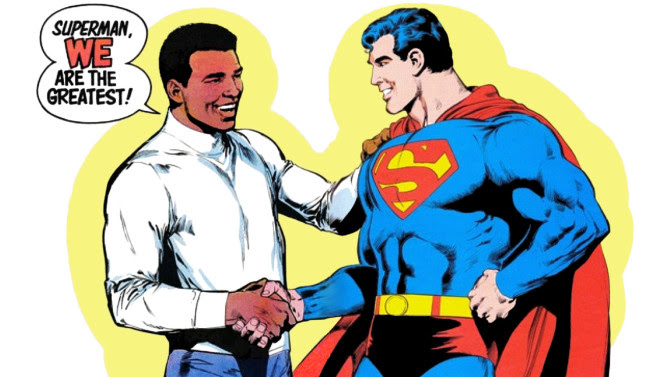 An image from when iconic boxer Muhammad Ali fought the Man of Steel in the comics. DC Comics
The best thing about going to my barbershop as a little kid in the mid-1970s was the Muhammad Ali pinball machine. Black Power had faded, to be replaced by Afro-Sheen. This was the period when Stevie Wonder, Aretha Franklin, Marvin Gaye, Isaac Hayes and Earth, Wind and Fire were pushing the boundaries of spirit, social reality and sound; when black folks had briefly tried out the term "Afro-American" (presumably a historical echo of Malcolm X's suggestion?) and everybody was, indeed, kung-fu fighting.
Muhammad Ali was already a superhero in the black community, long before DC Comics thought up the crazy idea of pairing him with Supes. I remember watching his fights, post-mortem, on the ABC "Wide World of Sports" broadcasts. (They aired on network television sometimes live, but sometimes after-the-fact because cable television was still a technology being tested. Often, the only way you could see a live Ali fight in the rabbit-ears, five-channel era and not be in the arena was via something called "closed-circuit television," where you would have to go a theater and pay to see the broadcast via satellite. Closed-circuit television was the analog to Pay-per-view.) These weekend ABC network broadcasts, sometimes narrated by Ali and ABC sportscaster Howard Cosell, were how those of us in Any Ghetto, U.S.A., got to see many Ali fights for free.
Meanwhile (a favorite transition word in superhero land), I loved comics, then and now. In 1978, Mom bought me this huge 10" x 14" comic (known as a "Treasury edition") called Superman vs. Muhammad Ali. It was a massive 78 pages, and thanks to the top-talent team-up of penciller Neal Adams and inker Dick Giordano, it had the greatestartwork I had ever seen. (Dennis O'Neil, the writer responsible for making Batman cool after the 1960s television series, worked on the story with Adams.) For a moment—just one—I put the greatness of Marvel Comics' creators Stan Lee, Jack Kirby and Steve Ditko aside and devoured the story. Plot: an green alien race—called the Scrubb, believe it or not!—challenged Earth's mightiest warrior, Ali, to a fight, or its space armada would destroy the Earth! Superman intervenes, saying he should fight the alien instead. When Ali balks at this, the Scrubb demand the two duke it out (under a red sun that neutralizes Superman's powers) as a preliminary match to the main event.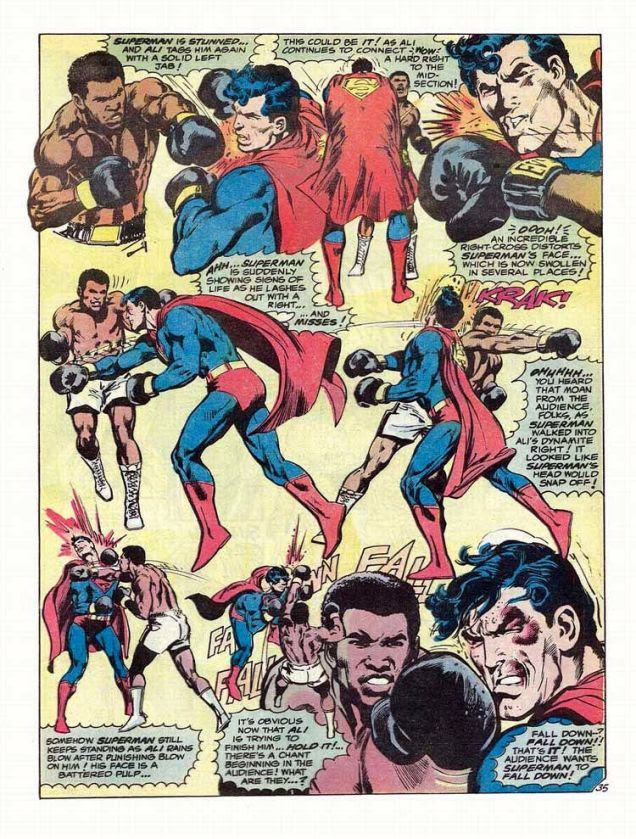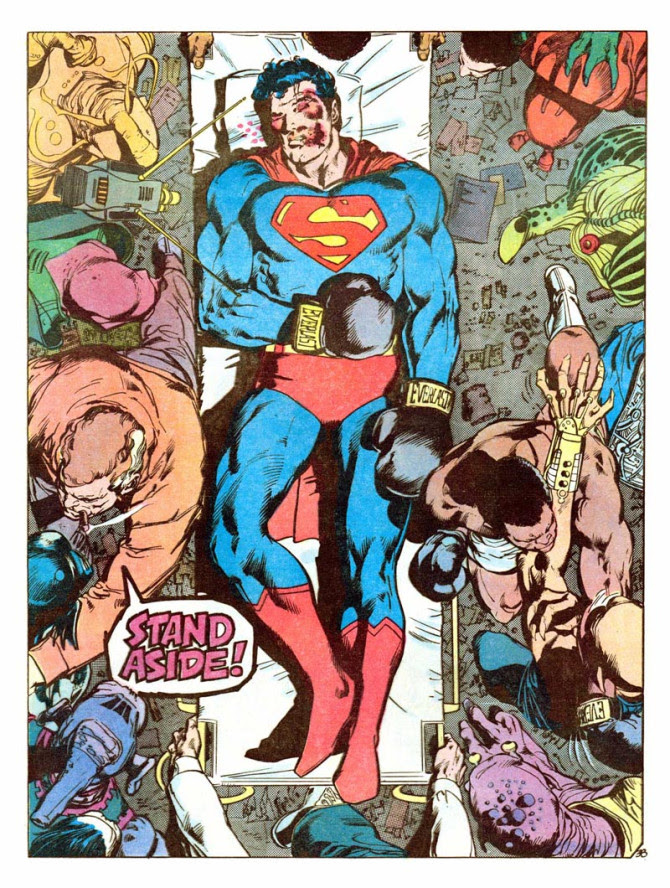 Ali trains Superman at the Fortress of Solitude, then, in a massive arena packed with beings from different galaxies (and a universe-wide television audience), kicks The Man of Steel's white, red and blue ass! Then the champ takes on the alien, who looks like a cross between, well, the Hulk and Hulk Hogan, and wins! Super Black Power, Baby! Power to the People! The Earth was saved, by The Greatest in the universe, in fact and fiction!
By 1978, the conflict between Ali and Malcolm X—the latter then a black-counter-culture dangerous radical, not the human rights martyr/American postage stamp he's viewed as now—had faded in the African-American mind. America was now in 2-D: desegregation and disco. And Ali, whom white America considered a dangerous, unpatriotic, "Black Muslim" (Nation of Islam) racist just a decade ago, had publicly proven himself on many levels. The United States had stripped Ali of his world heavyweight boxing title and tried to put him in jail because of his conscientious objection to the Vietnam War. But "The People's Champion" fought back and won. Ali had beaten George Foreman in Zaire in 1974, regaining his heavyweight championship title against all odds. America respects character, perseverance and, above all else, the ability to win. Black comic book historian Adilifu Nama writes that the superhero comic was an important marker in the ongoing image makeover Ali, now an orthodox Muslim, was undergoing with the American public. Standing side-by-side with Superman, Ali's attitude, name and religion had officially been accepted.
The irony of this comic book is that when it came out, Ali had just lost the heavyweight title! (A point Marvel's Spider-Man, by the way, did not fail to point out.) Out of nowhere, some nobody from the Olympics named Leon Spinks had beaten him and become the champion! So a tired, aging Ali had to come back, and did. Three times champion.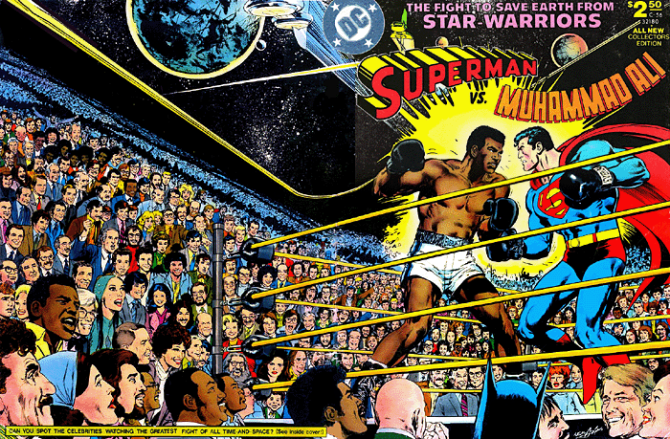 A hand-drawn, star-studded crowd watches the greatest fight of all time (to exist in the comics) between the Muhammad Ali and Superman. (DC Comics)The Ali/Superman wrap-around cover has its own history. The audience is packed with 1970s celebrities and DC's superhero comic book characters, from Lucille Ball to Michael Jackson and his brothers to Lex Luthor and Batman! (The inside cover even had a code, so you could see who was there.) Adams did a homage cover for ESPN: The Magazine, with Ali vs. Michael Jordan for athlete of the century, in 2000.
This hokey story is considered by comic book geeks of a certain age either one of the worst or best—or both?—comics made in the 20th century. But either way, it was a unique treasure, and is forever, like its hero.
Todd Steven Burroughs, an independent researcher and writer based in Newark, N.J., is the author of Son-Shine on Cracked Sidewalks, an audiobook on Amiri Baraka and Ras Baraka through the eyes of the 2014 Newark mayoral campaign. He is the co-editor, along with Jared Ball, of A Lie of Reinvention: Correcting Manning Marable's Malcolm X and the co-author, with Herb Boyd, of Civil Rights: Yesterday & Today. 
Attachments area
Preview YouTube video Carl Douglas Kung Fu Fighting (Original Music Video)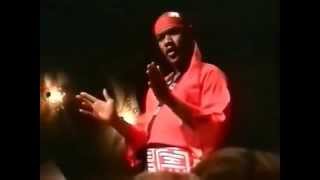 Carl Douglas Kung Fu Fighting (Original Music Video)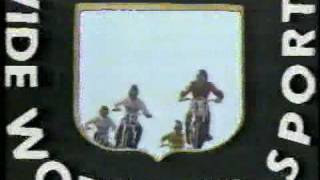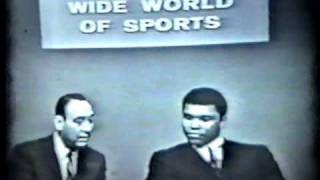 Muhammad Ali vs Cleveland Williams ABC Wide World of Sports Pt. 1 of 3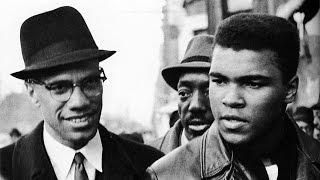 MALCOLM X: MUHAMMAD ALI IS MY BROTHER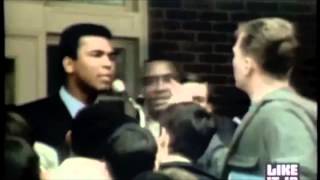 No Viet Cong. Called Me Nigger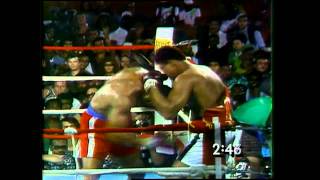 Muhammad Ali vs George Foreman / HD 720p [ESPN Classic]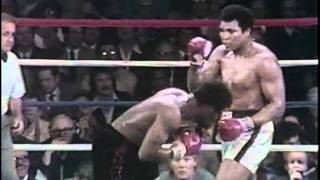 Muhammad Ali – Leon Spinks. 1978 02 15. I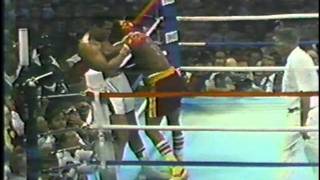 Muhammad Ali – Leon Spinks. 1978 09 15. II