By Astead W. Herndon, The New York Times —
From the very first day of the 2020 presidential race, when Senator Elizabeth Warren of Massachusetts blamed "generations of discrimination" for black families earning far less than white households, Democratic hopefuls have broadly emphasized racial justice and closing the wealth gap in their policy platforms.
But in recent weeks, some candidates have started embracing specific goals and overtly race-conscious legislation that even the most left-wing elected officials stayed away from in recent years.
Last week, on the popular radio show "The Breakfast Club," Senator Kamala Harris of California agreed with a host's suggestion that government reparations for black Americans were necessary to address the legacies of slavery and discrimination. Ms. Harris later affirmed that support in a statement to The New York Times.
"We have to be honest that people in this country do not start from the same place or have access to the same opportunities," she said. "I'm serious about taking an approach that would change policies and structures and make real investments in black communities."
Ms. Warren also said she supported reparations for black Americans impacted by slavery — a policy that experts say could cost several trillion dollars, and one that Barack Obama, Hillary Clinton, Bernie Sanders and many top Democrats have not supported.
The Warren campaign declined to give further details on that backing, but it came amid her calls for the federal government to provide special home-buying assistance to residents of communities that were adversely affected by "redlining," the discriminatory practice of denying mortgages, usually in poor and nonwhite areas. She also announced a sweeping universal child-care proposal that could strongly benefit minority communities that often have limited early childhood services.
The morally driven policy goals of Ms. Harris and Ms. Warren reflect a broader shift in the importance of race and identity issues in the Democratic Party, according to several scholars and political leaders who focus on the intersection of race and politics. While Democrats have long cast themselves as more inclusive than the Republican Party, grass-roots organizers and many liberal voters of all races are now pushing elected officials to go further on policies of racial equality, regardless of any political calculations.
But race-conscious policies could emerge as a fissure in a wide-open Democratic primary, as some moderate candidates seek to run against the party's recent leftward lurch. There are also political risks for the general election: Republicans have long attempted to paint Democrats who embrace policies that address racial inequalities as anti-white, and polling often shows reparations for black Americans remains an unpopular policy across the country.
That two leading Democratic candidates have embraced reparations — the concept that the federal government should both acknowledge the ongoing legacy of slavery and discrimination and provide compensatory payment to those affected — is a major shift from past presidential campaigns and a win for activists who have tried to push the issue into the mainstream for decades. Julián Castro, the former cabinet secretary who is also running for president, has also indicated that he would support reparations.
Even among the 2020 Democrats who stopped short of endorsing reparations, several have laid out robust policies aimed at closing the gap in wealth between black and white families. Scholars estimate that black families in America today earn just $57.30 for every $100 in income earned by white families, according to the Census Bureau's Current Population Survey. For every $100 in white family wealth, black families hold just $5.04.
Senator Cory Booker's "baby bonds" policy aims to help poorer children by giving them a government-funded savings account that could total up to $50,000 for the lowest income brackets. The plan has been praised by liberal scholars, who think it could go a long way in helping lower-income Americans begin to build wealth. And Senator Kirsten Gillibrand has endorsed a proposal to allow Americans without checking accounts to bank at the local post office; a disproportionate percentage of America's unbanked population are people of color.
María Urbina, national policy director for the progressive group Indivisible, said that after years of being pushed by activists, the Democratic Party was getting closer to applying its liberal values to racial equality. Policies like reparations or "baby bonds" that seek to close the racial wealth gap, she said, should be viewed similarly to idealistic programs that have been embraced by Democrats seeking the presidential nomination, including the Green New Deal and "Medicare for all."
"We want folks who are being ambitious, not just working within the margins and the contours of what we had before, but sort of reimagining things on our own terms and being really aspirational," Ms. Urbina said.
Sandy Darity, a Duke University professor who is a leading scholar on reparations and the racial wealth gap, said he believes more black Americans may come to see reparations as a defining issue for their support.
"There is a point in black Americans making a collective decision to treat a candidate's attitude toward reparations as a litmus test for supporting them," Dr. Darity said. "I think if folks had paid closer attention to the fact that Barack Obama was against reparations, they would have not been as disappointed by his presidency, because they would have had more realistic expectations about what he was likely to do."
Among Democrats, the idea of reparations has been unpopular until very recently. For more than two decades, Representative John Conyers, the Detroit Democratic stalwart who resigned in December 2017, repeatedly introduced a reparations bill to Congress that received little support from either party.
Mr. Sanders, the Vermont leftist whose rhetoric of a political revolution won him throngs of supporters in the last Democratic primary and disrupted the party establishment, dismissed the idea of reparations as politically unpalatable in January 2016, upsetting some racial justice activists who found his answer hypocritical. Mrs. Clinton, who beat Mr. Sanders for the 2016 nomination, also declined to support reparations.
Mr. Obama, the country's first black president, was seen in some political quarters as reticent about prioritizing the interests of black voters, and he called the idea of reparations impractical in 2016.
"I'm not so optimistic as to think that you would ever be able to garner a majority of an American Congress that would make those kinds of investments, above and beyond the kinds of investments that could be made in a progressive program for lifting up all people," Mr. Obama said.
As Ms. Warren and Ms. Harris seek to lead the party into a new era, their support for the policy — which did not come with specifics — signals just how quickly prominent Democrats have expanded their political imagination after decades of dominance by the Clintons and Mr. Obama.
Ms. Warren, in particular, has attempted to stake out more aggressive policies to push other Democrats in the race. Her proposal for universal child care would make the service free to any family earning up to double the federal poverty level, and would increase wages for child care workers — two initiatives that could particularly affect black and Latino communities, where informal child-care arrangements are more common.
"We must confront the dark history of slavery and government-sanctioned discrimination in this country that has had many consequences, including undermining the ability of black families to build wealth in America for generations," Ms. Warren told The Times. "We need systemic, structural changes to address that."
Another sign of the party's shift on race: Representative Alexandria Ocasio-Cortez, the New York Democrat whose bold policy ideas and devoted national following have upended Capitol Hill, also voiced her support for reparations earlier this month.
"Until America tells the truth about itself, we're not going to heal," Ms. Ocasio-Cortez said at a forum with Ta-Nehisi Coates, the writer whose landmark 2014 article, "The Case For Reparations," helped thrust the issue back into American consciousness.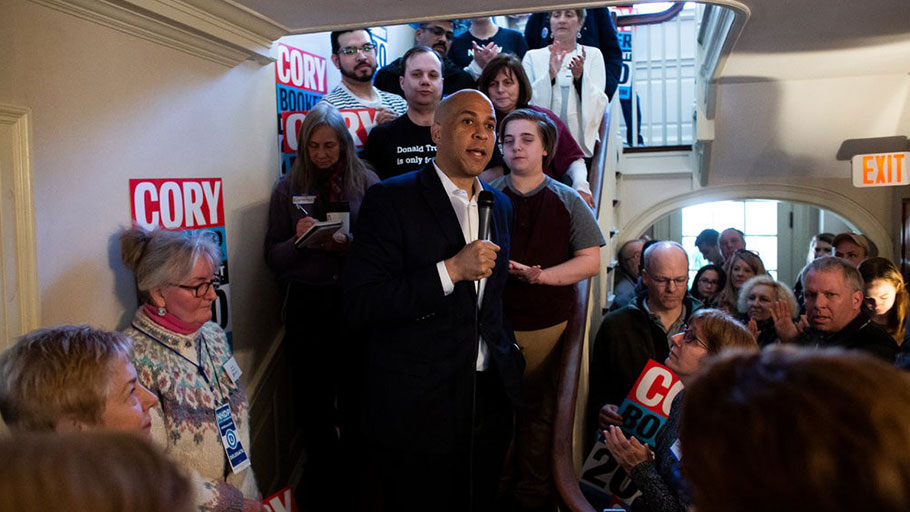 Other Democratic 2020 candidates — including Mr. Booker, Ms. Gillibrand and Senator Amy Klobuchar of Minnesota — either did not respond to requests for comment or stopped short of an endorsement of reparations. Instead, several laid out policies that, though not intended as a redress for slavery, would benefit black Americans.
Mr. Booker "is running for president to reignite our sense of common purpose to build a more fair and just nation — that means enacting policies that atone for this nation's history of intentionally discriminatory public policy toward African-Americans," said Michael Tyler, a spokesman for his campaign. "You cannot address the systemic racism unique to this country without proposing race-conscious solutions."
Darrick Hamilton, a professor at Ohio State University who has worked with Dr. Darity on research regarding inequality, said Mr. Booker's "baby bonds" plan could substantially transform wealth building measures for poor Americans and minorities and could help minorities grow assets.
Dr. Hamilton and Dr. Darity both panned Ms. Harris's signature economic proposals, which would dramatically expand a tax credit for middle-class families and provide rent relief to those struggling to afford rising home costs. Both proposals are "income-based," the professors said, and would do little to stem wealth inequality between races.
Only one 2020 candidate has laid out a reparations plan with specifics: Marianne Williamson, the best-selling author and self-described "spiritual teacher." Since the start of her long-shot campaign, Ms. Williamson has called for $100 billion in reparations for black Americans — far more than any other Democrat, but substantially less than what scholars have said would be necessary.
"Paltry," Dr. Darity said of Ms. Williamson's plan.
---
Astead W. Herndon is a national political reporter based in New York. He was previously a Washington-based political reporter and a City Hall reporter for The Boston Globe. @AsteadWesley