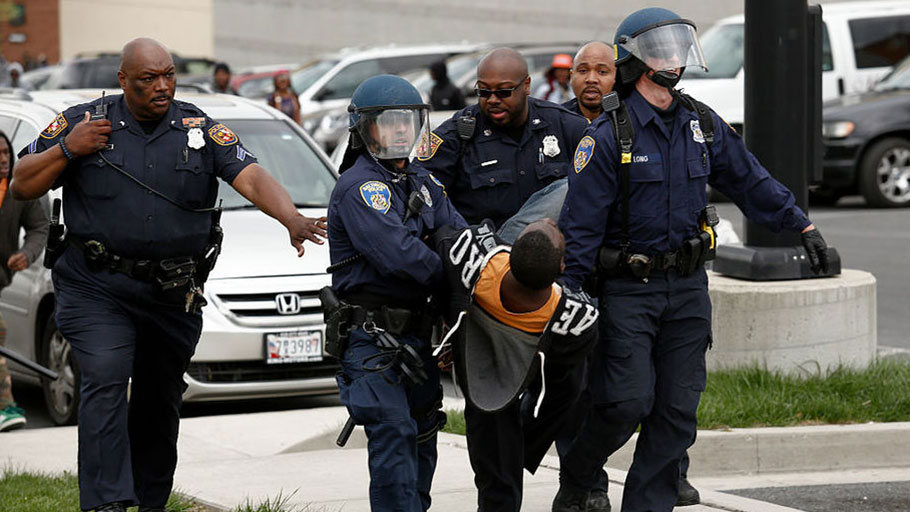 There is a reason why the Baltimore Police Department was investigated by the Justice Department after the 2015 death of Freddie Gray.
In 2014, when the state of Maryland voted to decriminalize the possession of 10 grams or less of marijuana, advocates said that it would help to reduce racial bias and systemic racism against black people. Even though data shows that blacks and whites use and sell drugs at the same rates, blacks in Maryland are almost three times as likely to be arrested for cannabis possession than whites and the state boasts the fifth highest rate of cannabis arrests in the country. So, by all accounts, decriminalization was supposed to be a good thing and keep people out of jail. But, sadly, it hasn't turned out that way.
Writer Monique Judge of The Root explains that in Baltimore nearly three full years after the law was passed, black people still make up a disproportionate amount of the arrests for marijuana possession. Data obtained by Baltimore Fishbowl, the Baltimore Institute for Nonprofit Journalism and Andy Friedman, a data researcher, indicates that from 2015-2017, 96 percent of the people arrested for cannabis offenses by Baltimore police were black.
In a fair world, that would almost have to be a typo. But, it's not. The sad truth is that even after making it a legal to possess a small amount of cannabis, nearly 100 percent of the people being locked up by the Baltimore Police Department for having weed are black.
---
After analyzing the data, breaking it down by zip code and then by race, they found that of the total 1,448 adults and 66 juveniles Baltimore police arrested for cannabis possession, 1,450 were black.
---
Not only are the police locking up black folks at disproportionate rates for cannabis, they are also doing it in the black parts of the city. Out of "3,200 individual charges for misdemeanor marijuana possession during that same period, [most] of those charged were in predominantly black parts of Baltimore."
This comes as no surprise to experts and local politicians who say that decriminalization is only one step to fixing our broken system. But it falls well short of addressing racial bias and institutional racism in criminal justice.
---
Sonia Kumar, a senior staff attorney for the ACLU of Maryland, told the Fishbowl: "What the evidence that you have here shows is that no matter where you are in Baltimore, if you are black, you're gonna be policed differently."
---
Kumar makes an important point that if you are black you are policed differently in Baltimore (and around the country) and the evidence from this data also shows that you are also more likely to be hyper-policed in black parts of town. And, on that note, we should probably ask the obvious question: who is actually policing the police to stop these racist practices? In 2015, the Justice Department investigated the Baltimore Police Department after the uprising which occurred in the wake of the death of Freddie Gray. And in 2017, the Justice Department and Baltimore City finally signed a consent decree agreeing to numerous reforms in the police department stemming from unconstitutional and discriminatory policing—specifically in the poor, black neighborhoods.
It was a big step for these decades-long abuses to come to light and for the city to enter into an agreement with the Justice Department. And things appeared to be headed for change until Trump's hateful, racist, "bring back the War on Drugs" Attorney General, Jefferson Beauregard Sessions, decided that he thought consent decrees were a waste of time and announced that he had no plans to enforce them. And, in the time since the consent decree was signed, the Baltimore Police Department has had, not one, but three different leaders. So, who knows what's happening in the department now? In fact, just this past July, the federal judge overseeing the reform questioned whether the department had the ability to implement changes at all—noting a lack of resources and consistent leadership.
For now, without strict federal oversight and inconsistent leadership, Baltimore police will continue to overpolice certain parts of the city (i.e. the parts where all the black people are) and continue to almost exclusively arrest black people for cannabis offenses. This is the exact opposite of the point of decriminalization.
Sadly, it looks like my beloved hometown has a lot of work to do. It's not enough to decriminalize weed. We need to move toward serious criminal justice reform locally and nationwide and clean up the Baltimore Police Department (and all the others with and without consent decrees) once and for all.
---
Kelly Macias is a staff Writer at Daily Kos focusing on racial justice, social justice and gender issues.
---
Photo Above: BALTIMORE, MD – APRIL 27: Baltimore Police officers arrest a man near Mowdamin Mall, April 27, 2015 in Baltimore, Maryland. The funeral service for Freddie Gray, who died last week while in Baltimore Police custody, was held on Monday morning. (Photo by Drew Angerer/Getty Images)