National Town Hall Meeting to Assess the Crises of Gentrification in Black America
April 4-6, 2019, all roads will lead to Newark, New Jersey, for a National Emergency Summit on Gentrification convened, by the Institute of the Black World 21st Century under the leadership of Dr. Ron Daniels, President and hosted by Mayor Ras J. Baraka. The Emergency Summit is being convened at a time when gentrification has become the watch-word for the displacement of Black people and culture from urban neighborhoods around the country. Gentrification is seen as the "Negro Removal Program" of the 21st Century. During the Civil Rights, Black Power era, the term "Negro Removal" was virtually synonymous with "Urban Renewal," local, state and federal highway and development projects that often disconnected and destroyed stable Black communities.
In the current crisis, "Chocolate Cities," once the domain of Black political and economic power are vanishing as increasing numbers of Whites, who in previous generations abandoned urban centers for the suburbs, are now returning to establish more comfortable and convenient spaces in closer proximity to their work places. "Development" to accommodate the newcomers is driving up the cost of housing, especially rental properties in a manner that is unaffordable for large numbers of Black residents. From Harlem to Washington, D.C., Pittsburgh, Philadelphia, Baltimore, Washington, D.C., Durham, Atlanta, New Orleans, Houston, Los Angeles, Kansas City to Detroit, scores of community-based activists, community economic development specialists, urban planners, scholars, elected officials, faith and civil rights leaders will converge on Newark to explore ways to achieve development without displacing Black people and Black social, economic, cultural and political institutions. Newark was selected as the host city to continue to focus on the progressive, equitable growth and wealth-building strategies and policies advocated by Mayor Baraka's administration – which are potentially a model for the nation.
The major public event and highlight of the Summit will be a National Town Hall Meeting where Panelists from across the country will share their perspectives on the nature of the crisis and offer ideas for countering the devastating assault on Black communities. Danny Glover, actor, activist and U.N. Ambassador for the U.N. Decade for People of African descent and Dr. Julianne Malveaux, Black America's leading political economist and President Emeritus of Bennett College for Women will be Special Guest Presenters for the Town Hall Meeting.
4/4/19 Update: Danny Glover will not be in attendance 
The National Town Hall Meeting, which is free and open to the public, will be held in the Campus Center Ballroom A of the New Jersey Institute of Technology, 150 Bleeker Street, University Heights, Newark, NJ 07102 on Friday, April 5, 2019 – 7:00 PM to 9:30 PM. The gathering will be streamed and recorded for rebroadcast on SIRIUSXM Progress. Mark Thompson, Host of Make It Plain on SIRIUSXM and a political commentator on MSNBC, will serve as Moderator. Doors will open at 6:00 PM. Persons wishing to attend are urged to arrive early due to limited seating.
For further information contact:
Debe Communications, 347.743.5957
info@debecommunications.com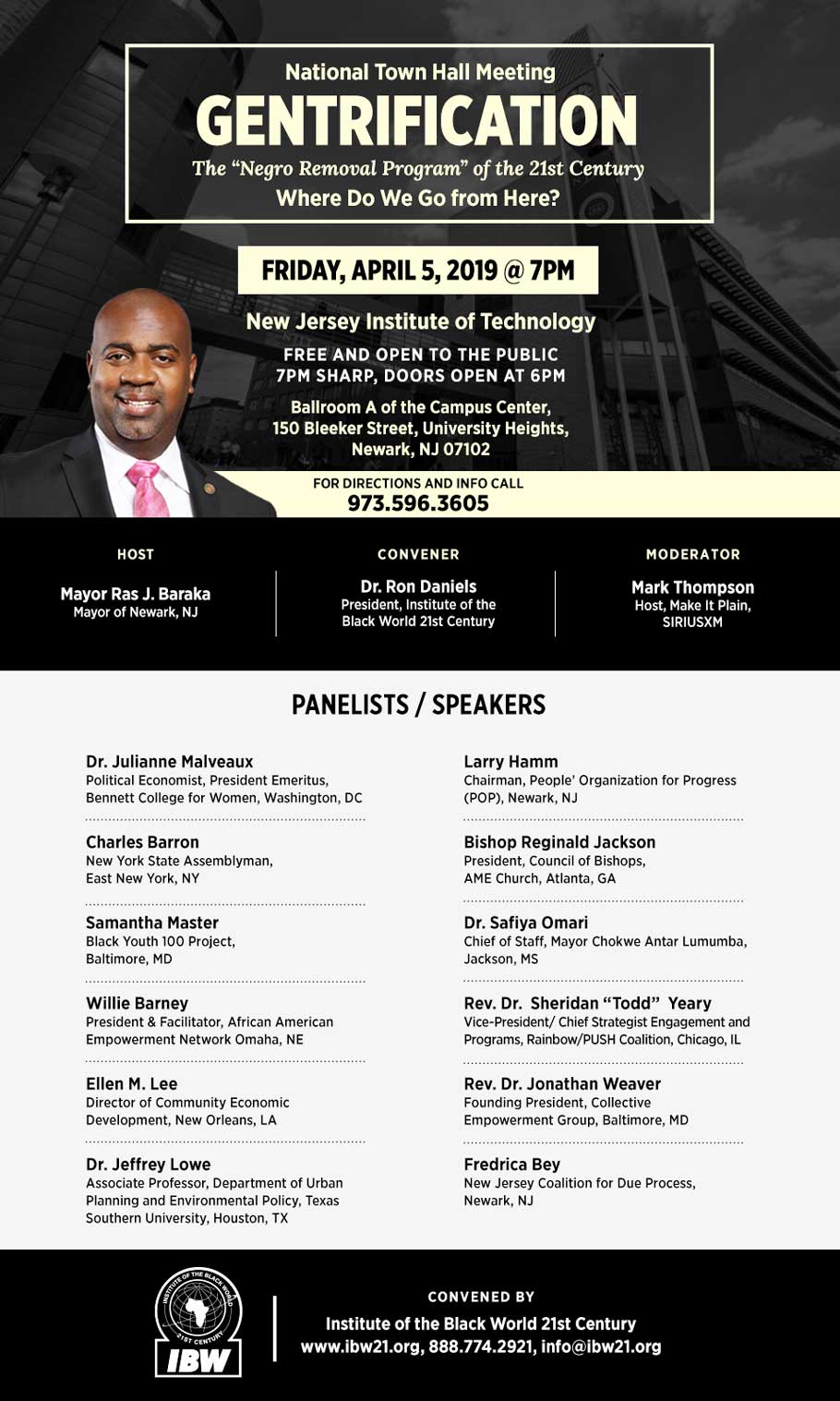 ---
Also See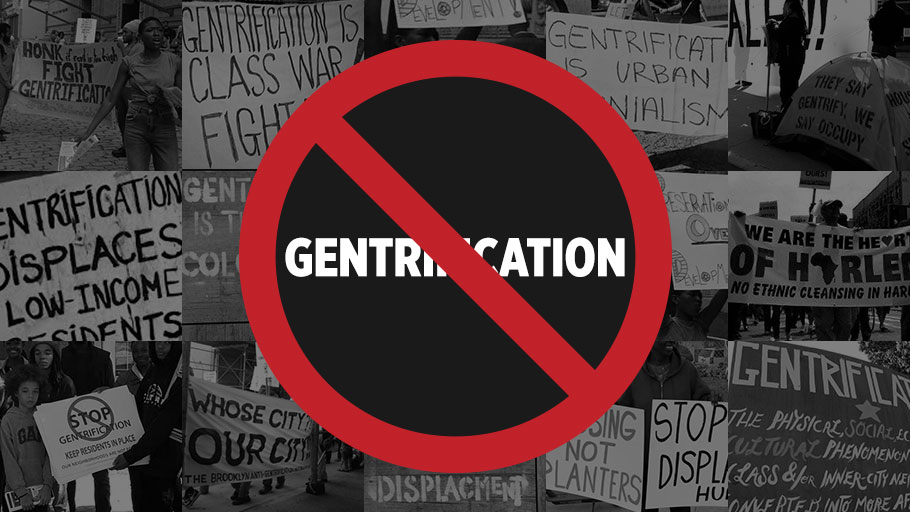 By Dr. Ron Daniels  —
Gentrification has emerged as a major threat to Black communities that have been centers for Black business/economic development, cultural and civic life for generations. Gentrification has become the watch-word for the displacement of Black people and culture. Gentrification is the "Negro Removal Program" of the 21st Century. There is an urgent need for people of African descent to mount a serious offensive to defend Black communities from this insidious onslaught…