June 10, 2019 Edition of Vantage Point Radio
On this edition of Vantage Point Radio, the Professor Dr. Ron Daniels talks with Atty. Nkechi Taifa: The Taifa Group Consulting and National African American Reparations Commission – NAARC, Rubbie L. Hodge: Author of the poem Lift Ev'ry Voice and Scream: A Cry for Reparations and callers about HR-40 and the African American Quest for Reparations.
Share your thoughts
Comment and like this video on YouTube by clicking here.
---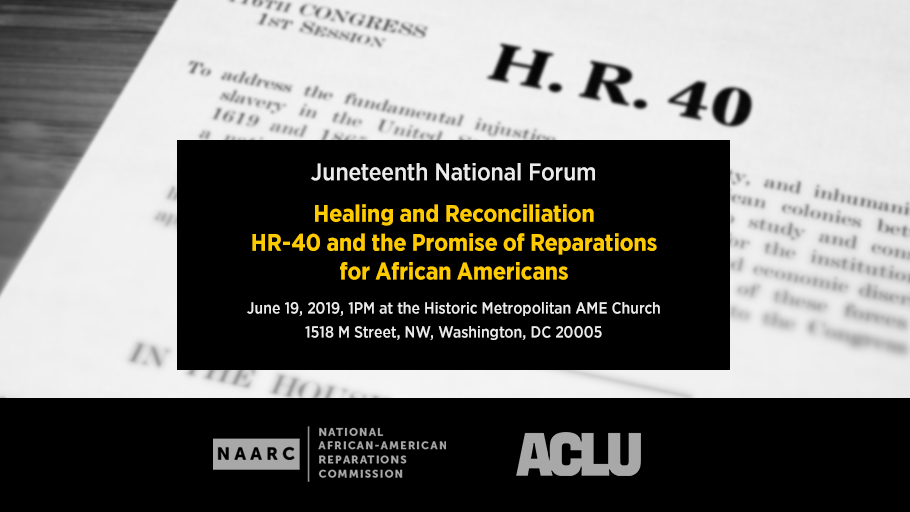 Wednesday, June 19, 2019 National Forum: Healing and Reconciliation, HR-40 and the Promise of Reparations for African Americans
The National African American Reparations Commission (NAARC) and The American Civil Liberties Union (ACLU) present a national forum on Wednesday, June 19th – #Juneteenth, 1:00 PM (Doors Open at 12:30 PM) at the Historical Metropolitan AME Church, 1518 M Street, NW, Washington, DC 20005
Panelists and speakers to include Rev. Dr. William Lamar, Jeffery Robinson, Dr. Ron Daniels, Congresswoman Sheila Jackson Lee, Danny Glover, Professor Sir Hilary Beckles, Dr. Julianne Malveaux, Kamm Howard, Atty. Nkechi Taifa, Dr. Iva Carruthers, Nana Dr. Patricia Newton, Katrina Browne, and others.
This event is free and open to the public. If you can't join us in Washington DC, join us online for the live-stream. For live-stream info and program schedule click here.
---
Ways to listen
---
About the show
The Vantage Point Radio Show is a weekly current affairs program hosted by Dr. Ron Daniels, President of the Institute of the Black World 21st Century and Distinguished Lecturer Emeritus at York College City University of New York. The show is broadcast each Monday from 4-5PM on Pacifica Radio WBAI (99.5 FM) in collaboration with York College Radio.
The program covers a wide range of social, political, economic and cultural topics featuring interviews and discussions with a diversity of civil and human rights leaders, scholars, activists and community organizers.
Feedback and show suggestions can be emailed to info@ibw21.org