The civil rights activist, historian, and author discusses her new book "History Teaches Us to Resist: How Progressive Movements Have Succeeded in Challenging Times."
Civil rights activist, historian, and author Mary Frances Berry insists that "each generation has a responsibility to make a dent in the wall of injustice."
Berry, the Geraldine R. Segal Professor of American Social Thought and a professor of history and Africana studies in the School of Arts and Sciences, has tackled the history of constitutional racism in America, child care, women's rights, voter suppression, racial identity, and activism.
As the former chair of the U.S. Commission on Civil Rights, Berry demanded equal rights throughout five presidential administrations. She is also a former assistant secretary for education in what was then known as the Department of Health, Education, and Welfare. She's received 35 honorary doctoral degrees.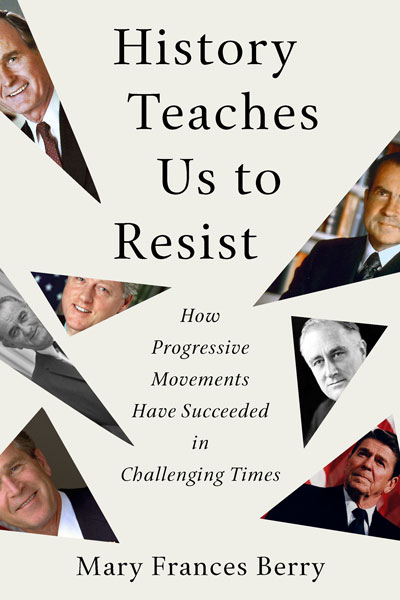 Berry is the author of 12 books, the most recent being "History Teaches Us to Resist: How Progressive Movements Have Succeeded in Challenging Times." In it, she shares her memories of being a protestor, provides an in-depth analysis of protest strategies, and highlights lessons from a lengthy history of fighting against injustice.
Berry writes, "Though history does not repeat itself exactly, perhaps we can learn something from history or at least be encouraged."
Based on firsthand experience and historical research, Berry outlines the power of resistance and outlines the ways in which protest is a key ingredient in politics.
In the book, Berry demonstrates that even in perilous times, progressive movements can flourish. She illustrates that resistance has neutralized "outrageous proposals, even in challenging times," and she discusses the role that technology has played in connecting people from all walks of life and in mobilizing nationwide movements.
Penn Today interviewed Berry about the book:
Q: What inspired you to write the book?
After seeing such mourning after the 2016 presidential election and seeing so many people frustrated, my editor persuaded me that I should drop everything else and respond to an immediate need to share my research and experience, including the anti-Vietnam War movement, Free South Africa movement, and efforts to keep President Ronald Reagan from "turning back the clock" on civil rights.
Q: What's the most important takeaway from "History Teaches Us To Resist"?
Study past movements, whether they succeeded or failed; activists who were involved have lessons to teach. Find creative and imaginative ways to disrupt because if the media doesn't cover you you can't grow your movement.
Q: How can we use the book's lessons on protests throughout history to further advance social justice today?
Remember those in power always think the movement will go away in time; persistence, keeping the goals simple, not complicated; using slogans like End the Draft; End the War; Freedom yes, apartheid no; and Don't Turn back the Clock on Civil Rights.
To make change, we must keep it simple. Be persistent and willing to sacrifice and stand by principle. One march by itself is insufficient. Large, repeated marches targeted on the same subject can succeed. Resistance works to raise consciousness about issues even when change does not immediately follow.