Students at Concord Middle School study the abolitionist movement from a local perspective with artifacts provided by the Concord Museum. (Katye Martens Brier/for The Washington Post)
By Emily Guskin, Scott Clement and Joe Heim, The Washington Post —
Americans have spotty knowledge of central facts about the history of slavery in the United States, although younger adults have an edge over their elders, according to a Washington Post-SSRS poll.
Even so, a solid majority say the legacy of slavery affects American society today, including majorities across racial, partisan and generational lines.
The Post-SSRS poll quizzed a random sample of 1,025 American adults on five facts about slavery, including whether the practice existed in all 13 American colonies (it did) and whether Abraham Lincoln promised to end slavery when he first ran for president (he did not). Across all five questions, Americans got an average of 2 out of 5 questions correct.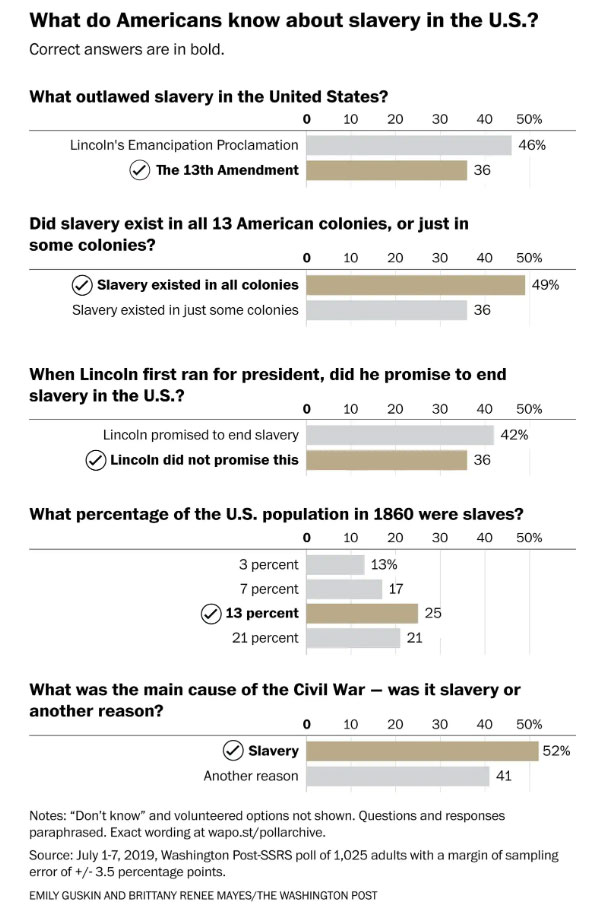 A 52 percent majority of Americans know slavery was the main cause of the Civil War, as opposed to 41 percent who blame "another reason." Younger adults, ages 18 to 29, are more likely to know that slavery was the main cause of the Civil War — 58 percent — compared with 47 percent of people ages 65 and older. Democrats are also slightly more apt than Republicans to say slavery was the Civil War's chief cause, although there is only a four-point gap between whites and African Americans.
This question about the Civil War's cause has been a source of controversy in recent years. In 2010, Texas's Board of Education adopted academic standards saying the conflict was caused by "sectionalism, states' rights and slavery." Last year, the board voted to change this description, saying students should learn that slavery played a "central role" in the war, bringing the curriculum more in line with the consensus among historians.
On another question, 49 percent know that slavery existed in all 13 American colonies vs. 36 percent who say slavery existed in some colonies but not all. Younger Americans are also slightly more likely to answer this question correctly than older Americans.
Just over a third of Americans, 36 percent, accurately say slavery was outlawed by the 13th Amendment to the Constitution, passed in 1865. A larger 46 percent incorrectly identify Abraham Lincoln's Emancipation Proclamation in 1863 as outlawing slavery. While Lincoln's famous edict declared slaves in the rebel states to be free, victory in the war and congressional action were required to make this a reality.
Adults younger than 30 are much more likely to know that the 13th Amendment outlawed slavery vs. those 65 and older (44 percent vs. 25 percent).
On another question about the 16th president, 36 percent of all adults know that Lincoln did not promise to end slavery in the United States when he first ran for president in 1860, while 42 percent say he promised to end slavery in his campaign.
Reporter Nicole Ellis visits Africatown, Ala., for the commemoration of the Clotilda, the last known slave ship to arrive on U.S. shores. (The Washington Post)
On this question, adults 65 and older are slightly more knowledgeable, with 41 percent saying Lincoln did not promise to end slavery when he first ran for president, compared with 30 percent of adults younger than 30. Adults with four-year college degrees are more apt to know this fact, 47 percent, compared with 31 percent of those who completed some college education or less.
The survey asked Americans to estimate what percentage of the U.S. population were enslaved people just before the Civil War. The 1860 Census reported that enslaved people accounted for 13 percent of the population that year; the poll finds that 25 percent of adults correctly identify that share when asked to pick among four percentages. The survey finds 30 percent of adults saying enslaved people accounted for 3 percent or 7 percent in 1860, underestimating their size. Another 21 percent overestimate the share, at 21 percent of the U.S. population. About a quarter of respondents say they are unsure.
Despite Americans' hit-or-miss knowledge on facts central to slavery, a 67 percent majority of the public says the legacy of slavery affects American society today, including about 3 in 10 who say it affects U.S. society "a great deal."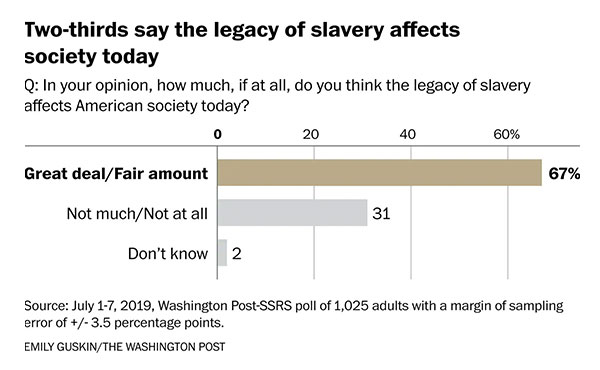 Majorities across political and demographic groups say slavery affects the country today, although the degree of agreement ranges.
African Americans are far more likely than whites to say the legacy of slavery affects American society today at least a fair amount, 83 percent to 64 percent.
Democrats are also more likely than Republicans to say the legacy of slavery affects society: 76 percent vs. 59 percent. The partisan differences are not the result only of the differing racial makeup of each group. White Democrats are more than 20 percentage points more likely to say slavery is still affecting society than white Republicans (78 percent to 55 percent).
Age also is a factor on this question, with 73 percent of adults younger than 30 saying slavery affects America today, while a smaller 58 percent of adults older than 65 say the same.
This Washington Post-SSRS poll was conducted July 1 through 7 among a random sample of 1,025 adults with 70 percent reached on cellphones and 30 percent on landlines. Overall results have a margin of sampling error of plus or minus 3.5 percentage points.
About the project: Teaching Slavery
For this project on how slavery is taught, The Washington Post interviewed more than 100 students, teachers, administrators and historians throughout the country and sat in on middle school and high school history classes in Birmingham, Ala.; Fort Dodge, Iowa; Germantown, Md.; Concord, Mass.; Broken Arrow, Okla.; and Washington, D.C.
The articles in this project examine the lessons students are learning about slavery, obstacles faced by teachers in teaching this difficult subject, the right age to introduce hard concepts about slavery to young students and how teachers connect the history of slavery to 21st-century racism and white supremacy. Our focus is on public schools because teaching choices are made by elected policymakers and school officials who determine curriculum and whose decisions are implemented by administrators and teachers whose salaries are publicly funded. Find other stories from the project here.