A chart accompanying today's city press release on reparations. Larger image below.
After three months in which the Evanston City Council's three-member reparations subcommittee held not a single public meeting, on Dec. 19, 2019 the city issued a press release announcing a schedule for a reformulated subcommittee to develop a reparations plan for submission to the City Council next year.
At various times this fall members of the subcommittee that was appointed on Sept. 9 — Aldermen Robin Rue Simmons, 5th Ward; Ann Rainey, 8th Ward, and Cicely Fleming, 9th Ward — announced at City Council meetings that they had been meeting and developing plans, but no meeting notices were posted on the city website.
If the subcommittee actually met, that would appear to be a violation of the state Open Meetings Act which requires government agencies and their committees and subcommittees to meet in public for discussion of public business and sets notice requirements for the meetings.
The act covers any gathering in person or by electronic means of a majority of a quorum of the members of a public body. For a three-person subcommittee that would include any gathering of members of the group.
At the City Council's Dec. 9 meeting, Mayor Steve Hagerty announced that Alderman Fleming had asked to resign from the subcommittee. He said he'd ask the City Council to decide whether to name additional persons to the group at the Council's first meeting in January.
Thursday, Dec. 19, 2019's news release says that at an unspecified point next year the reparations subcommittee "will be expanded to include subject matter experts and additional members of the community."
It says the subcommittee "will work with residents, city staff and experts to explore and identify programs and opportunities to be supported by the Reparations Fund, including initiatives related to workforce development, entrepreneurship, home ownership, education and infrastructure."
It adds, "The process has just begun to consider many important issues, including the scope of funding opportunities, criteria and qualifications for participation and level of funding."
It predicts that a reparations plan will be proposed for City Council consideration later in 2020 with distribution from the fund to begin "possibly in early 2021."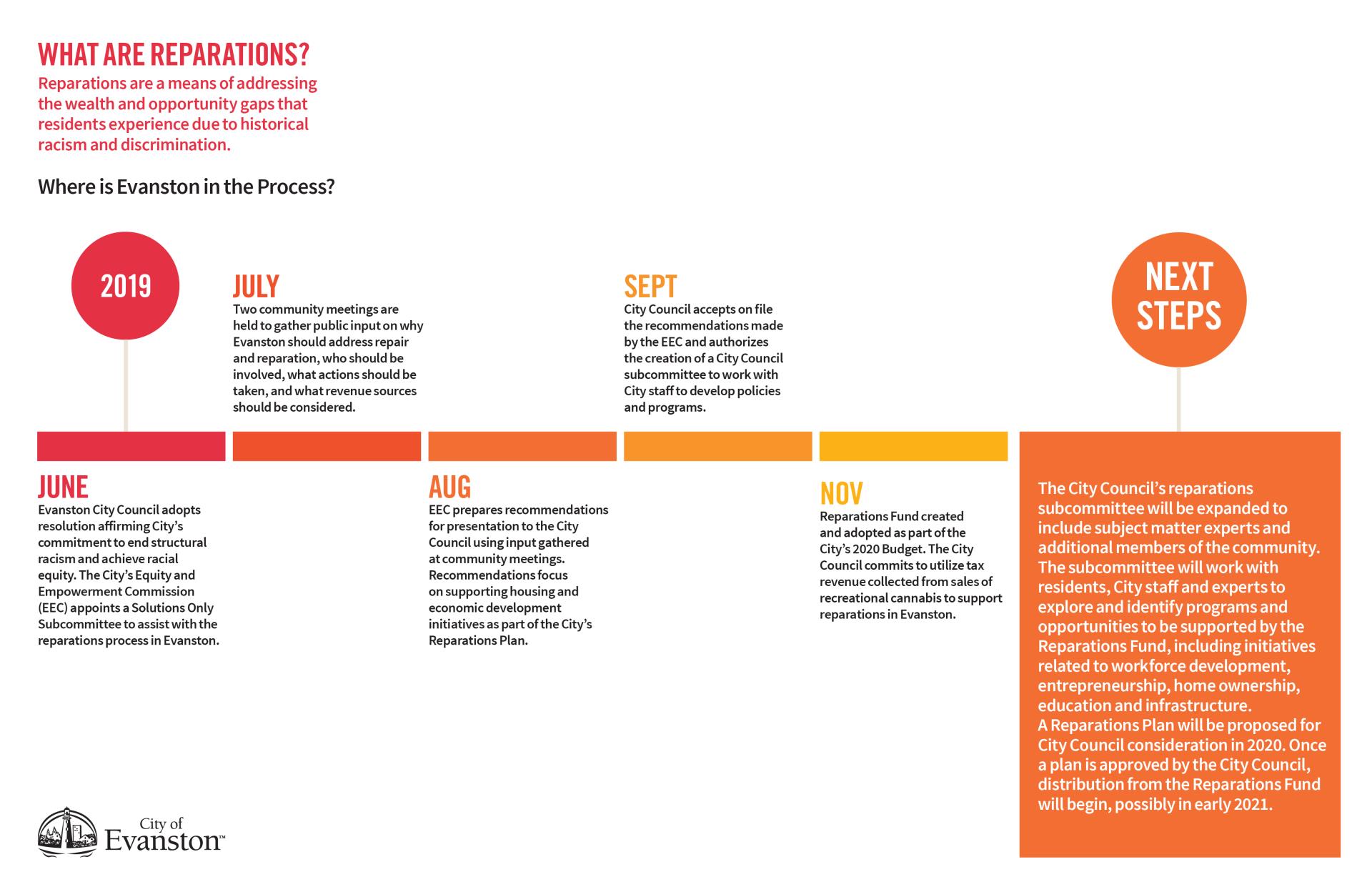 The news release, and the chart (above – Click to enlarge) distributed with it, also recap city actions on the reparations issue this year:
The Equity and Empowerment Commission is scheduled to meet at 6:30 p.m., Thursday, Dec. 19, 2019 at the Civic Center to plan is activities for the coming year.
---
This article was original published by Evanston Now.